Formula 1 bosses aim for 2021 budget cap

By Andrew Benson
Chief F1 writer in Bahrain
Last updated on .From the section Formula 1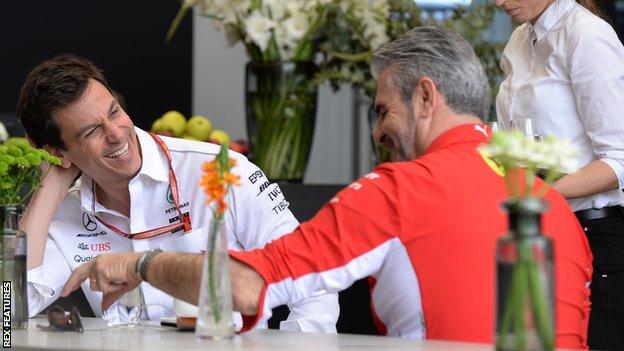 Formula 1 is pressing ahead with plans to introduce a budget cap in 2021 as part of attempts to make the sport more attractive.
Owners Liberty Media presented more detail on their plans to the teams at the Bahrain Grand Prix on Friday.
A budget cap in the region of $150m is central to the aim, along with more equitable prize money distribution and technical changes.
Mercedes F1 boss Toto Wolff said it was "a starting point of a dialogue".
Wolff added: "It's good we are getting started in understanding how the shareholder Liberty sees F1's future, have some perspective from (governing body) the FIA as well.
"There are many ideas and proposals that have been either overdue or necessary or good. And then there are some that are very challenging and need the detail to really understand."
Wolff added that F1 chairman Chase Carey had indicated that the proposals were not a fait accompli.
"Chase used the sentence which is intelligent, which is: 'We have no exclusivity on good ideas,'" Wolff said. "And they will be starting discussions with each of the teams to see and understand their perspective."
Wolff added that he did not believe F1 and the FIA had a homogenous position on changes to engines for 2021 - last November both parties put forward a proposal for a cheaper, simpler version of the 1.6-litre turbo hybrid engines used in F1 since 2014.
Wolff said: "There is not clarity yet on what is the exact engine proposal. I think that the FIA and Liberty have to come to a joint opinion and then tell us what the concept looks like and then we would enter into a discussion in the strategy group to decide whether that is the correct path or not."
Ferrari, who have last year threatened to quit F1 if they did not approve of Liberty's plans, said had taken notice of the presentation but would not respond publicly to the announcement at this stage.
The budget cap would not include drivers' salaries, but independent teams Force India and Williams welcomed the plan.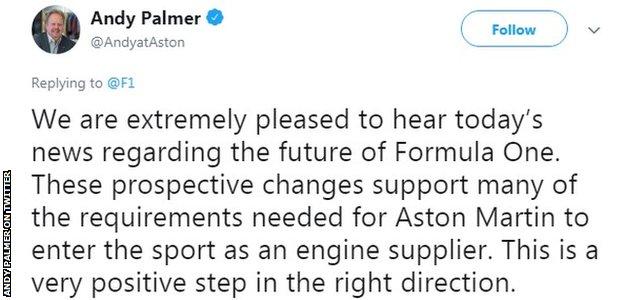 Bob Fernley, deputy team principal of independents Force India, said: "It is a constructive programme. Liberty are going around getting the individual teams' opinions and putting it together collectively into what they believe is the best way forward for F1 for the future, whereas in the past it was a very divisive process.
"I can see the direction they are going in and from an independent team's point of view, it's very encouraging.
"At least four teams - Mercedes, Ferrari, Red Bull and McLaren - will have to make some adjustments. But they are keeping everybody on board with that process."
Williams deputy team principal Claire Williams said: "I came back thinking: 'Let's crack open some champagne.' Because from our perspective if we can get these new regulations through, and if Liberty/FOM do everything they say they are going to do, that they presented this morning, then from our perspective I know that Williams' future is safe.
"That's not to say that we were on the brink, or anywhere close, but with today's sport and the way it is structured and with the financial disparity between teams then the likelihood of Williams' survival into the medium and long-term was looking pretty bleak."
The basic outline of F1's plans are the same as have been telegraphed for some time:
cheaper, simpler, louder engines, while remaining road-relevant and hybrid, but making F1 more attractive for new entrants

a cost cap that "maintains Formula 1 position as the pinnacle of motorsport with state-of-the-art technology" and aiming to ensure "how you spend the money must be more decisive and important than how much money you spend"

a "more balanced" revenue distribution "based on meritocracy of the current performance" while "recognising historical franchise and value"

"more race-able" cars "to increase overtaking opportunities" which "maintain performance differentiators like aerodynamics, suspensions and PU performance" but standardisation of "areas not relevant to fans"

a simplified and streamlined governance structure
Under the new proposals, Ferrari would keep an extra financial bonus for its historic value to the sport, but this would be reduced to $40m - about 60% of its current amount.
And all engine manufacturers would receive a bonus of $10m on top of the cut of the prize money they receive from the reconfigured structure.
Part of the plans for 2021 is research into ways of making the cars able to follow each other more closely, and therefore provoke better racing, by adjusting the way the aerodynamics work.
Some aspects of this research may be introduced early in 2019, as a result of parallel talks that are taking place to try to take a small step in the right direction for next season.