McLaren: 'Red Bull did a better job than us' - has $100m gamble paid off?

By Andrew Benson
Chief F1 writer
Last updated on .From the section Formula 1209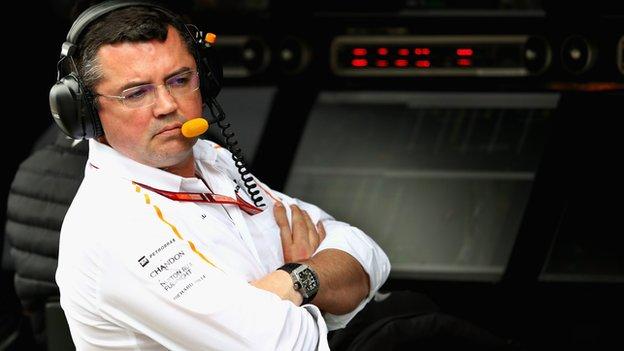 Fernando Alonso was full of optimism after finishing fifth for McLaren at the Australian Grand Prix. After his team's best start to a season for four years, he was talking about their "next target" being Red Bull.
Racing against Red Bull has been McLaren's ambition since making the decision last year to switch from their troublesome Honda engines to Renault, which Red Bull also use.
They achieved it in the first race of the season. But not in the way they meant.
Alonso was sandwiched in the results between Daniel Ricciardo and the Australian's team-mate Max Verstappen, and spent the last 26 laps holding off the Dutchman's attacks.
There is no question McLaren have started the season better than at any time in the past three years with Honda, and the immediate competitive boost from the decision to switch is clear - even if it has come at a financial cost of something like a net $100m (£71m).
But McLaren's ambition is to race with Red Bull in the sense of having a car of equivalent pace. Indeed, last year, they claimed their chassis was on a similar level, just being held back by an inferior engine. And they are not close to that yet in 2018.
So what has happened, and where do McLaren go from here?
Alonso's bullish optimism
After the race in Melbourne, Alonso said he was pleased to be able to "fight wheel-to-wheel with other cars, to defend and attack, things we were not able to do in the past couple of years" with the Honda engine, because of its limited performance, particularly in races.
And he said his ambitions of racing in the group of top three teams remained undimmed.
"Right now Red Bull are still clearly ahead of us and they are in that exclusive group with Mercedes and Ferrari," he said. "But McLaren are willing to enter that group - and in the next coming races hopefully we will forget the middle group and look forward to that privilege.
"There is potential in the car so I cannot see any reason why we should not be there in the next coming races."
It's hard not to admire Alonso's optimism - but how realistic is he being?
How far off Red Bull are McLaren?
Alonso qualified 11th in Melbourne, knocked out after the second session. But he underperformed, uncharacteristically making mistakes on both his laps. Had he not lost nearly 0.4 seconds at the last corner on his first run, the team reckoned he could have done a time of one minute 23.2 seconds. It would have qualified him for the top-10 shootout - but it is 0.8secs slower than Verstappen clocked in the Red Bull in the same session.
Alonso split the Red Bulls in the race, finishing just ahead of the Dutchman, but only because he benefited from the virtual safety car period that also defined the fight for the lead between Lewis Hamilton and Sebastian Vettel, and Verstappen was hurt by it.
In the race, the time Ricciardo gained on Alonso after the VSC equates to an average of 0.8secs a lap - exactly the apparent time difference in qualifying.
But the Australian was stuck trying to get past Kimi Raikkonen's Ferrari, while Alonso's pace would also have been compromised by trying to fend off Verstappen.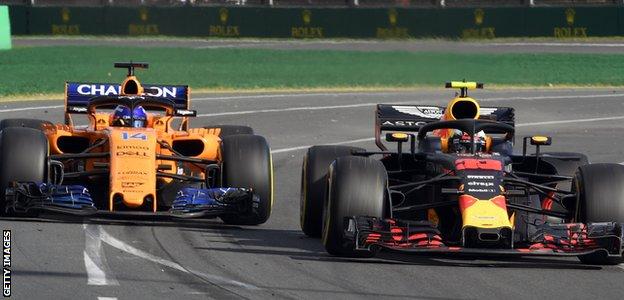 Ricciardo's best race lap - the only one he had in clear air, after backing off to cool the car and tyres before coming back at Raikkonen - was the fastest lap of the race. It was a second quicker than anything Alonso managed.
So, at the start of the new season, it is clear that McLaren's chassis is close to a second a lap off the Red Bull. Did they overestimate the strength of their car last year, or have they made less progress over the winter than Red Bull?
"'Fighting with Red Bull' - that was last year and based on data," McLaren racing director Eric Boullier said in an exclusive interview with BBC Sport in Australia last weekend. "It is not…" he added while miming plucking something from the air.
"Then over the winter you don't know what the others are doing. Obviously Red Bull have I would say one of the best chassis. They did a better job than us."
Making the decision to change engine as late as they did - mid-September - was always likely to compromise McLaren to some extent. The team said at the time they were delayed by about two weeks, but would make it up. But that's not how it has worked out.
Boullier says McLaren made a mistake in being too ambitious in what they could achieve with the car design while also having to adjust it for the Renault engine, which has a significantly different architecture from the Honda.
The reliability problems they suffered in testing in Barcelona were the result, and fixing those has pushed back the introduction of new parts. A major upgrade package that had been scheduled for Australia had to be delayed because the resources were needed to sort out the reliability problems.
"That is one of the reasons why we are not where we would have been in an ideal world," says Boullier.
Much of the upgrade planned for Australia, Boullier says, is coming for the next race in Bahrain on 6-8 April. "So that should help us." Some parts might not appear until the next race in China.
And one important part of what should have been in Australia - a new nose design which requires a new FIA crash test - is now not expected until the Spanish Grand Prix in May.
"We pushed the limits a bit too far," Boullier said. "We underestimated the integration of the Renault and the energy we had to spend on this so we were definitely not prepared enough when we turned up in Barcelona. We are just about to be prepared when we came here."
The problem, he says, was over-ambition. "We pushed too late. We decided to keep the same strategy but we changed the engine. Everything we wanted to do [in terms of car design] if we had stayed with the same engine, we did it."
Are McLaren's ambitions realistic?
Red Bull are not the only team to whom McLaren can be directly compared; the other is the factory Renault team. Renault used to be Lotus, the outfit Boullier joined McLaren from. They are commonly known in F1 as 'Enstone', after the location of their base, because the team have changed identity so much over the years.
In the second half of last year, McLaren and Renault were so closely matched that Renault's average qualifying advantage over McLaren was just 0.058secs. At the start of this year, they again look neck and neck.
So if McLaren could match Renault last year with a weaker engine, why are they not ahead this year with the same one?
"Because Enstone made a big step," Boullier says.
So why hasn't McLaren?
"You need to explain to your readers how F1 is working," he says.
It's a legitimate question. Why hasn't McLaren made the same step forward with its car?
"Because Enstone has more people than us today."
Why?
"Then we need to ask everybody to put some money in the team." He laughs.
I nod over to Bahrain's Sheikh Mohammed bin Essa Al Khalifa, the boss of the Mumtalakat sovereign investment fund that controls McLaren, who is sitting at the next table.
"He already put in a lot," Boullier says, referring to the capital expenditure required to cover the loss of the money Honda was paying, including buying engines. "It is just a question of ambition and resources. I am not hiding behind any excuse. They just did a better job."
F1 is a resources game. If Boullier is blaming resources for McLaren's lack of progress on their car, what does that mean for McLaren's expectations of being at least the fourth-fastest team and moving up to compete with the top three for podiums? Are they unrealistic?
"I don't think so," Boullier says. "I seriously believe that gives us a few races and we will show you we are the fourth team. It's just we had to delay the introduction of many upgrades and that's the issue we have today and that's it."
'You have to set targets in life'
Boullier says Alonso's optimism is founded on his understanding of why McLaren are where they are and how and why they can improve.
"He knows what we have coming," Boullier says. "But it is not coming as fast as we wanted because of the delay of the reliability issue."
At a pre-season media event, McLaren executive director Zak Brown - the man responsible for increasing the team's limited sponsorship portfolio - said success for McLaren this year would be "being competitive - that is racing at the front, qualifying at the front, getting on the podium".
He added: "If we're 0.9secs off Red Bull, that wouldn't look good, I agree. We don't want to hide. It's show time."
Now Boullier says: "I would say the same. We have the same engine, we should fight with them. If we don't, it's not good enough. Simple as that."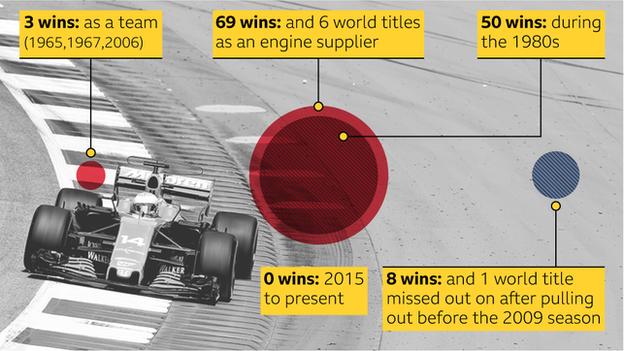 In Australia, 0.9secs off Red Bull is pretty much where McLaren were, give or take a bit. Closing on them through the season would require out-developing a team who have consistently proven to have among the best rates of development in F1 - and which has a $45m (£32m) bigger budget and about 150 more staff.
How can that be a realistic target?
"I don't know," Boullier says. "You have to set targets in life. That's it."
So he would rather set a target that some people might say was unrealistic?
"Yeah. Because I'm a competitor. If not, I should not be here. We are living in a realistic world and money in F1 is one of the conditions to be performing.
"We are where we are and we have to do the best we can with this level - if not better. We know we can punch above our weight, and I think we will show you this. I can't promise [it] putting both hands in the fire.
"It is a question of putting everything together and not being any more delayed. So trying to bring everything back on schedule. But I think we will punch above our weight. Seriously."