Sebastian Vettel strikes first psychological blow in Lewis Hamilton battle
Last updated on .From the section Formula 1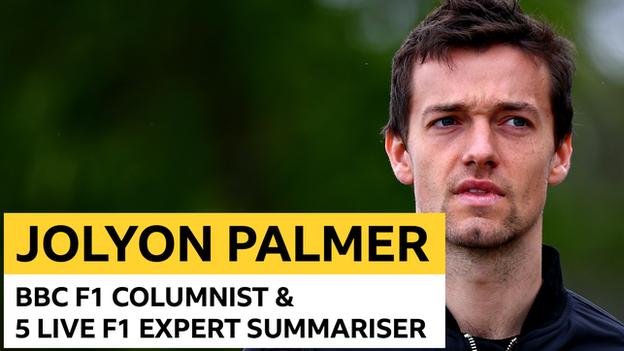 F1 driver Jolyon Palmer, who left Renault at the end of 2017, joins the BBC team this season to offer insight and analysis from the point of view of the competitors.
One race down, 20 to go and the first psychological blow has been struck in the battle between Mercedes' Lewis Hamilton and Ferrari's Sebastian Vettel.
Mercedes had the pace in Melbourne. Hamilton did everything right and had the Australian Grand Prix under control - yet he did not win. And to make matters worse, his main rival and fellow four-time world champion Vettel did.
It will hurt for Hamilton. Having driven a perfect weekend, to lose a race through matters outside of your control is a nightmare scenario.
As a driver, there are so many questions you want to ask your team to figure out how things went wrong - but ultimately this one is mainly down to a stroke of bad luck.
Sure, if Hamilton knew earlier that the gap to Vettel was too big, then he might have been able to push hard and narrow it a bit earlier before the virtual safety car (VSC) was called, but really it was the VSC itself that decided this race.
For Vettel and Ferrari, this win will give them a huge boost and an energy for the rest of the year.
They looked a bit off Mercedes and even Red Bull at times during the weekend, and Vettel never seemed to be on top of the car as he did so often last year, even qualifying behind his team-mate Kimi Raikkonen.
Ferrari had a trump card in this race, though, which was having two cars at the front as opposed to the lone Mercedes of Hamilton. Being able to split the strategies allowed them to throw more caution to the wind and profit from the eventual VSC.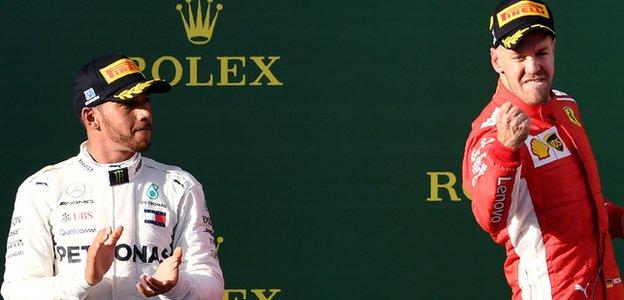 What next?
So how does Hamilton react?
Over the years we've seen all sorts of ups and downs for Hamilton and many different reactions following them. On Sunday after the race, beyond the initial disappointment of the defeat, he seemed positive and willing to learn with the team to make sure it doesn't happen again.
Briton Hamilton has matured a lot over the years and has surely become a stronger driver, tougher to beat than ever.
It was only in 2016 when he had a difficult, unlucky run at the start of the season. After getting beaten in the season opener by Nico Rosberg, he proceeded to have a really bad string of results and ended the first four rounds 43 points behind his German team-mate, who would ultimately go on to win the title.
It's important Hamilton responds in the best way possible in the next round in Bahrain - because if this season goes anything like that one, Vettel may well be tough to catch.
Often this is when we see Hamilton at his best, though. He will be out to make amends.
The fight between him and Vettel got a bit more personal after tensions during Saturday's news conference. Mercedes will learn from their defeat. They won't take any chances in Bahrain and Hamilton will have the bit between his teeth, fully motivated for revenge.
Hamilton has every right to feel confident and his calmness outside the car on Sunday evening was probably as a result of the realisation that he does indeed have the fastest car of 2018 at the moment - and by some margin.
A clean weekend in Bahrain and Ferrari's lead might not last for long.
Pressure building on Bottas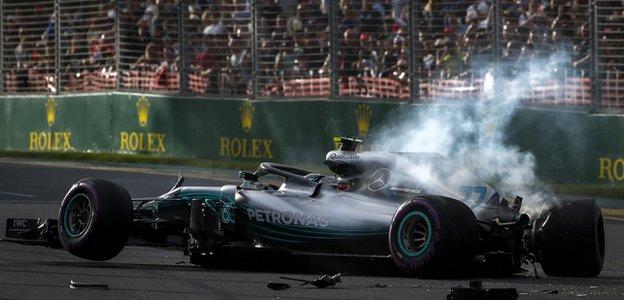 A man in even more need of a strong race in Bahrain is Hamilton's team-mate Valtteri Bottas. It is no secret that Bottas needs a strong season this year, having been given only a one-year extension to his contract by Mercedes and often struggling to get near Hamilton's level of performance in the second half of last year.
Melbourne proved to be a disastrous first round for Bottas and that early pressure has now increased drastically.
The Finn looked to be in the mix with the front group before a heavy qualifying crash meant he would start only 15th, and his race was somewhat underwhelming as he struggled to make inroads behind slower cars and ended up finishing eighth.
Bottas' pressure will come from two areas.
Firstly from himself, because all F1 drivers demand high performances of themselves. They are very self-critical, even if it might not seem it from their 'book of excuses' interviews at times!
Secondly there will be some pressure building from within Mercedes already.
This race was arguably lost because Hamilton was fighting a two pronged Ferrari attack without his team-mate to accompany him at the front.
If Bottas could have been used to cover off one of the Ferraris, Mercedes would have been in control of either situation strategically and Ferrari wouldn't have been able to play their trump card at the VSC.
It's not a nice feeling to leave the first race of the season on the back foot. After months of training and preparation it is not only extremely disappointing but F1 is such a psychological game that it adds to the pressure and makes the next race that little bit harder.
Bottas will turn up to Bahrain and immediately face questions about his performance and whether he can possibly up his game. The longer this goes on, the harder the questions become and the more the pressure increases.
This time last year, I came off the back of an extremely tough opening race myself - and for the following week you are left stuck with your thoughts and have no immediate chance to redeem yourself.
Most drivers will stay out in Australia, or at least the southern hemisphere, to relax before heading to the next round in Bahrain. The time difference messes with you if you come home and head back out again to the next race, and Australia is a nice place to explore and train in the sunshine as well.
But it can also be quite a lonely time as a driver. You are part of a team, but the reality is that as soon as you leave the track your personal team shrinks to just yourself and your trainer, and maybe if you are lucky an extra person or two in your entourage.
The team publicly support you of course, but they aren't likely to be talking through the human side of it and giving you confidence back in your week off. This is a battle a driver has to face with himself.
Bottas may well have a niggling bit of self-doubt creeping in and it is vitally important now for him to bounce back with a solid display in Bahrain - not only for the Mercedes team but for himself as well.
In this situation, the sooner you put on a good display the quicker the pressure goes away.
The Finn is a very good driver; he is just paired with one who I think is the quickest in modern times. It's a tough ask to match Hamilton, but Bottas needs to show at least some support to the four-time world champion in the coming rounds.
Not only drivers feel pressure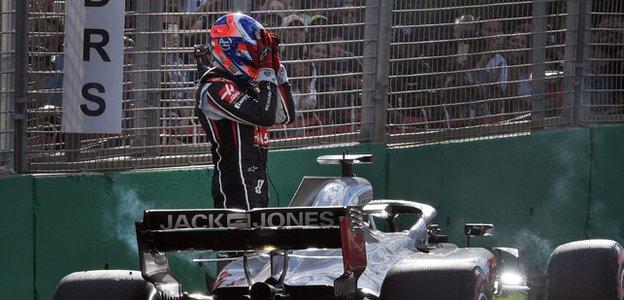 Pressure and self-doubt don't limit themselves to the drivers. They will also be affecting the two mechanics whose pit stop blunders cost the Haas team a potential best-ever fourth and fifth-place finish in Melbourne.
I feel so sorry for the guys at Haas, and particularly the two guys who are culpable. They must feel like the weight of the world is on their shoulders right now after costing the team critical points so early with a fundamental mistake. But, like anything, the best way for them and all the team to bounce back is to make the most of opportunities in Bahrain.
Drivers Romain Grosjean and Kevin Magnussen will be feeling aggrieved there as well - but F1 is a team sport.
There are plenty of times where the car and pit stops have worked perfectly only for the driver to make a mistake. The reverse can happen as well.
It was very mature of the drivers not to pass the blame at all. And Grosjean, who has been at the team since its conception, was seen consoling the mechanic in the paddock after the incident. The drivers know these guys can be the key to a good season on the track with the hard work they put in off it.
So, as we head to the desert in Bahrain there are many psychological questions facing the F1 world. These are just the ones we have chosen to focus on because they are the biggest stories - but there will be similar, if less extreme, situations at teams up and down the pit lane, depending on how Melbourne went for them.
Normally when you give Mercedes a prod, they come back fighting. Both Hamilton and Bottas must do that in Bahrain if they are to wipe the smiles off Ferrari's faces.
Melbourne may not have told us everything about F1 in 2018 yet, but it has certainly set us up for a good season.