Lewis Hamilton: Ferrari will be rapid in Bahrain GP

By Andrew Benson
Chief F1 writer in Melbourne
Last updated on .From the section Formula 1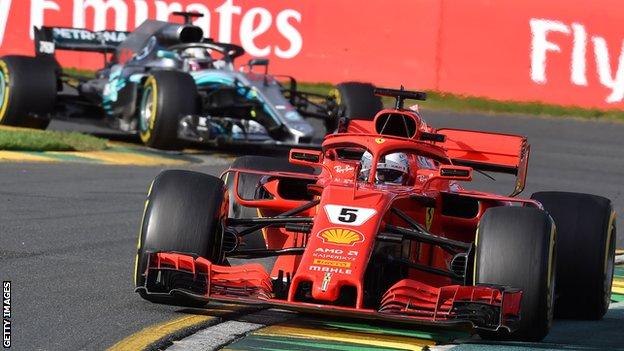 Lewis Hamilton said the battle to win a fifth world title would be "close" after he lost out to Sebastian Vettel in the Australian Grand Prix.
The world champion added: "There will be ups and downs. Ferrari are really quick on the straight.
"They will be rapid in the next race. I can tell you it is going to be close."
Hamilton lost the lead because Vettel was able to pit during a virtual safety car period, while the Briton had already made his stop.
This gave Vettel an advantage of 10 seconds over the pit stops - and the problem was exacerbated by Mercedes miscalculating the time Hamilton needed to have in hand to ensure he kept the lead during a virtual safety car period.
"Everyone in the team is feeling it but there is so much positivity to take forward with us," Hamilton said.
"We still got second. It feels like a dark cloud but it's not. It is still a positive result. We have a great car, we are still the world champions and with a couple of adjustments we can win the next race."
He said the team "don't fully understand at the moment" why their calculations were wrong - which meant they did not ask him to build a bigger lead in the early stages of the race.
Hamilton also lost about a second because of a relatively slow pit stop.
"I had extra tools," he said. "I could have been further ahead by the first pit stop. There were so many good things we could have done but if one thing is telling you one thing and you think you are doing it to the book and to within the limits, then there is nothing you can do.
"I feel like I was driving as good as ever and really happy with how I was driving. Anyway, I will take it on to the next race and apply it exactly the same as this weekend and try to grow within myself."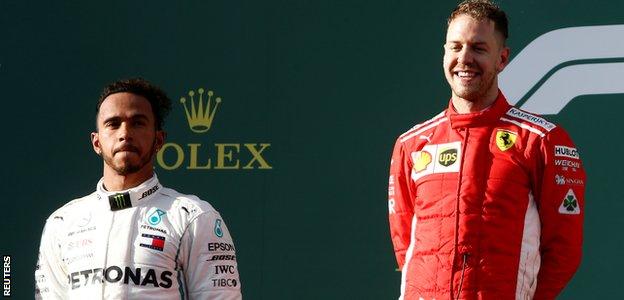 The next race is in the desert of Bahrain on 8 April. Hamilton said he expected another tough challenge from Ferrari there.
"They are always good on hot circuits - even though it is night race it is tough on the tyres," he said.
Vettel said: "Obviously we were a little bit lucky today, but we take it. We are not there yet where we want to be [in terms of qualifying pace]. If I don't feel what I want to feel it makes it a bit tricky. But it is a good start and gives us good motivation for the rest of the season."