Lewis Hamilton on pole in Australian Grand Prix as Valtteri Bottas crashes

By Andrew Benson
Chief F1 writer in Melbourne
Last updated on .From the section Formula 1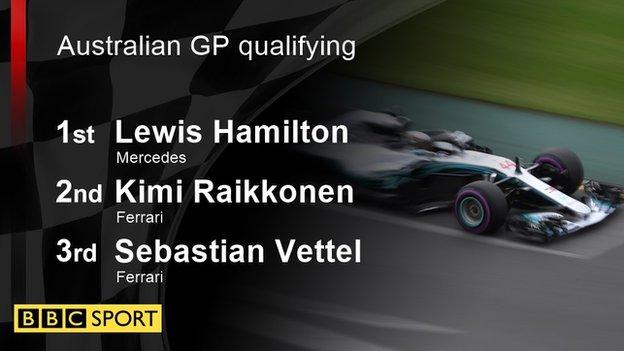 Lewis Hamilton pulled out a spectacular last-ditch lap to take a stunning pole position for the season-opening Australian Grand Prix.
The world champion was nip and tuck with the Ferrari of Sebastian Vettel and Red Bull's Max Verstappen until the final runs of the session, only for Hamilton to re-set perceptions of the possible to take pole by a massive 0.664 seconds.
Vettel was beaten to second by Ferrari team-mate Kimi Raikkonen by just 0.01secs, with the Red Bulls of Max Verstappen and Daniel Ricciardo fourth and fifth.
Hamilton's team-mate Valtteri Bottas crashed at the start of final qualifying and will start 10th at best.
Hamilton said: "You would think that with the results we had these years it would feel the norm but it doesn't. It's so intense. I am so happy with that lap. I am always striving for perfection and that was as close as I can get."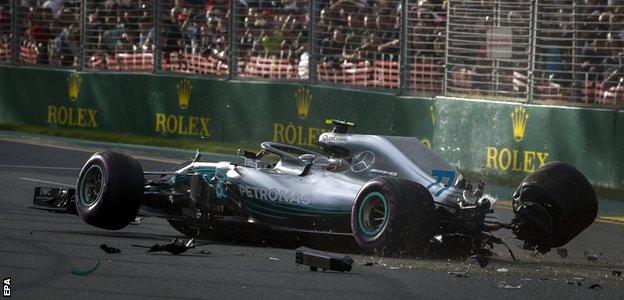 So does anyone else have a chance?
Going into the final minutes of qualifying, pole looked like it could go to any one of the top three teams, with only 0.061secs separating Hamilton, Vettel and Verstappen.
But as Hamilton dramatically pitched the Mercedes into Turn One at a speed he had not managed before, it was clear that something special was on the cards.
By the end of the first sector, he was nearly half a second up on his previous best time and he extended that lead to take pole by a margin previously not seen throughout a weekend that until then had looked extremely close.
Vettel, expected to be Hamilton's closest rival for the title again this year, said he was "happy" with his performance after struggling in Friday practice.
"It was really close," he said. "Shame Lewis had quite a big gap at the end but I guess he did another pretty good lap."
Ricciardo has a three-place grid penalty for a driving infringement in practice, which will promote the Haas drivers Kevin Magnussen and Romain Grosjean to fifth and sixth places, and Renault's Nico Hulkenberg to seventh.
'It was a joke, dude'
"It definitely wasn't straightforward," Hamilton said. "Getting out and getting the tyres working to the optimum and staying in the right zone all lap was definitely difficult.
"But that last lap was definitely the best of the weekend. I am very, very happy with that lap. One of my best, I would say."
He said the time was not down to turning up the engine power at the end of qualifying - team boss Toto Wolff said Hamilton had been in the same maximum engine mode for both his laps in the final session.
"I used the same engine mode in Q2," Hamilton said.
Vettel, sitting beside him, responded, attempting to make a joke: "So, what were you doing before?"
Hamilton replied pointedly: "I was waiting to put a good lap together to wipe the smile off your face."
A little later, he said: "It really was a joke, dude."
Whether Hamilton can maintain that pace advantage in the race remains to be seen, and Mercedes are at a potential strategic disadvantage if the pace of the cars is closer in the race because he has two Ferraris right behind him and no protection from team-mate Bottas.
Hamilton said: "It is always going to be tough having two red cars in your mirror but we are the best prepared we can be. I am excited."
Vettel said: "Hopefully we can play two against one. In race pace I think we will be closer. We will see how close we can be."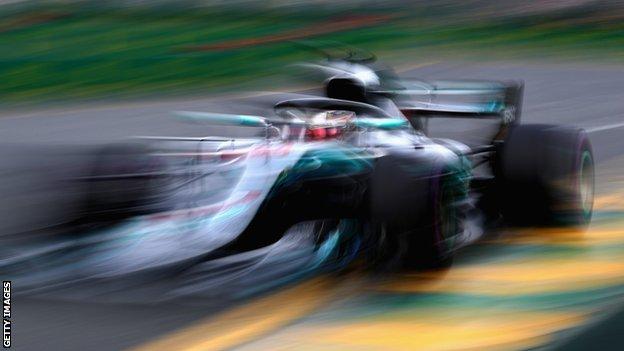 Bad start for Bottas
For Bottas, it was a bad start to a season that will be defining for the rest of his career.
His Mercedes contract runs out at the end of the year and team boss Toto Wolff has said he will see how Bottas performs in the first half of this season before deciding whether to keep him or sign another driver - with Red Bull's Daniel Ricciardo and Force India's Esteban Ocon the main contenders.
Bottas had been closely matched with Hamilton through the first two parts of qualifying but he carried too much speed into Turn One on his first lap in the final session, ran a little wide and lost control, spinning hard into the outside wall.
The impact was big, the car spun back into the middle of the road, debris streaming behind it, and the session had to be stopped to repair the barrier and clear the track.
In the pits, Wolff looked furious, exasperated and disappointed all at the same time, raising his fist and bringing it down in his lap and cursing under his breath.
Bottas was taken to the medical centre for a routine check-up and declared to be fine, but the gearbox was damaged in the impact and he will take a five-place grid penalty for changing it, which is against the rules.
Good signs for Red Bull
Red Bull ended up a long way from pole but Verstappen was mere hundredths of a second behind the Ferraris.
They could be a factor in the race as they have chosen a different tyre strategy - starting on the super-soft tyre rather than the ultra-soft used by everyone else.
And their pace on a track which has what teams call a high 'power-sensitivity' - engine power importance to lap time - is encouraging for their general title campaign.
The Renault engine in the Red Bull lags behind the Mercedes and Ferrari, so if Red Bull can be this competitive in Australia, they could be a factor all year.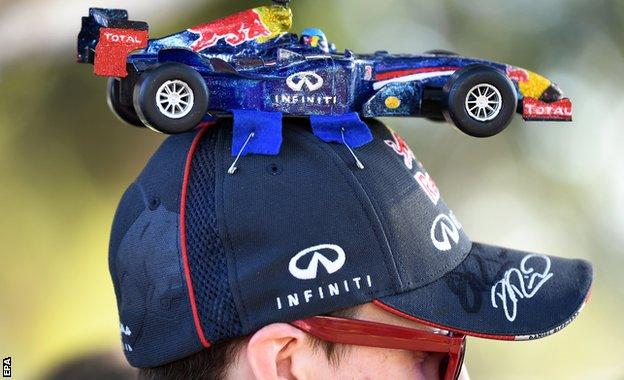 Disappointment for McLaren
There was disappointment for McLaren, who failed to get into final qualifying after looking like they might end up as best of the rest after the big three.
Fernando Alonso was seventh after the first runs in second qualifying and looked on course to compete with Renault's Carlos Sainz for seventh. But he made a mistake on his final lap and ended up 11th, leapfrogged as others improved.