Australian Grand Prix: Lewis Hamilton top as Mercedes, Red Bull & Ferrari appear close

By Andrew Benson
Chief F1 writer in Melbourne
Last updated on .From the section Formula 1582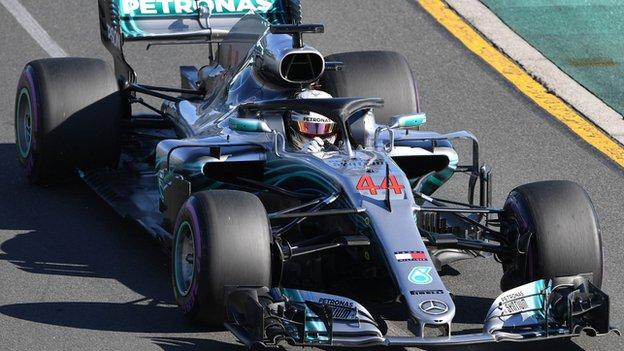 Mercedes' Lewis Hamilton said he enjoyed his "exciting" battle with Red Bull and Ferrari after posting the quickest time in second practice at the season-opening Australian Grand Prix.
The Briton led the way as just 0.283 seconds separated the top three teams.
"The gap closed up a little bit, but that's exciting anyway," he said.
"It's more challenging for me to eke out more from the car, discover whether I have lost something or they have all gained, but I enjoyed driving."
Hamilton was 0.127secs clear of Red Bull's Max Verstappen, although the world champion looked as if he had more potential had he not lost time on his quickest lap.
The world champion's team-mate Valtteri Bottas was third, from the Ferrari of Kimi Raikkonen.
Rain is expected across the weekend for what would be only the fourth wet Australian Grand Prix in 34 years of the event.
"The car is quicker than last year so it feels better everywhere," added Hamilton. "Turn 11 and 12 is crazy - we are not even braking into that corner; it is insane. It is going to rain, as far as I am aware, so it is going to be interesting."
What happened to Vettel?
Raikkonen's team-mate Sebastian Vettel was fifth, 0.237secs behind and appearing to struggle a little.
Haas' Romain Grosjean was an impressive sixth, ahead of Red Bull's Daniel Ricciardo.
The Australian was more than 0.6secs off Verstappen but did not get a representative lap time on the fastest tyres.
However, Ricciardo later received a three-place grid penalty for failing to slow sufficiently under red flag conditions.
McLaren's Fernando Alonso took eighth split from team-mate Stoffel Vandoorne by the second Haas of Kevin Magnussen.
The Renaults of Carlos Sainz and Nico Hulkenberg were 11th and 12th, followed by and Lance Stroll's Williams.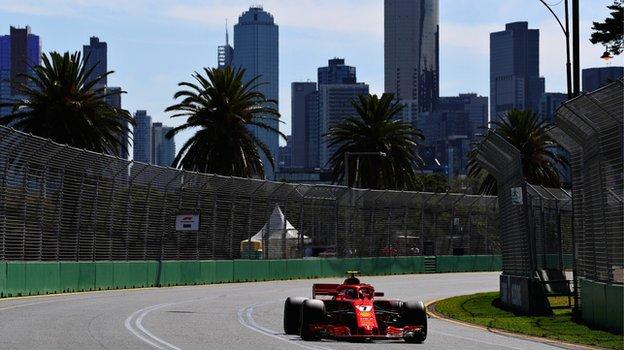 What does it all mean for the season?
The first session, in which Hamilton was much quicker than the rest of the field, had given the impression that Mercedes had a significant advantage.
But the second session painted a different picture.
Red Bull were close behind Mercedes on one-lap pace and if anything had an advantage on race pace when the teams put fuel in the cars and simulated the first stage of the grand prix.

On heavy tanks, the margins were close - Ricciardo was quickest on his long run on the ultra-soft tyres, simulating a first stint in the race, by 0.2secs on average from Hamilton, with Verstappen less than 0.1secs behind and neck-and-neck with the Ferraris and Bottas.
On pure pace, Mercedes would be expected to be favourites for pole position.
Not only did Hamilton appear to lose time in the middle sector of his best lap, suggesting he could have been at least 0.2secs faster, Mercedes also have an extra engine power boost for the final parts of qualifying that usually gives them an edge.
But the cars look closely matched and wet weather is predicted for qualifying, which will throw in an element of the unknown.
"We tried to chase the balance a bit because I did not feel that comfortable," said Vettel. "We still have quite a lot of performance in hand - I am not too worried because I know if I get everything right we should be in better shape.
"It looks to be close, which is good news, so we should be able to do something tomorrow."
Behind the big three
Grosjean's superb lap time - less than 0.5secs off the Ferrari - underlined predictions that Haas could be best of the rest at the start of the season.
The Franco-Swiss was 0.552secs quicker than Alonso's McLaren, which was just 0.046secs ahead of the second Haas of Magnussen.
But the midfield is very tightly packed - just 0.774secs separated Alonso in eighth place from Sergey Sirotkin's Williams in 18th.