Lewis Hamilton: Formula 1 'barely has any diversity' says British world champion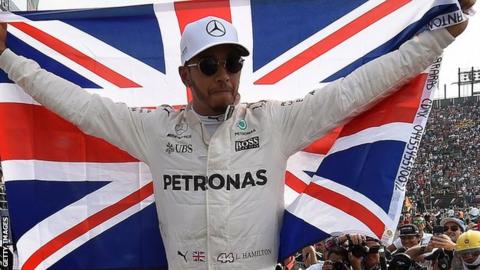 Four-time world champion Lewis Hamilton says "nothing has changed in 11 years" as he highlighted what he says is a lack of racial diversity in Formula 1.
In an Instagram post, Hamilton panned around the paddock at the season-opening Australian Grand Prix and encouraged more people from ethnic minority backgrounds to join the sport.
"There is barely any diversity in F1," wrote the 33-year-old Briton.
Hamilton is the first and only black driver in Formula 1.
In 2013, he said wanted to see more "non-white drivers on the grid".
Last year he said he had taken pride in helping the sport become more diverse since he made his debut for McLaren in 2007.
"People come up to me from different ethnic backgrounds. I have Asian families, black families, Mexican families come up to me and saying, 'My kid wants to be you one day', and I can assure you when I started racing there weren't people from those places," he said in November 2017.
"I take great pride in that. Like the great Williams sisters [Serena and Venus], like Tiger Woods, who really broke a mould, knocked down a wall for others to come through.
"I'm proud to be part of that hopefully positive change."
BBC Sport has contacted both Formula 1 and the FIA, the sport's governing body, for a response.