Australian Grand Prix: McLaren will only improve after opening race - Fernando Alonso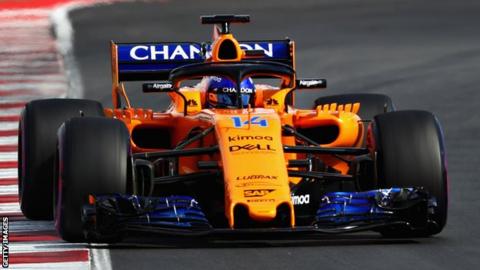 Fernando Alonso says the season-opening Australian Grand Prix will be McLaren's "lowest level" this year.
McLaren have had a difficult pre-season afflicted by reliability problems during testing in Barcelona.
"I understand we are not at the level of Mercedes or Ferrari or Red Bull now," said two-time champion Alonso.
"But we should be there in a couple of races' time or in the second part of the championship, because we are McLaren."
McLaren have switched to Renault engines this year after ending their relationship with former partner Honda last year because of lack of performance and reliability from the power-unit.
They claimed they had one of the best chassis on the grid in 2017, but at the start of this season McLaren do not appear ready to live up to their claim that they will race closely this season with Red Bull, who also use Renault engines.
"Obviously it is an important season for us with many changes on the team, especially on the power-unit. And obviously it is time to get some results for the team after three difficult years," Alonso said.
"It is difficult to know where we are right now because winter testing is only testing and we need to discover things a little bit in the first couple of grands prix.
"I think we have a good baseline and a good car to work with. But expectations are always high because we are McLaren and we have to deliver better results than what we saw in the last years."
Alonso, 36, finished 15th in the drivers' championship in 2017, having been 17th and 10th in his first two seasons with McLaren after leaving Ferrari in 2014.
"I think during the season we will improve a lot. We should be the team that will progress more relative to the other teams, just because the integration to a new power-unit will require time," the Spaniard added.
"The programme is for many updates that will come very soon in the next couple of races.
"What we will see here will be important, yes, but will be better and better. I expect in the second half of the season a very strong McLaren."
Alonso said McLaren's struggles in testing had not changed his expectations for the season, and insisted all the problems the team had were "fixed".
And he said that even if the car was not at the highest level, he would still be able to compete for good results - drawing comparisons with his 2012 season, when he battled for the title despite driving a Ferrari that was not one of the three fastest cars.
"I fought in 2012 and I was not in Q3 in some of the races," he said. "So we will fight."