Formula 1 2018: England v Germany and four other things to look forward to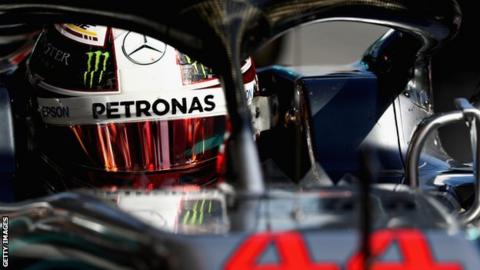 Dummmm, dum, dum, dum, dum, dum, dum, dum, dum, dummmmmmmmm...
You can almost hear it. The iconic bass riff of Fleetwood Mac's The Chain signalling the much-anticipated return of the Formula 1 season.
If that isn't enough to get your inner petrolhead excited, here are a few more reasons why we're looking forward to this year.
England v Germany
Yep. It's a World Cup year, raising the prospect of England losing on penalties to the Germans, but in F1 there is one head-to-head the English may win.
Stevenage's Lewis Hamilton versus Heppenheim's Sebastian Vettel - and both have won four drivers' championships.
If one of them wins this year, he would go second on the list of most successful F1 drivers of all time alongside Argentina's Juan Manuel Fangio.
Only the great Michael Schumacher - with seven titles - would be ahead of them.
So, technically, Germany would still be victorious... for now?
Three's a crowd - a good crowd
For the past few seasons it's been something of a two-horse race at the top of the standings, but now there's a bull trying to muscle in on the action.
This year Ferrari and Mercedes may have to contend with a new and potentially improved Red Bull at the top of the podium.
After the last round of testing in Barcelona, McLaren racing director Eric Boullier said: "I think the fight at the front will be between Mercedes, Ferrari and Red Bull."
But Red Bull's Daniel Ricciardo isn't giving anything away.
"I think we're looking OK," said the Australian. "I don't think we're fastest but I think we will be close enough to be in the hunt. We're there or thereabouts.
"Mercedes are still quick. If everything was equal right now, they still have a little bit on the rest, but I don't think we're far behind. I think it's positive."
For entertainment's sake, we hope they are up there - we've all got high hopes for a classic season.
Grid kids!
Whatever your view on the FIA scrapping grid girls for 2018, it is hard to deny grid kids will be a fantastic introduction to the sport.
The children will be competitors in karting or junior categories, chosen by national motorsport authorities.
The use of young mascots at football matches has brought some funny and heart-warming moments over the years, and who's to say it wont be the same in F1?
Who doesn't love seeing a kid's face light up as they meet their idol?
Hamojis
Following a controversial comment at Christmas, Lewis Hamilton deleted all his Instagram photos and tweets for a "clean slate".
This season, he has his own range of emojis - or "Hamojis" - to use.
Perhaps a wise move. Well, there's certainly less chance of him getting into trouble if he doesn't use actual words…
5 live F1 are getting the band back together - and have a new member
Forgive us for indulging ourselves...
Don't expect any instruments, but you can certainly look forward to 5 live's outstanding lap-by-lap commentary of every race.
Commentator Jack Nicholls, pit-lane reporter Jennie Gow and BBC F1's boffin-in-residence Andrew Benson are back, and this season they will be joined by none other than British driver Jolyon Palmer - fresh from his time at Renault.