Formula 1: Can Lewis Hamilton & Mercedes be stopped in 2018?

By Andrew Benson
Chief F1 writer
Last updated on .From the section Formula 1717
The same question hangs over Formula 1 at the start of the 2018 season as it has for the past five years. Can anyone stop Lewis Hamilton and Mercedes?
The cars may feature what is arguably the single biggest visual change in years - with the introduction of the 'halo' driver head protection device - but the action on track looks set to be very familiar.
The realities of the momentum of four consecutive world championship doubles, in addition to an imposing performance in pre-season testing, have installed Mercedes and their formidable lead driver as hot favourites as the clock ticks down to the first race of a new season in Australia on Sunday.
Ferrari's Sebastian Vettel, who looked set to snatch the title from Hamilton last year until his season imploded late on, is talking up his hopes.
The German, competing with Hamilton for the honour of being the first driver of his generation to become a five-time world champion, says Ferrari are "starting from a good base" with the new car. And he has played down the superiority apparently shown by Mercedes over eight days in Spain.
But even Vettel concedes Mercedes are the team to beat, and all indications are the champions have an advantage heading into the new season.
Hamilton and a place in history
Hamilton has broken a number of F1's statistical records over the past year. And having moved ahead of his hero Ayrton Senna in terms of pole positions and titles, he has said he is not especially motivated by the idea of supplanting Michael Schumacher's record 91 wins (Hamilton is 29 short) and seven titles (three to go).
But motivation to keep winning he definitely has.
Argentine Juan Manuel Fangio, whose tally of five titles is under threat from both Hamilton and Vettel this year, holds a special place in motorsport history. It is hard to imagine anyone ever matching his statistical achievements in terms of averages. And he is regularly in the top two or three of lists of greatest drivers of all time.
So it is not surprising to hear Hamilton say the prospect of "being up with Fangio" is "quite exciting".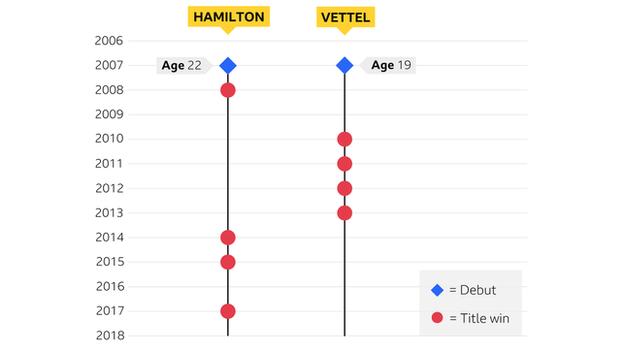 Hamilton's desire to leave a legacy that statistically defines him as better than Vettel - a belief he already holds privately - is another factor urging him to keep going.
"There are other drivers relatively close, like Sebastian," he said, when discussing the record of pole positions last year. "I have got to take it as far as I can take it."
Beyond that, there is Hamilton's personal quest to be the best he can be. "It is quite simple," he says. "I want to somehow be better than I was last year, which I think was the best year I had performance-wise.
"How can I top that? I proved it was a very, very strong year, but there are lots of areas actually."
For the others, this is a scary prospect, and it is not the only one.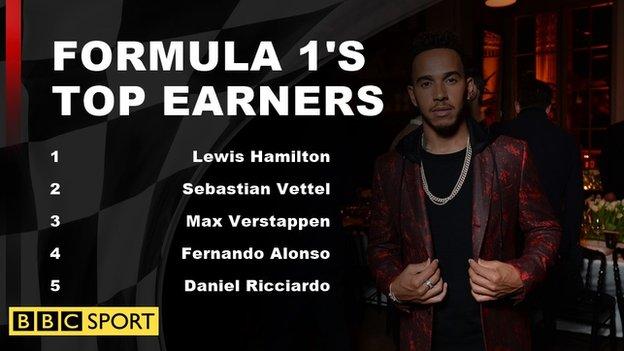 Last year, Vettel took the championship lead with victory in Australia in March and did not relinquish it until the Italian Grand Prix in September, while Mercedes struggled to get on top of a car that was fast on some circuits but difficult to work with on others.
Their target over the winter was to maintain the strengths of the 2017 car while fixing its weaknesses, or what team boss Toro Wolff called its "diva qualities".
Hamilton said during testing: "There doesn't feel any of those." Technical director James Allison says the 2018 car would "blow away" last year's. If he and his team have succeeded in their task, this could be a long season indeed.
In that scenario, the only entertainment risks being whether Hamilton's team-mate Valtteri Bottas can provide a substantial challenge, which the Finn is yet to prove is the case.
Ferrari with questions to answer
Ferrari enter 2018 surrounded by questions as to whether they might have let their best chance to beat Mercedes slip through their fingers.
Last year's car was arguably the best - as opposed to out-and-out fastest over one lap - of the season. But driver and team errors let the title slip away.
This year, while Mercedes have stuck to their own design philosophy and evolved it, Ferrari have combined theirs with some of Mercedes'.
In particular, Ferrari have lengthened the wheelbase to about the same size as that on the Mercedes, in an attempt to combine the fast-circuit aerodynamic efficiency they were lacking with their strong low-speed, high-downforce package.
It is not yet clear whether it has worked. And while the Italian team entered last season with an obviously fast car, this year's seems to be a step behind the Mercedes - in the region of 0.3 seconds or so - and nip and tuck with the Red Bull.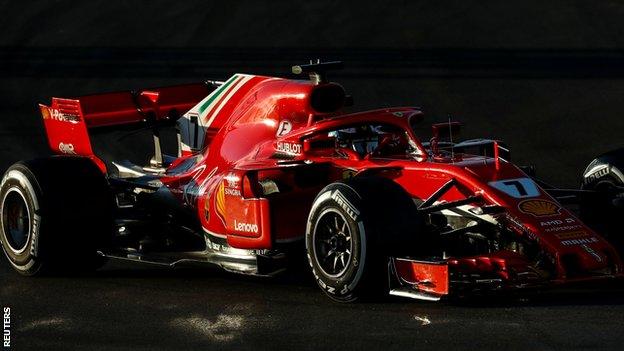 For the sake of a competitive season, Ferrari's pace in Australia will be watched with both interest and a degree of apprehension.
Ferrari at least go into 2018 with an engine that appears sufficiently competitive with Mercedes' power unit.
The same cannot be said for Red Bull and their Renault engine, which is still a step behind the top two manufacturers.
Reliability concerns mean Renault will not be able to run the engine in as aggressive a way as they would like. All three of its teams, which also include the factory outfit and McLaren, will be investing a lot of expectations in an upgrade to its hybrid system that it is hoped will come on stream at the fifth race of the year.
Meanwhile, the intra-team battle at Red Bull promises to be as diverting as ever, with Daniel Ricciardo seeking to re-establish himself in the face of Max Verstappen's growing momentum, not least because the Australian is out of contract at the end of the year.
Whether the likeable and super-fast Ricciardo sticks or twists - with potential openings at Mercedes, Ferrari and Renault - will be one of the major narratives of the year.
Can Alonso get back to where he belongs?
Ferrari's propensity to turn the biggest budget in F1 into a car that cannot do the job was what ultimately drove Fernando Alonso away at the end of 2014.
It was not the smartest move from either team or driver but there is no doubt that Alonso lost most from it. Following his move to McLaren, a man who in the same car would give Hamilton a run for his money, at least, has spent the past three years wasting his talent in the midfield in a car that, when it ran at all, was nowhere close to competitive.
Alonso admitted he considered walking away from F1 last year, so great were his frustrations through the Honda years at being forced to fight way below his level. Now, though, the 36-year-old has hopes his nightmare might end, following McLaren's decision to end the partnership with Honda and switch to Renault engines.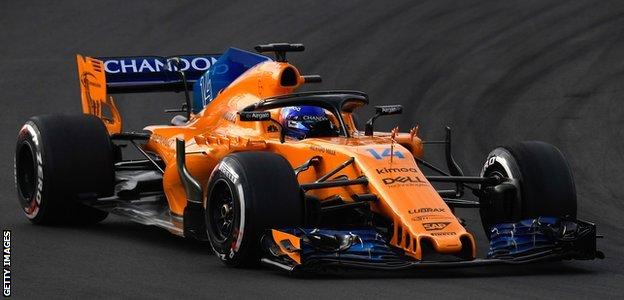 The year has not started well, with a sequence of reliability problems in testing which have inevitably set the team back. But a fast lap from Alonso on the last day in Spain recalibrated expectations of a car that had looked destined to be, if anything, an initial step backwards.
McLaren have a major upgrade coming for Australia - and more to come after that. It looks like they will initially be competing to be the fourth fastest team along with surprise package Haas and Renault.
That's not enough for Alonso, but it's not a bad starting point from which to work.
And almost everyone with an interest in natural justice hopes McLaren can live up to their promises and enable one of the greatest drivers to spend the twilight of an illustrious career back where he belongs - competing somewhere close to the front.
If he is not, it won't only be Alonso who is unhappy.
McLaren claimed last year that they had one of the best chassis and needed only a good engine to be competitive.
Before testing, their stated aim was to be competing with Red Bull. Now, pressure is already mounting on them. If they are not running with Red Bull by mid-season, after a few races' grace to sort out their car with a new engine, questions are likely to be asked, and someone may end up paying the price.
What about the halo?
Will the halo device distract and detract from the action on track? For some - including a minority of drivers - it is an abomination, a betrayal of the very ethos of F1, and an unnecessary addition into a sport already perceived to be relatively safe.
For others - including the majority of the drivers, nearly all the top ones, their representative body the Grand Prix Drivers' Association, and governing body the FIA - it is a vital protection against the last controllable mortal risk and introducing it is a responsibility the sport cannot shirk.
The only consensus is it does not look great - a titanium cage stretched around the driver's head, rendering him more invisible than he already was.
But the teams have done their best to integrate it into their colour schemes and it is remarkable how quickly you become used to it when looking at the cars repeatedly.
The only thing that can be said for certain, however, is the halo - and whatever developments of it follow to improve both aesthetics and function - is here to stay.
It'll get tasty off track, too
Political rows are an intrinsic part of F1. They contribute to the complexities that make it such a fascinatingly rich sport to follow. And this year they are likely to take centre stage.
The contracts that bind the teams to F1 run out in 2020. Talks about new ones have already started and appear to be going not very far, fast.
A number of particularly thorny, and intermingled, issues need resolving.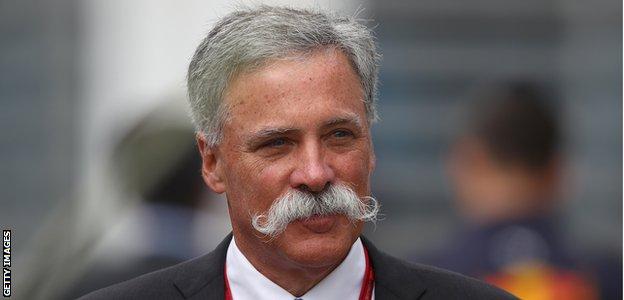 Prime among these are the engine formula, revenue distribution and attempts to introduce spending limitations.
There is not the space to go into them in detail here. But suffice to say the engine manufacturers have objected to an initial proposal on rules for 2021, three of the four own teams, and F1's new owners are trying to reduce the amount of money they pay to the competitors while the sport's income suffered its first ever drop last year.
This, in an environment in which it is becoming increasingly hard to find external sponsorship, and TV viewing figures are going down because of the shift away from free-to-air television.
In that context, the battles off the track are likely to be just as fiery as those on it.