Formula 1: FIA boss Jean Todt responds to halo criticism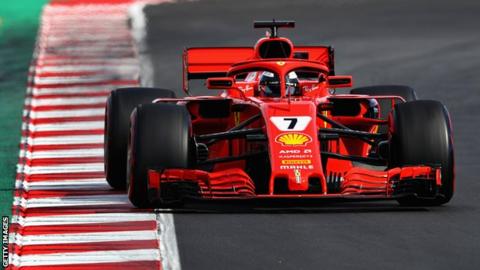 Motorsport boss Jean Todt has hit back at criticism of the new halo head protection device.
Mercedes F1 boss Toto Wolff said last month that he would take a chainsaw to the halo if he could.
But Todt, the president of motorsport's governing body the FIA, said it had been introduced to save lives and at the request of drivers' body the GPDA.
"I am amazed to hear some people say: 'OK, motor racing is dangerous, if it happens, it happens,'" Todt said.
"Can you imagine how we would all feel if something happened and if we would have had the halo it would not have happened?"
And he dismissed critical comments from Wolff by saying: "I will not react. It is a childish game. It's very inappropriate, whoever you are, to publicly deny something which is introduced."
The halo has been under development for several years, and has emerged as the most effective of the designs tested at protecting the driver's head from impact with large external objects.
But Todt pointed out that the process that led to its adoption in Formula 1 was kick-started two years ago by the Grand Prix Drivers' Association.
He said its directors Alex Wurz, Jenson Button and Sebastian Vettel had written to him in December 2015 "urging us to decide for head protection for the drivers".
And he said that before a meeting to decide on its adoption in July 2016, the GPDA said: "Don't be weak and please respect what we have asked you on safety."
Although a majority of drivers are in favour, some have said they are opposed to the idea of it, while others have raised objections surrounding the difficulty of getting in and out of the car and identifying drivers on track.
"If we are able to find something better, I am sure we will be able to over the years," Todt said.
"Honestly, I am not disturbed with what I see. I read somewhere we do not see who is driving. We have been complaining for years that we do not see who is driving the car; we don't see the name. You need to be a big expert. For me it could be a facilitator to know who is driving the car."
He said that he had heard no criticism of the halo in Formula Two, which is also using it this season, or the all-electric Formula E series, where it is being introduced in 2019.
Progress on engine regulation deal
Todt, speaking at a news conference in London, also said that he was confident of reaching a solution on new engine regulations needed after 2020. The basis for these would be the current turbo hybrids, he said.
"The whole idea is to work on what are the engine rules now and make them better," he added.
The engine manufacturers in F1 have put forward a counter-proposal, after objecting to an initial plan made by the FIA and F1 Group in November.
Todt refused to say what had been proposed, and said he wanted to be "fair" to the existing manufacturers. But he emphasised that all parties in F1 had agreed unanimously to make the engines cheaper, simpler rev higher, sound better, remove restrictions on fuel flow and ensure the regulations facilitated new entrants.
In a wide-ranging discussion of the fact that F1 is in the process of negotiating new commercial contracts with the teams for post-2020, Todt said he was personally not in favour of Ferrari maintaining its contractual veto over rule changes.
But he added that he had also been opposed to this the last time contracts were negotiated and backed down because all other parties had been in favour of it.
And he defended Ferrari receiving more prize money than other teams.
"Is it normal that Leonardo DiCaprio gets more money than an actor from a TV series?" he said rhetorically. "It's normal."