Formula 1 testing: Snow and rain ruins day three of pre-season testing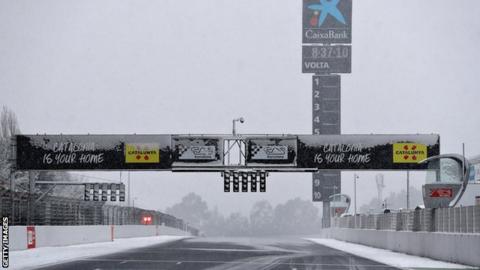 The third day of pre-season testing was a write-off as a result of snow, rain and freezing weather at Spain's Circuit de Barcelona-Catalunya.
The start was delayed for more than three hours because the medical helicopter was unable to fly in the poor conditions after overnight snow.
Only five drivers left the pits and only Fernando Alonso set a timed lap.
McLaren's Alonso was the first out on track and he joked that the "car is performing well in the snow so far".
His fastest time of two minutes 18.545 seconds was a minute off a fast dry lap time as the Spaniard managed 11 laps in total.
Alonso, Red Bull's Daniel Ricciardo and Toro Rosso's Brendon Hartley were the only drivers to complete more than one lap - two each for Ricciardo and Hartley - and Ricciardo had a trip through the gravel but was able to extricate his car and return to the pits.
As temperatures climbed slowly above freezing in the afternoon, the early snow and sleet turned to heavy rain, but Ricciardo's mishap emphasised why running was so restricted - teams wanted to avoid risking damaging their cars.
The weather is expected to improve for the final day of this week's first test on Thursday, with highs of 15C predicted on a cloudy day with intermittent showers.
The second and final pre-season test runs from 6-9 March. The opening race is the Australian Grand Prix in Melbourne's Albert Park on 23-25 March.
Snow also affected the end of the second day of testing on Tuesday.
Haas team principal Guenther Steiner said: "You don't learn anything. We will never race in this circumstance, and the only thing you do is risk the car.
"This being the first test of the season, we are lean on spares, and we cannot risk it. And at the moment it does not look much better on Thursday. It is getting warmer but still wet."
Extending the test for an extra day would require the unanimous approval of all 10 teams.
"We can't get two teams to agree on something, never mind 10," Steiner added.
"The big teams do a lot more work in testing so they lose as much as us.
"But to get to Melbourne the smaller teams are always hurt more than the bigger teams who have more resources.
"I am positive that next week will be better - no rain, temperatures up to normal. And then you can do some work."