Lewis Hamilton aiming to set new standards in F1 in 2018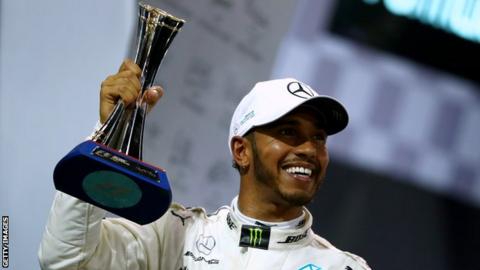 Lewis Hamilton says he is aiming to set new standards in 2018.
"It is quite simple - I want to somehow be better than I was last year," said the 33-year-old, who won nine races on his way to his fourth title in 2017.
"Last year was I think the best year I had performance-wise. How can I top it? There are lots of areas actually."
Hamilton said he expected it to be "a closer season" but refused to single out who he thought would be his closest rival.
Hamilton was speaking at the launch of Mercedes' new car, with which the team are aiming to win their fifth consecutive title double, an achievement that would match that of Ferrari from 2000-2004.
If Hamilton won the title, he would match Argentine legend Juan Manuel Fangio in winning five championships, with only former Ferrari driver Michael Schumacher ahead on seven.
Hamilton said he had "gone back to normality" over the winter and only in recent weeks, as he began his pre-season training programme, begun to think about his achievements.
He said: "When you go back to training, you start to work out: why am I training? What is my motivation? Where are you going to find the training and the drive? What are the goals?
"You have the downtime, had a successful year, how can you go back, what's next? Are you still hungry? Do you still want to go back and sit and do interviews? Do you still want to win races, do qualifying? Do you still enjoy driving the car? Can you be better? What areas can you be better?
"There are other passions I have that I am as passionate about as I am racing. At what point do they take priority?
"It is not a case of 'I've got to go to the gym so you sulk on the way to the gym'. I don't force it. I take my time, and eventually I miss going for a run and miss working out and look forward to getting back to it. And when you get back into that training process you discover the goals.
"Only in the last couple of days I saw something about being up with Fangio and that is quite exciting."
A new approach to social media
Hamilton said he had spent his winter in Los Angeles, Colorado, Japan and most recently Hawaii, where he surfed with champion surfer Kelly Slater.
The time had given him space to reflect, he said, and he indicated he might take a different approach to social media following the controversy caused when he appeared to criticise his young nephew's decision to wear a princess dress on Christmas Day.
Hamilton made a public apology and then deleted all the social media posts he had ever put on Twitter and Instagram.
Hamilton said: "We had already planned to start a clean slate at the beginning of this year. It just so happened it was an opportunistic time to change it.
"Moving forward, there is a balance you have to strike.
"I have been very open with my life for several years now and it is always difficult make a change because I quite like being open.
"But we are in a strange time in the world where things are magnified more than in previous years. It is a critical time for the world.
"I will continue to show what I am doing. It is just being a little bit more strategic in what I do show and don't show. It is great. It is again still a gateway to be able to connect with my fans which I am not able to do on a race weekend.
"It will continue to be a part of my life but how deep I go we will see."
Hamilton's future to be sorted soon
Hamilton is out of contract at the end of the season but indicated a new contract to keep him at Mercedes - probably for another two or three years - was an inevitability.
Mercedes F1 boss Toto Wolff said he expected a new contract to be resolved "in a few weeks".
Hamilton echoed Wolff's comments about the inevitability of a new contract, adding: "We speak very often, constantly talking to each other about how we are committed to each other.
"I know he knows there is no-one better, so he is not looking anywhere else. I know there is nowhere better so I am not looking anywhere else. It is just a question of putting everything together.
"We are comfortable. There is no reason to rush anything. I am not feeling under any pressure of any other drivers being there and Toto has no reason to think I am talking with other people. We always made it clear at the beginning that if I was to engage and look at my options I would inform them and I have not needed to."
Bottas under pressure
Hamilton is partnered again this year by Finn Valtteri Bottas, whose future is also in question beyond 2018.
Bottas said he intended to try to improve on last season and avoid the slump in competitiveness he experienced in the second half of the season.
"Starting my second year with this team, my chances are much better to be performing every weekend on the level I should, unlike last year [when] there were many races I was not on the level I should have been and wanted to be," the 28-year-old said.
He said he thought he had it within himself to beat Hamilton.
"He is one of the best drivers ever in F1," Bottas said. "He was the best driver last season but there is no driver who is unbeatable. I believe in myself. I was able to show last year I could do it. Not in every race but I know it's there and it's possible."
Bottas faces competition for his place from Red Bull's Daniel Ricciardo and Force India's Esteban Ocon, a Mercedes protege.