Daniel Ricciardo crashes new Red Bull in first test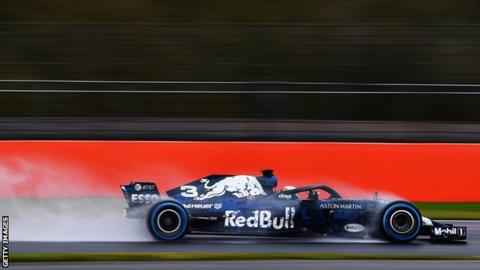 Daniel Ricciardo crashed Red Bull's new 2018 Formula 1 car during its first test, it has emerged.
The Australian damaged the RB14 during a private filming session, limited by regulations to 100km (62 miles), at a wet Silverstone on Monday.
A Red Bull spokesman said the incident was "minor" and there would be "no issues" as regards being ready for the start of pre-season testing next week.
The team did not mention the incident in footage released on the day.
Ricciardo also did not talk about the crash in a statement released by Red Bull.
"It's hard to tell from a couple of laps but the initial feeling in the car is good," he had said. "I can already feel that the rear feels pretty settled, even in these poor conditions. Those are encouraging early signs."
The autosport.com and motorsport.com websites reported that the incident had damaged the front of the car, floor and suspension.
The team described these reports as "speculative".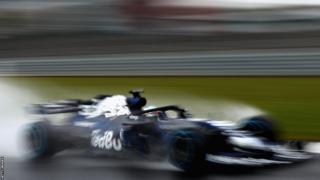 F1 has barely started, and Daniel Ricciardo's had a prang in his brand new Red Bull RB14 during its very first outing - in the Silverstone rain. But he's not the only one to suffer during testing times...
Some scepticism in the team
Ricciardo did say, however, that he had had no problems with the new 'halo' head protection system, which has to be fitted to all cars this season to protect the drivers from impacts with large objects.
"So far I can see fine with the halo. I'd only done a couple of installs with it before so it was pretty new today but I really didn't notice it was there, which is pretty good," he said.
"Honestly, unless there's stuff above, I don't see any issues at all on a flat track."
Red Bull won three races last season and hope to become title contenders this season for the first since the end of their four-season dominant run from 2010-13.
However, Red Bull motorsport director Helmut Marko told Germany's Auto Motor Und Sport that he thought a championship challenge might not be possible.
"I don't think we're in a situation where we can already go for the world championship," Marko said.
Red Bull started last season with an uncompetitive car but by the end of the year, when Max Verstappen won two of the final five races, were believed to have a chassis to compare with those of Mercedes and Ferrari.
Will the engine be good enough?
But their main weakness remained their Renault engine. Marko said he hoped the French manufacturer would have made progress this season but doubted their ability to compete on the power-unit front with Mercedes.
"The Renault engine should be more reliable and powerful in 2018, and we'll be fighting with a competitive chassis at the outset.
"But Mercedes is producing a new engine, so the question is whether they'll have an even bigger advantage. If the engine does what we're promised, then we should be a lot closer to Mercedes."
German car website Auto Motor Und Sport also reported that Red Bull had doctored photographs from the test to disguise a piece of bodywork between the front wheels and sidepods.