Formula 1: Renault aiming to make further progress after unveiling 2018 car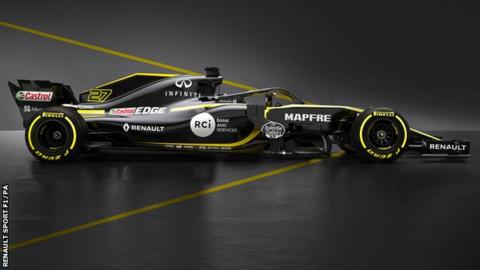 Renault say they are aiming to make further progress towards the front of the grid after unveiling their 2018 car.
The French company has set its Formula 1 team the target of winning races and challenging for the title by 2020.
"Our headline target is to show progression through results. Everything must improve," said Renault Sport managing director Cyril Abiteboul.
Renault finished sixth in the championship last season.
The team ended the season with a car that was often the fourth fastest and Abiteboul added he wants "to continue to grow".
"We want to demonstrate this in many different ways, from the teams we will be directly racing against, to the gap to the leaders, including also our fanbase and the respect that our team will inspire in our way we behave on and off track."
The R18 car has a new colour scheme, with heavy use of black alongside Renault's corporate colour of yellow.
In its launch specification it appears a relatively conventional design, but notably elegant of form.
Like all new F1 cars this year, it features the 'halo' head-protection device, painted black to try to better integrate its controversial aesthetics into the car.
Sauber, which also launched its car on Tuesday, had attached to its halo a small aerodynamic faring, permitted by the rules, variations of which are expected to appear on all the cars once pre-season testing starts next week.
Renault's drivers this year are German Nico Hulkenberg, a highly rated veteran who will be targeting his first career podium finish, and Spaniard Carlos Sainz, on loan from Red Bull. Abiteboul described the line-up as "talented and ambitious".
Hulkenberg said: "Everything looks and sounds good; it's all positive and there are exciting times ahead.
"I'm feeling positive and optimistic in myself. We're in a good position. For this year we want to build on the good platform of last season. 2017 was about bedding in, now I want to get ready to go.
"I get a good feeling, we have put the work in over the winter and hard work usually pays off. I'm eager to get out there. Put me in the car."
Briton Jack Aitken, a Renault protege, has been promoted to third and reserve driver, with Russian Artem Markelov as test and development driver.
Renault chief technical officer Bob Bell said the team had to improve its reliability, a weakness last year when it came to the engine, which was also down on performance compared to those of title rivals Mercedes and Ferrari.
Bell said: "We need a strong reliability record. That's something we need to focus on, and we have worked hard on it over the winter.
Sauber also unveil 2018 car
Backmarkers Sauber have set themselves the target of narrowing the gap to the rest of the field in 2018.
The Swiss team was more than four seconds a lap off the pace on average last year - and over 1.5 seconds behind the next slowest car.
But they hope the new C37 car, launched on Tuesday, exciting new driver Charles Leclerc and closer links with engine partner Ferrari will make a difference.
"We have to catch up with the field," team principal Frederic Vasseur said.
"And continue improving our performance during the course of the season."
Sauber have signed highly rated rookie Leclerc - a Ferrari protege and the reigning Formula 2 champion - to partner Swede Marcus Ericsson, who is entering his fourth season with the team.
They will be using an up-to-date Ferrari engine, rather than the year-old model used in 2017, and have attempted over the winter to produce a much more competitive car.
The new C37 features an unusual nose treatment aimed at best channelling the airflow under the car, and prominent branding from Alfa Romeo, Ferrari's sister brand, which is returning to F1 for the first time since 1985.
Technical director Jorg Zander said: "The car philosophy is much different to that of the C36. The aerodynamic concept has changed significantly and it has several new features in comparison to its predecessor.
"We are positive that the new concept offers us more opportunities and will help us make improvements in the course of the season."