Formula 1: Williams say inexperienced drivers can deliver as they unveil 2018 car

By Andrew Benson
Chief F1 writer
Last updated on .From the section Formula 185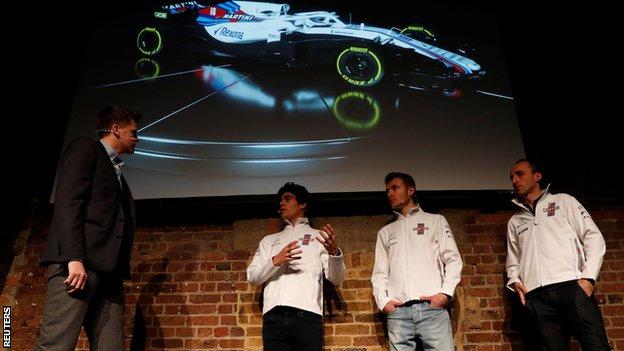 Williams say they have no concerns that their inexperienced driver line-up will affect their performance in 2018, as they revealed images of their new car.
With Canadian Lance Stroll and Russian rookie Sergey Sirotkin, they have the least experienced line-up on the grid.
"If we didn't think they would do the job, we wouldn't put them in the car," team boss Claire Williams said.
She added: "As a team, the constructors' championship is the most important thing."
Both drivers bring substantial sponsorship budgets to the team, but Williams pointed out that Stroll, 19, scored only three points fewer than experienced team-mate Felipe Massa last season.
Stroll became the youngest man in history to score a podium finish and qualify on the front row, but was generally significantly slower than Massa during the season.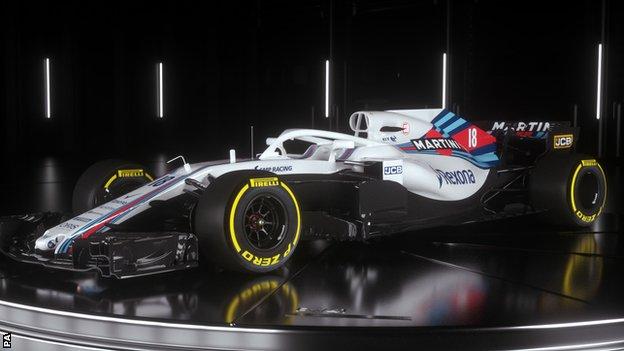 Russian Sirotkin, 22, was Renault's reserve driver last year and won the Williams drive after impressing the team in a post-season test in Abu Dhabi last November.
Williams said she was "excited" about the season ahead.
"It's always quite nerve-wracking when you bring in a new talent," the deputy team principal said. "But we have been doing it for years now and they have always paid off.
"Sergey did a phenomenal job for us at the Abu Dhabi test and I think he is going to surprise a lot of people this year.
"Lance has been working really hard over the winter to make sure he delivers an even better performance for us than last year.
"I have no question in my mind that they can deliver for the year this year."
Williams also denied that the money Sirotkin and Stroll would bring was the main factor in the choice.
"Our decision-making process is so much more complex than just deciding to put a driver into the race seat because they have some cash," she said.
"Yes, we are an independent team, and yes, sponsorship is really difficult to come by these days... so clearly if a driver has some financial backing then that is an added bonus, but it's not the foundation for a decision-making process at Williams."
What about the car?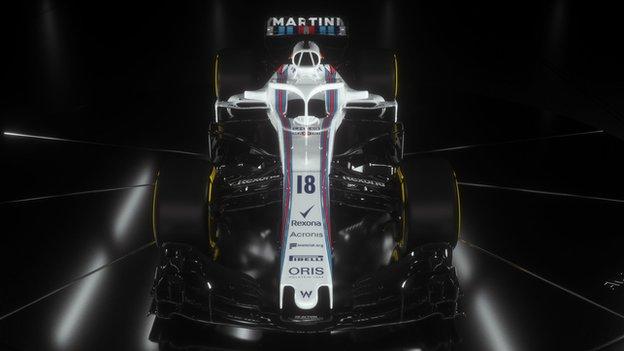 Williams finished fifth last season and new technical chief Paddy Lowe, who moved from world champions Mercedes early last year, said they hoped to have made a much more competitive car this season.
He is one of a number of new leading engineers at the team, including former Ferrari and Renault aerodynamicist Dirk De Beer.
Lowe said he believed the team had made "some really good steps" with the new FW41.
Lowe said: "We're trying to achieve an element of step-change and not just a progression. We were two seconds or so a lap slower than the front-runners last year and that is something we are looking to close considerably."
Lowe acknowledged the threat faced by expected improved performances from McLaren, following their switch to Renault engines from Honda, and the factory Renault team.
F1's new machines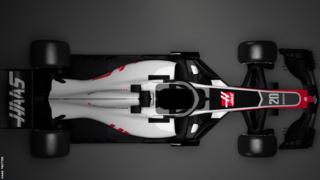 Haas... struggled to stand out at most races in 2017, as did the predominantly grey livery
A star as the reserve driver
The team have also signed former F1 driver Robert Kubica as their reserve driver, seven years after the Pole suffered life-changing injuries in a rally crash.
Kubica had been slated for the race drive but an inconclusive performance at the Abu Dhabi test convinced the team to go for Sirotkin instead and offer Kubica a role helping the team develop the car.
The winner of the 2008 Canadian Grand Prix is to take part in pre-season testing, in-season testing, three practice sessions at races during the season - the first two at the Spanish and Austrian Grands Prix - and work in the team's simulator.
Kubica, who does not have full movement in his right arm after it was partially severed in his crash, said he tempered his disappointment at not being in a race seat by keeping his achievement in getting this far in perspective.
"If you look at it from a different perspective and where I was 13 moths ago, nobody thought I could be back in an F1 car," Kubica said.
"The last 12 months showed me a lot. I am more convinced now than ever that I am able to drive an F1 car although my limitations are quite big.
"For sure there will be some emotions going to grands prix and visiting the places that gave me so many memories, but there is a lot of work to do and I am really happy to be here."