'Halo' can take weight of London bus - Mercedes' James Allison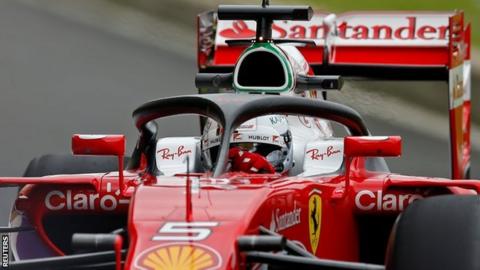 Formula 1's new head-protection device can "take the weight of a London double-decker bus sitting on top", says Mercedes technical boss James Allison.
The 'halo' will be introduced this year to limit the biggest safety risk in the sport - the driver in an open cockpit.
It is designed to protect drivers from flying debris and other intrusions.
The halo was the only device that could pass governing body the FIA's test of deflecting a wheel assembly fired at it at 150mph.
A London bus weighs about eight tonnes.
Many fans have criticised the halo's appearance and its potential for undermining what some see as a key ethos of F1 - open cockpits.
The majority of the drivers are in favour of the device and their representative body, the Grand Prix Drivers' Association, is wholeheartedly behind increased frontal cockpit protection.
Allison, said in a video produced by Mercedes: "It's a bit of an acquired taste.
"We're still busy acquiring it and I'm sure everyone else is too, but I think there are things we can do in coming seasons to make it also look nicer on the car."
He said the halo used this year was a first attempt and would change in effectiveness and aesthetics in the coming years.
The FIA, which rejected a transparent shield or screen on the basis that it would mean an inevitable reduction in safety, is pursuing research into other designs and approaches.
Teams are allowed a 20mm fairing around the device to reduce its impact on airflow around the car.
"We're permitted to fit an aerodynamic fairing around it, which gives us a certain amount of scope to mitigate the effect that it has on the aerodynamics of the car," Allison said.