Formula 1: Team chief Claire Williams supports scrapping of 'grid girls'

By Andrew Benson
Chief F1 writer
Last updated on .From the section Formula 1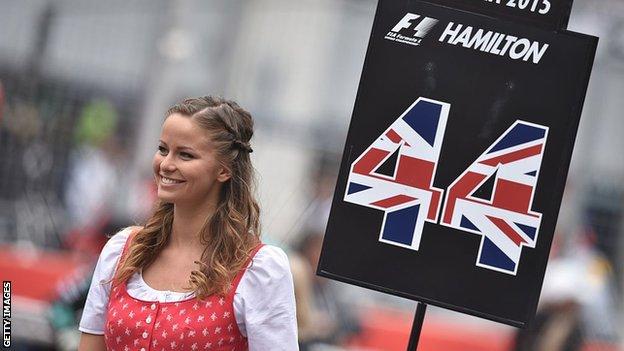 Claire Williams has backed the decision by Formula 1 bosses to stop using 'grid girls' from this season.
The 41-year-old, who is F1's only female team boss, told BBC Sport it was "a decision the sport needed to make".
Williams recognised 'grid girls' were part of a "long tradition" and that there would be a "mixed reaction" but said: "We have to move with the times."
She said she hoped F1 could "attract more females into the many roles available to them in the industry".
F1 announced on Wednesday that it would end the practice of using female promotional models to stand on the grid holding driver name boards.
Sean Bratches, managing director of commercial operations, said: "We feel this custom does not resonate with our brand values and clearly is at odds with modern day societal norms."
The decision has produced a mixed response, including from some of the women who have performed the role in the past.
But Williams said that F1 had "entered a new era" and now needed to "focus on further improvements that can be made to keep the sport growing and moving forward".
Former Williams F1 test driver Susie Wolff told BBC Sport the deployment of grid girls did not offend her, and that F1 had more pertinent issues regarding the involvement of women in the sport.
"You can say, on a positive note, that the owners of F1 have made a clear statement with their decision," she said.
"This is not going to change overnight the lack of female representation in motorsport but could it be a step in the right direction? I believe so.
"Let's take the successful women in the sport and make role models out of them to inspire others. Let's get school girls around an F1 show car and allow them to dream. Let's increase the talent pool of girls and women entering the sport."
Part-time 'grid girl' Charlotte Gash had told BBC Radio 5 live that she was "disgusted" with F1's decision.
"It's upsetting that it has given in to the minority to be politically correct," she said.
"I'm one of the lucky ones that I don't rely on this as a main source of income, but there are girls out there who do.
"I know the grid girls are there to look pretty when they're out on the grid but my role was interacting with the crowd and we were there as an advertisement for the sponsors. We love doing it, we don't want it taken away from us."
Former grid girl Caroline Hall said she was saddened by F1's "extreme measures".
"I think they could have looked at ways of bringing the role more into line with modern times instead of scrapping it entirely," she told BBC Radio 5 live. "They could have looked at making it more equal between the sexes in the role."