Martin Whitmarsh: Former McLaren team principal to return to F1 as consultant

By Andrew Benson
Chief F1 writer
Last updated on .From the section Formula 1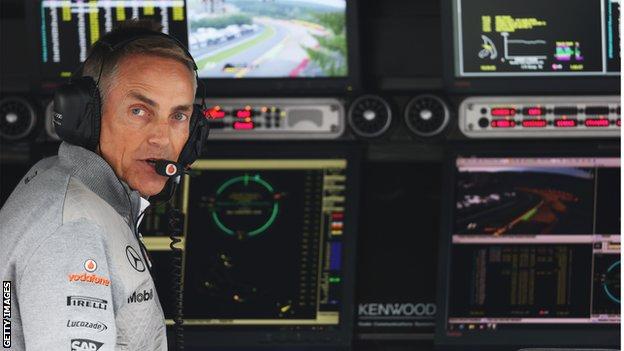 Former McLaren team principal Martin Whitmarsh is returning to Formula 1 to help find ways to reduce costs.
Governing body the FIA said Whitmarsh, 59, had been invited in as a temporary consultant to help define "regulations for fair and sustainable competition".
He has been out of the sport since being ousted from his role as McLaren team principal by former mentor Ron Dennis in 2014.
Whitmarsh was a leading figure in the last attempt in F1 to control costs.
That was as chairman of the now-defunct teams' umbrella group Fota, which introduced the so-called resource restriction agreement aimed at keeping a lid on budgets.
F1's new owner Liberty Media is keen to find a way to limit costs for teams as one way of closing up competition in the sport.
The American company, which bought F1's commercial rights last year, has been talking about introducing a cost cap, and its sporting boss Ross Brawn is working with the FIA on the issue.
But FIA president Jean Todt, who worked with Brawn at Ferrari from 1996-2006, has admitted a cost cap on its own would not work.
Todt said: "I don't believe in a cost cap. I believe we can have a global package in the regulations.
"I am not an engineer but I have been aggressive to our engineers on it in different capacities. At Ferrari, I discussed it with Ross. Now it is something I discuss with [FIA F1 director] Charlie Whiting. So far I have never got a solution that really answers the problem. But I believe it should be a combined work.
"If we all agree F1 should be more affordable, everyone should work to make rules to allow the costs to come down. It is easy to say but so far I have never got a proper answer."
After leaving F1, Whitmarsh became chief executive of Olympic yachtsman Ben Ainslie's America's Cup challenge. He left that role in November, moving into an advisory position.
He is also on the global advisory board of Formula E, the FIA's all-electric single-seater series.