Dan Gurney: Pioneering F1 driver dies aged 86

By Andrew Benson
Chief F1 writer
Last updated on .From the section Formula 1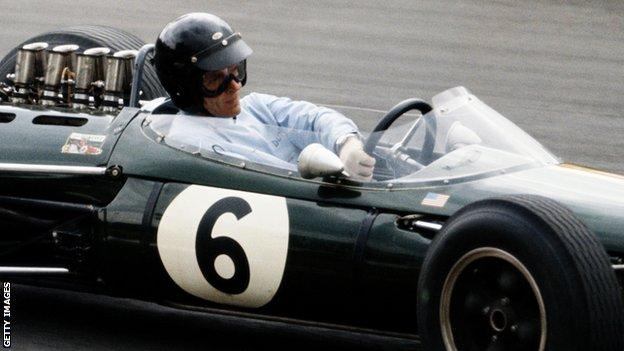 Dan Gurney, one of the greatest Formula 1 drivers of the 1960s and a towering figure in motorsport, has died aged 86.
The American was the first to spray champagne on the podium, and the first to wear a full-face helmet.
He also took Porsche's first F1 victory, and was one of the leading members of a golden generation of drivers in the 1960s, including Jim Clark and Jackie Stewart.
Gurney was also the second driver to win a grand prix in his own car.
Gurney is the second most successful American driver in F1 history after Mario Andretti. But although he won only four grands prix, he is regarded as one of the greatest drivers of all time, and a talent of the standing of contemporaries such as world champions Clark, Stewart, Graham Hill and John Surtees.
All of them regarded Gurney as one of their toughest rivals; Clark's father told Gurney at his son's funeral that he was the only driver he feared.
Gurney's F1 career started with Ferrari in 1959 and he won his - and Porsche's - first grand prix in France in 1962, and won again at the same Rouen circuit two years later for Brabham, before deciding to follow the example of Jack Brabham and set up his own team.
Gurney's greatest days came in one week in 1967, when he won the Le Mans 24 Hours for Ford with fellow American legend AJ Foyt, before victory in the Belgian Grand Prix at the hallowed Spa-Francorchamps track seven days later in his own Eagle car.
It was at that Le Mans race that he invented the champagne-spraying celebration that soon became the regulation way to celebrate a race win.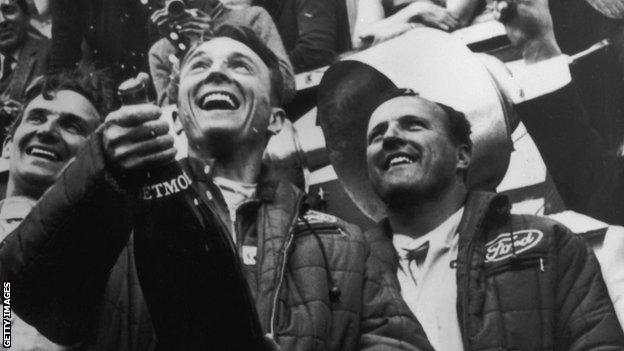 His own Eagle cars did not last in F1, stopping in 1968 when the programme ran out of money, and he ended his grand prix career with McLaren, stepping in for three races in 1970 after their founder Bruce McLaren was killed in a crash. Gurney retired from behind the wheel at the end of that year.
Gurney also had success as a driver in Indycar, sportscars and Nascar, claiming 51 career victories and 47 podiums in 312 starts.
He came close to victory in the Indianapolis 500, finishing second in 1968 and 1969 and third in 1970.
And his Eagle cars continued in other categories, winning the Indy 500 three times, including with Gurney's own All-American Racers team in 1975.
It was in Indycars that he came up with another ground-breaking innovation, inventing the 'Gurney flap', a small attachment for the trailing edge of a wing that boosts downforce with minimal drag which has since become ubiquitous in motorsport.
His death was announced by his wife Evi and his family, who said in a statement: "With one last smile on his handsome face, Dan drove off into the unknown just before noon, January 14, 2018.
"In deepest sorrow, with gratitude in our hearts for the love and joy you have given us during your time on this earth, we say 'Godspeed.'"