Robert Kubica: Did he do enough to earn F1 return?

By Andrew Benson
Chief F1 writer
Last updated on .From the section Formula 1224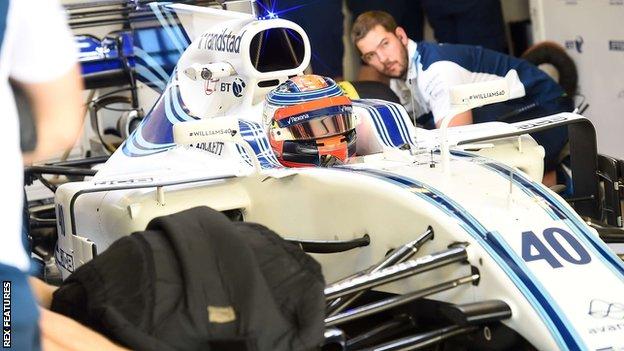 Williams appear to be in a bit of a pickle over their driver choice for the 2018 season.
The clear plan was for Robert Kubica to make a fairytale comeback seven years after the rally accident that left him with life-changing injuries and partner Canadian Lance Stroll, who is under contract.
If it is workable, that strategy has lots of positives.
Kubica was one of his generation's leading talents and the theory was that even if his injuries meant he was not quite what he was, he would be dependable and fast, and his excellent technical feedback would provide Williams with a solid baseline for car development.
On top of that, a man returning seven years after an accident that nearly killed him and with only partial movement in his right arm is a great story to tell that would mean lots of positive exposure.
But it seems there has been a hitch. Williams planned to make their decision after running Kubica in the end-of-season tyre test in Abu Dhabi this week.
But his performance was inconclusive and now Williams are saying they want to take their time, analyse all the data and carefully look at all their options before making a decision.
So how did Kubica do? Did he do enough to convince Williams he can make a return? And if not, what do they do?
Kubica's performance in the test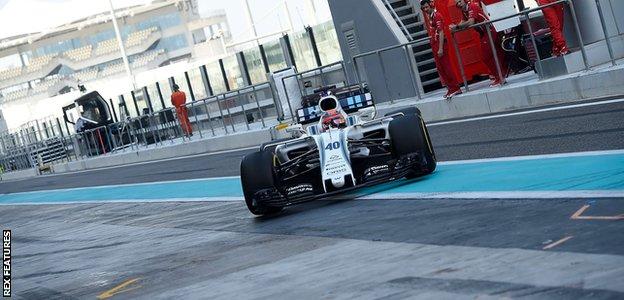 It is very hard for outsiders to be definitive about pace from testing times. But on the face of it, it seems Kubica did not make a compelling case for Williams to sign him during his few hours of testing on Tuesday and Wednesday at Yas Marina.
The 32-year-old's fastest lap was a time of one minute 39.485 seconds. That's 0.9secs slower than lead Williams driver Felipe Massa managed in qualifying at the grand prix four days before, despite Kubica being on softer tyres.
But although Massa's performance is a benchmark for Williams, the times cannot necessarily be compared - they were on different days, in different conditions, on different tyres and almost certainly with different engine modes.
Kubica was 0.1secs faster than Stroll had been the previous day on the same tyres - but the Canadian was a second off Massa's pace throughout the Abu Dhabi race weekend.
Sergey Sirotkin, the Renault development driver who Williams were also evaluating at the test, was just under 0.5secs slower than Kubica on the same day. But he was running in hotter - and therefore slower - conditions and using the 'soft' tyre while Kubica was on the new hyper-soft, and there is about a two-second off-set in the tyres.
So just looking at the basics of what is known - tyre performance and lap time - Kubica was in effect 1.6secs slower than Sirotkin. Which does not look good.
Drilling a little deeper into Kubica's performance
Kubica's fastest lap was set on a three-lap, qualifying-style run just before 1800 local time. It was, in other words, effectively a qualifying simulation aimed at extracting maximum pace.
But Williams will not reveal the fuel load, so that's a variable, and it's not known how good a lap it was from the driver - ie, did he make a mistake, did he get the best out of Pirelli's notoriously difficult tyres etc?
In fact, Kubica appears to have done a lap that was better than that on the first day of the test, Tuesday. Then, he set a 1:41.296 on soft tyres on a five-lap run.
Correct that for the tyre off-set (ie, calculate what it would have been had he used the hyper-softs) and the minimum amount of fuel he must have had to complete the run, and it compares to a 1:39.1. The lap was also done at midday, when the track would be close to its slowest.
That's nearly 0.5secs quicker than Stroll did on the same day. But still 1.3secs off Sirotkin's corrected best on Wednesday, which was also done in the middle of the day.
What does all that mean?
So Kubica did not look quick enough to make the decision to sign him a no-brainer.
Complicating matters, the test programmes involved many variables in the car - such as engine mode, cooling specification and so on. And also in track conditions - for example, the track was slower on the morning of the first day, when Kubica set his de facto quickest time, than the morning of the second, when Sirotkin set his.
All of which is an illustration of how difficult it is going to be for Williams to make a definitive judgment on Kubica's pace and potential.
Speaking on the first day of the test, Kubica sounded like he felt he was ready to make a comeback.
"There is no discount for the story," he said. "The reality is once I am in the car there is no story any more and the job has to be done.
"It's not that I want to come back just to come back, because even if I get a chance and I don't feel confident or able to do it, I will not come back. There is no point. I am very demanding of myself.
"There are question marks that have to be answered for the team but also for myself. In general I see big improvements day by day so I can expect things getting better and that's why I say I would be disappointed because I am putting in a lot of effort and there is a good chance I am able to do it."
But is that enough for Williams to make what is effectively a leap in the dark based on some apparently not-exactly-convincing lap times?
If it's not Kubica, then what?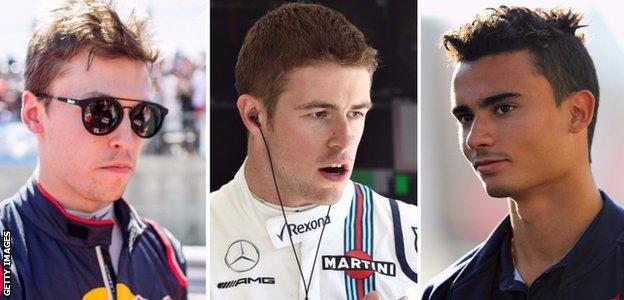 Williams have said they are going to carefully analyse the results of the test before they make a decision on their line-up.
If they decide not to go for Kubica, though, who do they pick?
They have been clear that they want a driver with experience to replace Felipe Massa, who retired from F1 at the end of the season. And going back to the Brazilian and persuading him to come out of retirement a second year in a row is not an option.
Sirotkin is rated highly at Renault, but has never raced in F1 and his record in the junior categories is solid rather than stellar. Three wins in the feeder GP2 category over two seasons in 2015-16; he was third in the championship both years.
He brings some financial backing with him, but partnering him with Stroll would leave Williams with a very inexperienced driver line-up and lacking any sort of sense of whether the drivers were delivering close to the full potential of the car.
In terms of experienced options, Williams have three choices - former Red Bull driver Daniil Kvyat, Pascal Wehrlein, who drove for Sauber this year, and their own reserve driver Paul di Resta. All have pros and cons.
Kvyat is regarded as very talented - but in the last two seasons he has been dropped twice by Red Bull, first from the senior team to Toro Rosso in 2016 to make way for Max Verstappen and then from Toro Rosso before the end of this season, and finally sacked altogether.
He would need some psychological building-up as a result of the knocks he has taken, and he is not believed to have much in the way of financial backing. But on the plus side he was not that far off the pace of Daniel Ricciardo and Carlos Sainz when he was their team-mate.
Wehrlein's F1 career has so far been backed by Mercedes, Williams' engine supplier, but Mercedes F1 boss Toto Wolff has made it pretty clear Wehrlein has to win any future seat on his own merit - saying in the summer he has to "stand on his own two feet" and in October that "wouldn't want to interfere" in Williams' decision.
Both Kvyat and Wehrlein also have the problem of being only 23 - and as Williams' main sponsor is an alcohol brand, they ideally need a driver over 25 for their promotional campaigns.
That leaves Di Resta. At 31, he is old enough, and he has three seasons' experience in F1. But apart from a last-minute appearance as a sub for Massa in Hungary this year, he has not raced in a grand prix since 2013, when he was dropped by Force India. His F1 career was solid rather than spectacular. But then the same can be said for all the options bar Kubica.
In 2018, Williams are entering a new era, with the first car designed under new technical leader Paddy Lowe, who was recruited after he left Mercedes at the end of last season.
The bottom line is that Williams want to have the fastest driver available and someone who has potential to help the team build for the future.
Their problem is that it is not clear who that is.