Formula 1 World Championship 2017: Pre-season predictions revealed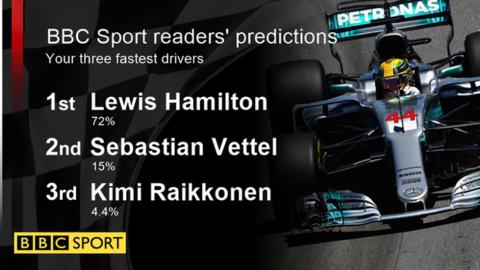 BBC Sport readers overwhelming predicted Lewis Hamilton would be the best driver in 2017.
Prior to the start of the season we asked you to predict which three drivers would be up there battling for the title and 72% of you backed the Briton to come out on top.
Anticipating Sebastian Vettel would be Hamilton's main rival in qualifying and on race day, 15% of users of BBC Sport's selector thought the German could win his fifth world championship.
And a Kimi Raikkonen renaissance was anticipated by a sizeable number as 4.4% of you felt the Finn would be the best in class.
In the end you were not far off as Hamilton won the title ahead of Vettel, but it seems Valtteri Bottas' first season at Mercedes caught you by surprise.
The Finn proved an able team-mate for Hamilton, taking three wins on his way to finishing third in the drivers' championship.
However, he was not tipped by BBC Sport readers to be the third best driver this season. Or the fourth. Or even the fifth. Instead he was sixth, with just 1.43%. Daniel Ricciardo (2.42%) and Max Verstappen (2.77%) were backed to perform better than Bottas.
BBC Sport's chief F1 writer Andrew Benson was also expecting the Red Bull drivers to put up a stronger fight than they did.
What about the worst drivers of the season?
This is the question no-one wants to be the answer to but, sadly, it has to be someone.
Marcus Ericsson was selected more than any other driver to be propping up the standings on the most occasions. He was first pick in 30% of BBC Sport readers' worst drivers of the season.
It was a fair prediction as the Swede, in a struggling Sauber, failed to score any points this year with his best results being 11th-place finishes in Spain and Azerbaijan.
Ericsson's Sauber team-mate Pascal Wehrlein was the second most picked (18%), while Stoffel Vandoorne was third (15%).
In the end, Vandoorne arguably surpassed expectations, particularly in the second half of the season. Three top-10 finishes meant he ended the year on 13 points, just four fewer than his McLaren team-mate and two-time world champion Fernando Alonso.
Any surprises in the prediction for the fastest cars?
Nope. Mercedes topped this one. They have been the dominant team since 2014 and BBC Sport readers backed them to keep it up through 2017 with 69%.
Still, plenty of people expected Ferrari to put up a strong challenge with 25% of BBC Sport selector users suggesting they could be fastest. Red Bull (3%) were the best of the rest.
And slowest cars?
After the season they had in 2016, it might have been tempting for some BBC Sport readers to suggest McLaren were in for a tough time but they were not the most selected in this instance (22%).
Instead, that ignominy went to Sauber (46%), with Haas the third most selected team to be the slowest this year on 19%.