'Relaxed and pristine' Abu Dhabi masks track's failings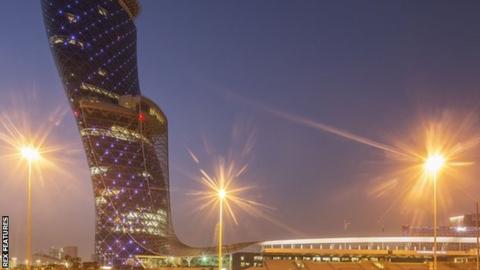 The Abu Dhabi Grand Prix has become a destination event, and it's easy to see why.
European - and especially British - fans increasingly choose it as a race to visit, perhaps dovetailing it with a holiday for a bit of winter sun.
The weather is reliably good - low-to-mid 30Cs. It's not too far away - about six hours direct from London. And the location works.
The last part of the lap winds around a marina, where people party on yachts. The LED lights on the exclusive Yas Viceroy hotel shimmer and sway attractively at night. The Ferrari World theme park is next door, complete with the world's fastest-accelerating rollercoaster. And the twilight timing means lots of lovely sunset shots.
As a 'facility', it's hard to fault Yas Marina. The circuit looks great, with its boldly painted run-off areas, palm trees and floodlights, and it is kept pristine. Everything works. And the atmosphere is generally pleasantly relaxed, with a nice end-of-term vibe.
But as a race track? Well, that's another thing altogether. Kimi Raikkonen was as succinct as ever when he was asked about it after his first experience there eight years ago.
"The first few corners are OK," he said. "But the rest of it is rubbish." Except the word he used wasn't rubbish, and contained only four letters.
And there's the mystery of the place. With effectively an open chequebook, and an empty piece of land to do with as they wished, the people who built the place could have come up with something magnificent. Rather like the denizens of Austin, Texas, did with the Circuit of the Americas, despite considerably less cash.
Instead, the Yas Marina circuit is largely as flat as a pancake, a quick-ish bit to start the lap, with a bit of undulation, then some nondescript, slow corners, two long straights, each ended by a chicane, and a series of more-or-less 90-degree bends to end the lap.
Initially, overtaking was fiendishly difficult - as Fernando Alonso discovered when he watched his title hopes evaporate in 2010 after a team strategy error left him stuck behind the rocket-ship Renault of Vitaly Petrov (remember him?).
The advent of the DRS overtaking aid has made the racing a bit better but it's still no panacea for that either.
In general, look past the superficialities, and it's all a bit of a let down, and not exactly the most characterful or dramatic place to end the season.
But the people dancing and singing and drinking on the boats behind the paddock don't seem to care and Bernie Ecclestone, cashing the vast hosting fee, certainly didn't either. And everyone else? Well, as Raikkonen might say, it is what it is.
Andrew Benson - chief F1 writer
The final curtain call
No pain, no Verstappen gain
Sorry, this content is no longer available.
The track
Hamilton reminisces
How to follow on BBC Sport
BBC Sport has live coverage of all the season's races on BBC Radio 5 live, BBC Radio 5 live sports extra, plus live online commentary on the BBC Sport website and mobile app - including audience interaction, expert analysis, debate, voting, features, interviews and video content.
All times GMT and are subject to change.
Abu Dhabi Grand Prix coverage details
Date
Session
Time (GMT)
Radio coverage (available online)
Online text commentary
Preview
Download podcast here
Friday, 24 November
First practice
08:55-10:35
BBC Sport online
From 08:30
Second practice
12:55-14:35
BBC Radio 5 live sports extra
From 12:30
Saturday, 25 November
Final practice
09:55-11:05
BBC Radio 5 live sports extra
From 09:30
Qualifying
12:55-14:05
BBC Radio 5 live sports extra
From 12:00
Sunday, 26 November
Race
12:30-15:00
BBC Radio 5 live sports extra
From 11:30
Monday, 27 November
Review
04:30-05:00
BBC Radio 5 live