Brazilian GP: 'Victory only highlights what Ferrari could have won'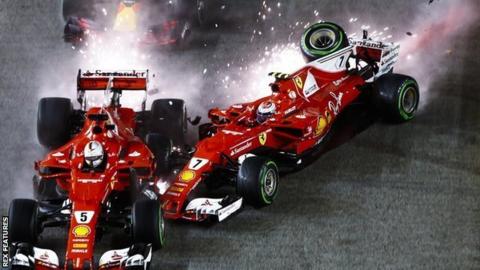 Sebastian Vettel's victory in Sunday's Brazilian Grand Prix was not domination - the fight between the German's Ferrari and the Mercedes driver Valtteri Bottas was too close for that - but it was certainly a potent reminder of what might have been this season for the four-time champion.
Vettel led all but 13 of the 71 laps, and was only not in front on those because of Lewis Hamilton's off-set strategy as the Mercedes driver fought back through the field from his pit-lane start.
It was always close between Vettel and Bottas - the Finn rarely more than two seconds behind - and both men believed the race was decided at the start, when the Ferrari got the jump on the Mercedes and sneaked ahead into the first corner.
As such, it was a reflection of the year as a whole - little to choose between the silver car and red on absolute pace, races decided on small details or twists of fate.
It underlined that the way the championship was settled, in Hamilton's favour, with three races to go belied the truth of the season, which was of an intense fight between two evenly matched teams and their leading drivers.
What Ferrari lost
All year, it had looked as if Hamilton and Vettel would contest the championship right up to the final race in Abu Dhabi. They did not because Ferrari and their driver imploded, especially over the three Asian races in Singapore, Japan and Malaysia. And Vettel's moment of madness in driving deliberately into Hamilton in Baku back in June hardly helped.
Baku turned an easy win into a fourth place - that was 13 points thrown away. Singapore was a race that appeared to be Vettel's on a plate, only for him to provoke a pile-up at the first corner. That was 25 points gone.
Then an engine failure in qualifying in Malaysia, another race Ferrari had the pace to dominate, put Vettel at the back of the grid, and he finished fourth. Another 13 points gone. And then Japan, a spark plug failure, and a second place lost. Another 18 points.
That's 69 points mislaid, plus the extra points the three Asian issues handed Hamilton on a plate. After Brazil, Vettel is 43 points adrift of Hamilton, who without those Ferrari problems would never have built the lead he needed to clinch the title so early.
After the Hungarian Grand Prix in July, Vettel and Hamilton were tied on four wins each out of 11 races. But until Sunday in Sao Paulo, Vettel had not won since and the pressure was mounting on the Italian team.
Before this race, Ferrari president Sergio Marchionne, as tough a taskmaster as they come, had made clear his disappointment with the way the season had developed.
"I don't believe in bad luck," Marchionne said. "Ultimately, it was a reflection on the way in which we managed the businesses. It was a combination, especially in the second half of there season between technical issues and driver errors, or driver misjudgements."
What Ferrari badly needed in these last two races of the season was to prove they could win again, that they had not gone completely off the rails. If nothing else, as one insider put it after the race, "to get you lot (the media) off our backs."
Vettel, who had been extremely downcast on Sunday in Mexico two weeks ago, said: "It's a good job that we have races now because it helps to sort of get over it because you're distracted, I guess."
He added: "It is important for both of us. Obviously it is great after such a long time to be able to do it, but especially for the team. For them, it has been a tough couple of weeks - long nights, hard work, a lot of support from the factory.
"I dedicate the win to them, to the team at the track and everybody at the base in Maranello. They have been working very hard and it wasn't fair what we got the last weeks."
But it's positive for Ferrari, too
If Vettel's win relieved some pressure on Ferrari, it also underlined what has, despite their loss in the championship, been a fundamentally positive season.
Yes, they have arguably thrown the championship away through their own errors and failures. But the flip side is that this is the first year they have had a genuinely competitive car since 2008.
And it is worth remembering where they came from - in 2016, they did not win a single race.
"Nobody expected Ferrari to be that strong," Vettel said. "We made the biggest step (out of all the teams). There was a lot of talk about other people, but in the end we were there from the start and also until the end.
"We are in a position to fight for victory, we won here, two cars on the podium. There's a lot of positives. Of course if you miss out, it sort of sucks. There's no other way. But you have to be fair as well.
"We hadn't been very competitive last year, we hadn't been very good developing the car and we've made massive progress this year. So even if you look at the chance that maybe you missed, you have to give credit to all the people, to all the team for the step that we made.
"I think we can all feel that we're getting stronger so hopefully we can carry that strength into the next couple of years, not just next year, not just the winter but also the future because I think our objective is to bring Ferrari back properly, get there and dominate. That's what we want to do."
A champion's comeback
While Vettel was finding some sort of redemption for Ferrari, Hamilton was doing the same for himself, after an uncharacteristic error in qualifying put him in the wall and forced him to start from the back.
Aided by a new engine, which Mercedes took the opportunity to fit without effective penalty, he carved through the field so impressively that by lap 16, when he was already up to seventh, he was entertaining thoughts of victory.
He did so again as he homed in on Kimi Raikkonen's third-placed Ferrari in the last few laps, with Vettel just five seconds in front.
"It was more than I had hoped for," said Hamilton, who said he thought at the beginning of the race that fifth might be his best hope. "Of course when third place looked like it was possible and Sebastian was only a few seconds up the road, I was like: 'Ooooh.' But I didn't have any life left in the tyres.
"I'm happy with today. Yesterday felt horrible. It felt just as crap as it felt when I was eight years old and did the same thing.
"It doesn't get any easier to handle those experiences, but it created an opportunity to shine and hopefully I did today, to show I have still have that fight in me, that drive and ability and skill to manoeuvre my car. It was cool to be able to brush up on some of my tools. That is actually my greatest strength, the race.
"Today the goal was to try to redeem myself," he added, "but that one race does not redeem the mistake yesterday, so that next race is where I have to do it."
Some dark clouds
Brazil is a love-hate sort of race, and this weekend the negatives of it were more obvious than usual.
It is hard not to warm to the vibrant atmosphere at Interlagos, the chanting and cheering fans, their enthusiasm for the sport, and the drama and intensity created by this classic circuit.
But Interlagos is one of the less salubrious parts of a vast, sprawling and crime-ridden city. There is a favela beside the road away from the track, and most years someone in F1 has a narrow escape there.
This year, a vehicle containing Mercedes personnel had it worst - stopped by gunmen on Friday night as they headed back to the hotel. They were robbed as one of the men had a gun held to his head.
The same would have happened that night to the FIA media and safety delegates had their car not been armoured and had bullet proof glass. And some Williams team members were behind the FIA car - not in an armoured vehicle - watching their experience unfold. The gunman then headed towards them but the lights went green before he got there.
It fell to Hamilton to say what many people in F1 have been thinking for a while about Brazil.
"I love racing here," he said. "It is the fans, the atmosphere, the cheers, the energy. I don't know anything about politics and how crime appears. The incident that happened with us; it would be hard to implement something (to prevent that).
"But this weekend has highlighted it hopefully more than it ever has been as an issue.
"For me personally, I make sure I have security here and a police escort and am never at risk but it is not the same for everyone.
"In Mexico there is a better set-up in place. That is something hopefully we will be able to put in place here. I don't think we should shy away from these negative things. We should see it as an opportunity to improve and hopefully the government see that."
There was another topic of concern over the weekend in Brazil. While obviously not of the same magnitude or potential seriousness, there is a political fight brewing in F1.
It emerged last week that a proposal for a new engine in 2021, put forward by by Liberty Media, the new owners of F1, and governing body the FIA, was not to the liking of the engine manufacturers in the sport.
This was the subject of much discussion over the weekend, which inevitably widened into a debate about the general state of the sport, because the commercial and political aspects of this issue are intertwined with the technical ones.
It has flushed out something that had remained largely under wraps until now - a growing sense of unease among the teams with the way Liberty is handling F1.
Team payments have gone down by a total of $43m for the third-quarter year on year. The teams are far from convinced about some of the actions Liberty have taken, and are concerned about the fact that there is little detail for now on their wider plans for the sport's future.
It is said that more detail will be provided at a meeting in December, but already it is clear that this political stand-off will run for some time, and that it has an uncertain end.