Ferrari could quit Formula 1 over new proposals by Liberty Media

By Andrew Benson
Chief F1 writer
Last updated on .From the section Formula 1787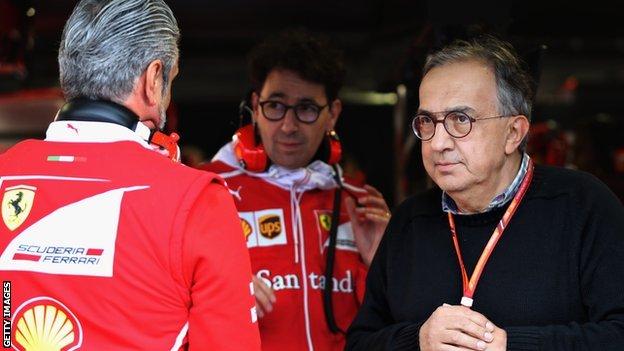 Ferrari president Sergio Marchionne has said the team could quit Formula 1 if they do not approve of the direction taken by new owners Liberty Media.
The Ferrari chief pinpointed proposals for a new engine design from 2021 as he made the threat in a conference call with investors.
Marchionne said F1 had been "part of our DNA since the day we were born".
But he added: "If we change the sandbox to the point it becomes unrecognisable, I don't want to play any more."
His concerns follow objections from both Mercedes and Renault over plans for a new engine design that were presented jointly on Tuesday by governing body the FIA and the F1 Group, which was bought by Liberty earlier this year.
They set a confrontational tone for the major meeting on 7 November of F1's strategy group, which includes the FIA, F1 and the six leading teams.
Liberty is expected to outline further details of its plans for the sport, including how to instigate a budget cap.
Marchionne said: "Liberty has got a couple of good intentions in all of this, one of which is to reduce the cost of execution for the team, which I think is good.
"There are a couple of things we don't necessarily agree with, one of which is the fact that somehow powertrain uniqueness is not going to be one of the drivers of distinctiveness of the participants' line-up. I would not countenance this going forward.
"The fact we now appear to be at odds in terms of the strategic development of this thing, and we see the sport in 2021 taking on a different air, is going to force some decisions on the part of Ferrari.
"I understand Liberty may have taken these into account, but it needs to be absolutely clear that unless we find a set of circumstances, the results of which are beneficial to the maintenance of the brand, and the marketplace, and to the strengthening of the unique position for Ferrari, Ferrari will not play."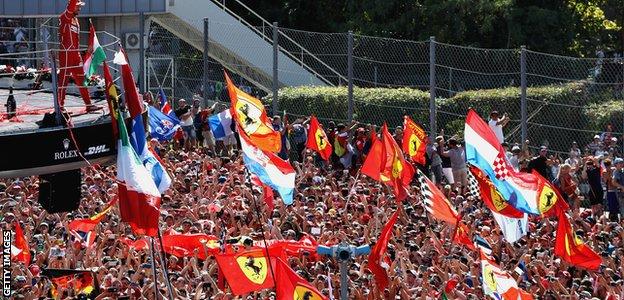 Marchionne likened some of Liberty's ideas to those witnessed in the American Nascar stock-car racing series, which effectively uses standard cars and employs a number of artificial means to keep racing close.
He said: "I don't want to play Nascar globally, I just don't."
But Marchionne added: "I don't want to prejudge any of this. We're walking into this meeting next Tuesday with the best of intentions. We'll see where it takes us."
The new engine rules retain the architecture of the current engine as a 1.6-litre V6 turbo hybrid but make significant changes, including introducing standardisation of some parts and removing the MGU-H, the part of the hybrid system that recovers energy from the turbo and which is responsible for about 60% of the total hybrid energy.
Both Mercedes and Renault have said the proposals amount to a new engine, which would force a major development and financial investment.
Liberty/F1 wants to make engines cheaper, more simple, noisier, enable independent companies to enter the sport and make them more attractive to fans.
It is believed to be willing to listen to other ideas on the design of the engine post-2020, as long as they meet those fundamental objectives.
Like most other teams, Ferrari is committed to F1 contractually until 2020 but has nothing tying it to the sport after that.
Analysis
This is not the first time Ferrari have threatened to quit Formula 1 on the basis of rules they do not like. Many will regard this latest one along the same historical lines - we've heard it all before, they'll never do it etc.
But Marchionne's comments underline a key problem for F1's commercial rights holders.
Three of the four engine manufacturers involved in the sport oppose their proposed new rules. And although Honda has not commented, the likelihood is it does too, given the current rules and their relevance to road-car efficiency are why it entered F1 in the first place.
The engine rules are wrapped up in the rest of the post-2020 F1 picture, which also includes a desire to cut costs, redistribute prize money and other issues. Owners Liberty Media will reveal more of their plans next week.
Part of the aim of the proposed engine rules is to attract independent companies so F1 is not so beholden to the car companies.
But there is no commitment from anyone else, and unanswered questions as to whether these rules would be enough to enable independents to come in and compete on level terms with the manufacturers.
Renault F1 boss Cyril Abiteboul points out F1 is in pretty decent shape at the moment, given the global economic situation, with four engine suppliers, three of them competitive at the last race.
"We need to be a little bit careful not to try to fix something that is not broken," he told BBC Sport. "F1 is not broken. It might be good to have more manufacturers but we should not jeopardise all of F1 just to try to attract someone else."