Lewis Hamilton wins fourth world title at Mexican Grand Prix

By Andrew Benson
Chief F1 writer
Last updated on .From the section Formula 1802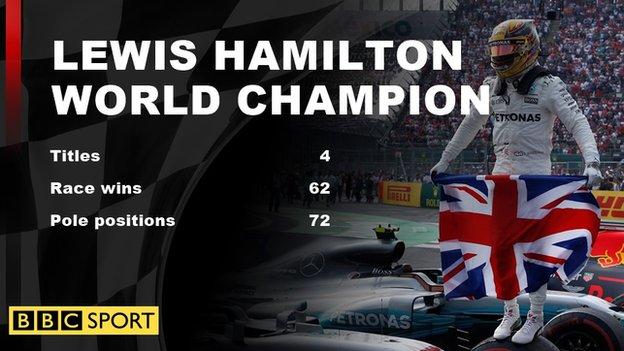 Lewis Hamilton clinched his fourth world title at the Mexican Grand Prix despite finishing only ninth after a clash with rival Sebastian Vettel.
Hamilton's achievement makes him unquestionably the most successful British Formula 1 driver in history, moving him one championship clear of Sir Jackie Stewart.
He joins Vettel and Frenchman Alain Prost on four world titles, behind only Michael Schumacher, the all-time record holder on seven, and Argentine Juan Manuel Fangio's five.
Hamilton put his hands to his helmet as he crossed the line, slowing the car down to a crawl as he sought to take in his achievement on the slowing down lap.
Vettel pulled alongside him and applauded as the crowd rose to their feet to recognise a historic landmark for the sport.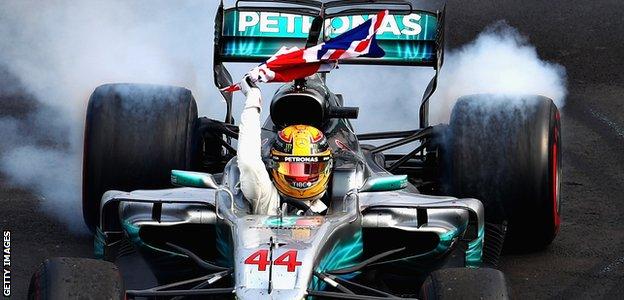 The Mercedes driver suffered a puncture when he was hit by the German's Ferrari on the first lap, the incident also breaking Vettel's front wing.
Vettel made better progress back through the field than Hamilton, climbing up to fourth place, but he needed to finish second to keep the championship alive.
The race was won by Red Bull's Max Verstappen, who dominated from the front after taking the lead at the first corner, a move that led to the collision between Hamilton and Vettel.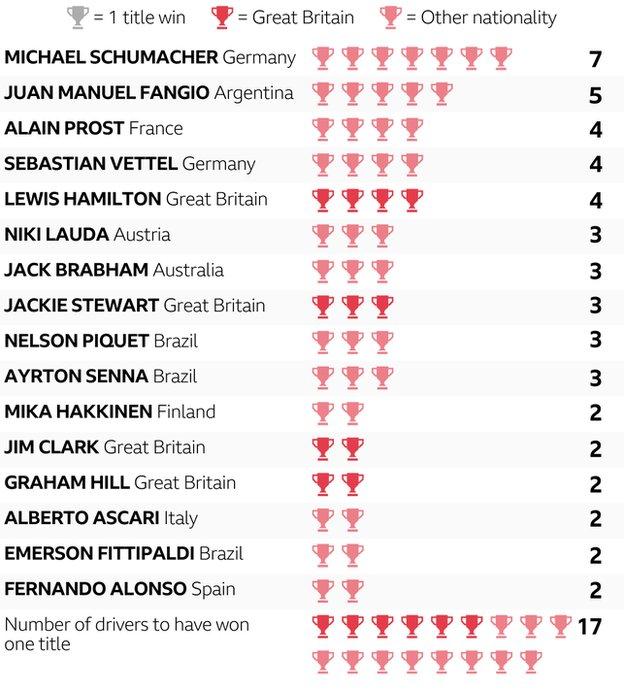 When two rivals collide
Hamilton had talked of wanting to clinch the title in style by winning the race, but those hopes evaporated at the third corner, when his right rear wheel was clipped by Vettel's front wing.
The incident developed through the right-left-right combination of corners immediately after the start.
Verstappen had sat it out around the outside of the right-hander of Turn One, and snatched second into the following left at Turn Two, clipping and lightly damaging Vettel's front wing as he took the lead.
Hamilton then saw a gap on the outside into Turn Three and went for it. He took the position but his right rear tyre was clipped by Vettel's Ferrari as they exited the corner.
Both men pitted at the end of the lap for fresh 'soft'-compound tyres, intending to go to the end without stopping again, and rejoined at the back, Vettel ahead, with Renault's Carlos Sainz between them.
"Do you think he hit me deliberately?" Hamilton asked his team, who did not reply.
Vettel began to make progress, gaining positions with regularity, but Hamilton, whose car was lacking downforce from a damaged diffuser caused by his puncture, found himself stuck behind Sainz for nearly 30 laps, by which time Vettel was up to eighth.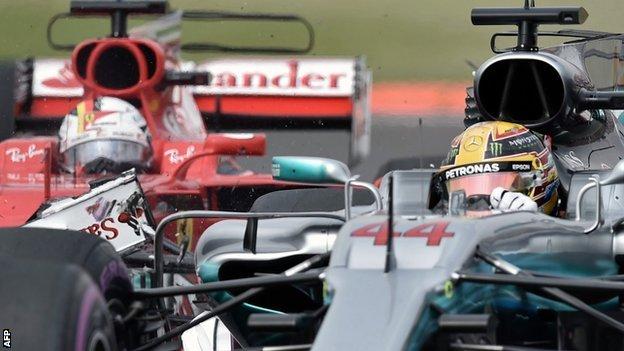 How Hamilton closed it out
Hamilton's race came alive when Mercedes called him for a tyre change under the virtual safety car, introduced when Brendon Hartley's Toro Rosso stopped in flames following an engine failure only 31.
The super-soft tyres he fitted, swapping from the softs gave him more performance and he began to make ground.
Ahead of him, Vettel was pushing for that second place, but he had too much ground to make up - he was 70 seconds behind Hamilton's team-mate Valtteri Bottas, occupying the second place the German needed with half the race to go, a gap he was never going to close.
"What position do I need?" Hamilton asked his team with 15 laps to go. He was told Vettel needed to be second, responded by saying: "Is that possible?" "Negative," came the reply.
Vettel fought hard, but once into fourth place, he asked how far team-mate Kimi Raikkonen was ahead in third place. Told 26 seconds, he said: "Mamma mia. I think that's a bit too much."
In the closing laps, Hamilton's race was enlivened with a tremendous scrap with his old rival Fernando Alonso's McLaren for several laps, which culminated in them racing side-by-side from Turn One to Turn Six with three laps to go before Hamilton finally made the move stick.
That put him into ninth place - the position that would have guaranteed the title even if Vettel had managed to sneak into second in the closing laps.
Verstappen completed a copybook win, with Bottas and Raikkonen taking the final podium positions.
Another Ferrari error
Vettel's hopes, always slim in the extreme, effectively died altogether with another misjudgement, the latest in a series of failures by team and driver in the climactic final races of the season.
He needed to win the race with Hamilton lower than fifth, or be second with the Mercedes below ninth, to keep the championship alive and that was never going to happen after he smashed his front wing on Hamilton's car on the first lap.
Despite Hamilton's suspicions, it was unlikely to have been deliberate, as Vettel had much more to lose than the Briton from a collision that damaged their cars.
It followed the aggressive move off the line from pole position in Singapore that triggered a three-way pile-up that took Vettel out of the race and gifted victory to Hamilton.
An engine problem in qualifying at the next race in Malaysia left Vettel at the back of the grid, from which he recovered to fourth, and then there was the final, critical blow when he retired from the next race in Japan with another engine issue.
That left Hamilton with a 59-point lead with four races to go, a position from which Vettel was never going to recover.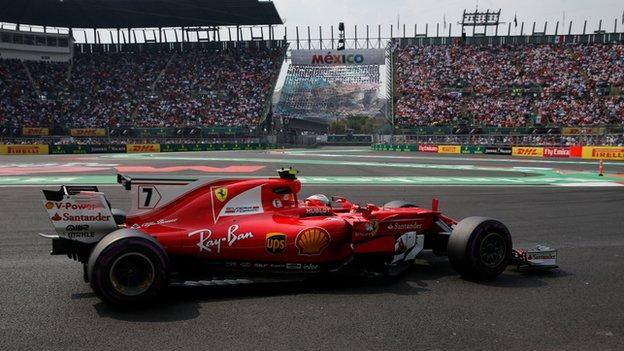 What happens next
There are two weeks before the Brazilian Grand Prix, where Hamilton clinched his first title, his only one with McLaren back in 2008.
He will go there determined to win the race and underline his position as champion; Vettel will want to emphasise Ferrari's pace after a season that promised so much, only to slip away from the Italian team.
What they said
"Wow. I just want to say a big thank you to everyone who came out to see us," said Hamilton. "The Mexican fans I think are the best around the world. I did everything I could. I had a good start and I don't really know what happened at turn three but I gave him plenty of room, but I tried my hardest to come back.
"A big thank you to my family and my team. Mercedes have been incredible over the last five years and I am so proud to be a part of it.
"I never gave up. It was not the [type of] race I wanted. I kept going right to the end. I just want to lift it up to my family, and God and my team."
After the race Vettel said he was "disappointed" to concede the title to Hamilton.
"Lewis has done a superb job all year and deserves to win the title," the German added. "Congratulations to him. It is his day.
"I don't fear him. I like racing with him. I would have liked a little more this year. Overall they [Mercedes] were better."
Race winner Verstappen said: "The start was very crucial, I went around the outside and from then on I was just looking after the car and the tyres.
"Big thanks to Red Bull, without them it was not possible. After last week (when a five-second penalty denied him third place), it is a perfect race, it was great."