Japanese Grand Prix: Lewis Hamilton wins as Sebastian Vettel retires

By Andrew Benson
Chief F1 writer
Last updated on .From the section Formula 1701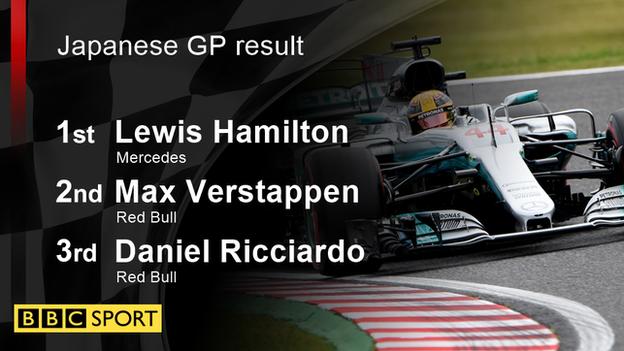 Lewis Hamilton took a giant stride towards his fourth world title with victory in the Japanese Grand Prix as rival Sebastian Vettel retired early on.
Ferrari's Vettel dropped out four laps into the race after slipping down the field from the start with an engine problem and Mercedes driver Hamilton now leads the German by 59 points with 100 available in the remaining four races.
The Briton will clinch the title at the next race - the United States Grand Prix in Austin, Texas - if he wins and Vettel finishes lower than fifth.
It continues a remarkable swing in the championship towards Hamilton and away from Vettel.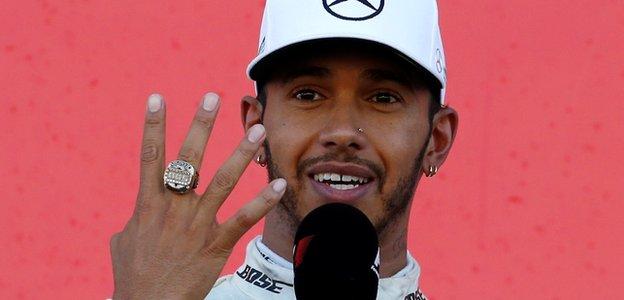 Ferrari's challenge implodes in Asia
Vettel was leading the championship after the Belgian Grand Prix at the end of August, and just three points behind following Hamilton's victory in Italy a week later, but has haemorrhaged points over Formula 1's three late-season races in Asia.
A start-line crash in Singapore has been followed by engine problems at consecutive races in Malaysia and Japan.
In Malaysia, 30-year-old Vettel started at the back after a manifold failure in qualifying and finished fourth as Hamilton took second. This Sunday, Ferrari said it was a spark plug problem.
It became apparent on the grid, where there was fevered activity around Vettel's car. He started the race but immediately started losing places and complained of lacking power.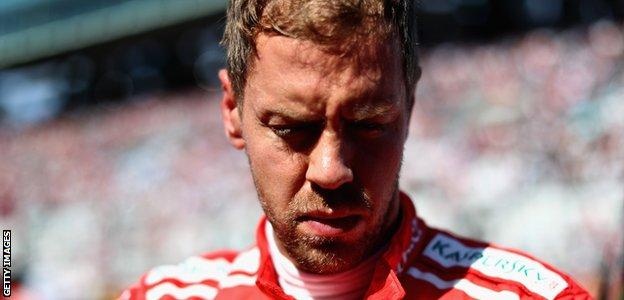 He was sixth after the first lap and stayed out during a safety-car period following a crash by Toro Rosso's Carlos Sainz - but after rapidly losing places again at the re-start after three laps was called into the pits a lap later.
Vettel told Sky: "It's normal you're critical, especially if things go wrong, so it's part of our job.
"I think I need to protect them. We've done an incredible job so far. Bitter the past two races with the reliability issues - but you know, it's like that sometimes.
"Of course it hurts and we're all disappointed, but now we need to get back, get some rest and then go flat out for the last four races and see what happens."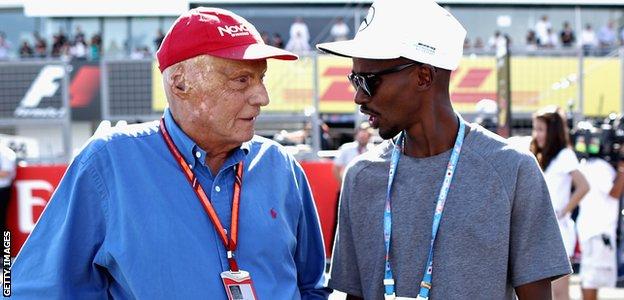 A gift for Hamilton
Hamilton had gone into the race expecting a close fight with Vettel but the Ferrari driver's retirement left his closest rival as Red Bull's Max Verstappen, who started fourth but passed team-mate Daniel Ricciardo into the first corner and Vettel into the Hairpin halfway around the first lap.
The Dutchman kept the pressure on Hamilton throughout the one-stop race and the gap was rarely more than three seconds.
In the closing laps, Hamilton began to complain of vibration from his engine and a lack of grip from his tyres following a virtual safety car period and Verstappen closed from three seconds behind to just over a second with two laps to go. But the Briton was able to hold him off as they negotiated backmarkers.
"I could only have dreamed of having this kind of gap," said Hamilton. "Ferrari have put on such a great challenge all season long. My team have done a great job. They are so meticulous and that is why we have the reliability we are having."
Another podium for Ricciardo
Ricciardo took a comfortable third - after fighting his way past Force India's Esteban Ocon after losing out to the Frenchman on the first lap - while Hamilton's team-mate Valtteri Bottas took fourth, moving up sixth on the grid after a five-place grid penalty for changing his gearbox.
Ferrari's scant consolation was fifth place for Kimi Raikkonen, who started 11th after a gearbox penalty, as Ocon and team-mate Sergio Perez took sixth and seventh ahead of Haas drivers Kevin Magnussen and Romain Grosjean.
Williams driver Felipe Massa held off a stern challenge from McLaren's Fernando Alonso for the final point, helped by a late virtual safety car. The Spaniard recovered well from the back of the grid following an engine penalty.
Jolyon Palmer finished 12th in his final race for the Renault team - he will be replaced by Sainz from the next race and the Briton may well have driven his final grand prix.
Driver of the day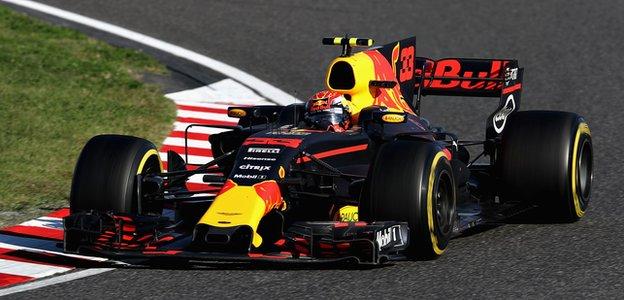 What's next
The US Grand Prix at the Circuit of the Americas is expected to be a Mercedes track - but a week later comes Mexico, where the world champions fear Ferrari will beat them.
Can Ferrari salvage some self-respect after their season imploded in Asia and delay Hamilton's now apparently inevitable coronation - at least until the penultimate race in Brazil?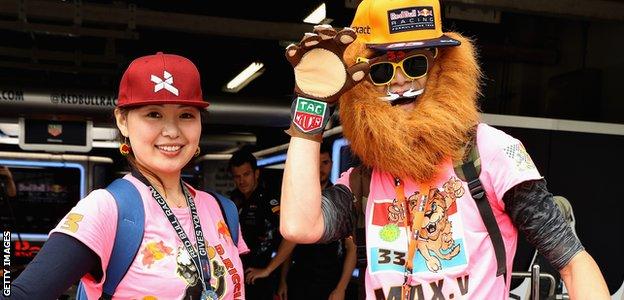 What they said
Race winner Lewis Hamilton: "We have had such a great crowd this week you always look after us so well and the support was immense. I am grateful for that. The track was fantastic.
"The team did an incredible job. Max (Verstappen) had an outstanding race. It wasn't an easy one at all."
Second-placed Max Verstappen: "It was a great day again. I really love the track. We had great pace - just really hard to pass. I tried my all.
"As soon as we switched to the soft tyre we were really competitive."
Third-placed Daniel Ricciardo: "This is my first podium here. It feels great. It is a circuit I have always enjoyed and with this year's cars it is a lot of fun.
"After the start the race spread out and it wasn't much fun for me but then I had Valtteri (Bottas) coming at the end so to have pressure at the end was good."