Lewis Hamilton: I've found another level in qualifying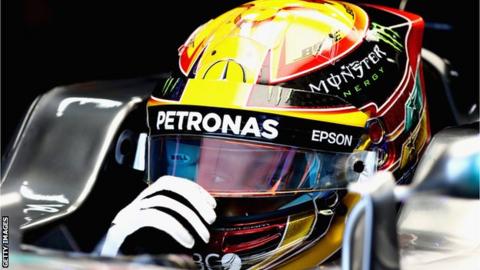 Lewis Hamilton said he is driving better than ever in qualifying after taking his 10th pole in 16 races.
The British Mercedes driver extended his all-time record of poles to 71 on Saturday at the Japanese Grand Prix.
"Qualifying has been an area this year where I have really been able to find another level of composure. It has really helped me deliver," he said.
Hamilton added that he was "really happy" with his first pole at Suzuka, one of the most challenging tracks.
Sunday's race is live on BBC Radio 5 live and the BBC Sport website.
"It has taken me forever to get this pole," he said. "That's a complete list of all the tracks. I have a pole on all the circuits now, which is kind of crazy to think.
"I have been here a long time, I don't know how many more I have left in me but this has been a strong season in terms of qualifying - all my laps were bang on the mark. I didn't miss a single one."
Hamilton put part of the reason down to what he says is an increasingly strong working relationship with the Mercedes engineers, particularly his race engineer Peter Bonnington, a theme he has repeatedly returned to throughout the season.
"It is also the confidence of the work the engineers are doing," he said. "Globally, myself and my engineer always having the belief in one another.
"Having that 100% confidence definitely helps us continue to build and the car has been feeling right underneath me this year - so I have been able to exploit it."
Hamilton has extended his championship lead over Ferrari's Sebastian Vettel to 34 points in the past two races against the run of play.
Despite Mercedes being uncompetitive in both Singapore and Malaysia, Hamilton has taken a win and a second place as Vettel hit trouble with a first-lap crash at Marina Bay and an engine failure in qualifying that meant he started from the back at Sepang.
Vettel qualified third behind Hamilton's team-mate Valtteri Bottas at Suzuka but will start alongside Hamilton on the front row after the Finn was given a five-place grid penalty for an unauthorised gearbox change.
Hamilton said Mercedes felt more competitive in Japan but he still expects a close fight with Vettel in the race.
"The last race the car was a disaster, so second place was not too bad," Hamilton said. "This weekend, being it's cooler, it works better with these corner conditions - but the Ferrari is going to be strong.
"I anticipate a little bit more hopefully a little bit more like (the Belgian Grand Prix at) Spa, where Ferrari is going be right on us and potentially a little bit quicker. So strategy and how I look after the tyre is going to be key. But I am ready, I'm game and I am on it."
Vettel, who needs to win to revive his title hopes with only 125 points available over the remaining five races, said: "We want to win. I think we have the package and car. Usually Sundays we are a bit stronger but there have been Sundays where Mercedes was stronger than us - so I can't give you prediction.
"It could get warmer and that can change the balance of the car, so hopefully it helps us."