Marcin Budkowski: Ex-FIA technical chief joins Renault as director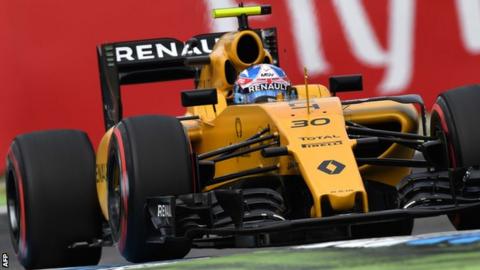 Former FIA technical chief Marcin Budkowski has joined Renault as their executive director.
The move is deeply controversial because Budkowski knows many of the design secrets of the top teams.
In his role at F1's governing body, the 40-year-old was responsible for liaising with teams to ensure the compliance of their cars.
Renault said he would "oversee all the activities in the development and production of the chassis".
Renault managing director Cyril Abiteboul said Budkowski's role was "non-technical" with a "wider management responsibility".
He said there had been a "gap to be filled" at the team's chassis technical base in Oxfordshire following the departure of team principal Frederic Vasseur towards the end of last year. Vasseur is now at Sauber.
Abiteboul said: "There is lots to do and I just needed some help from someone who can work alongside me, particularly on the development of the Enstone team."
Abiteboul said he hoped to reach an agreement with the FIA that would assuage the other teams' concerns about intellectual property rights.
"He could be available early next year," Abiteboul said, "but we have had constructive discussion with the FIA and we are close to an agreement on a date that would make everyone comfortable. We are talking about early April, although nothing has been absolutely confirmed yet."
Budkowski resigned in September and the FIA said he would serve a period of three months' gardening leave before being released from his contract.
This period was too short, according to many of Renault's rivals, who convened a meeting at the Malaysian Grand Prix to discuss the issue.
Red Bull team boss Christian Horner said: "It's not a great situation. Marcin is a very capable guy in a privileged position in the FIA.
"Every team has been going to him in that role, for the last three years, asking: 'Is this legal and is that legal?' He's been privy to very intimate details and to find him going back to work within a competitive team in a three-month period is far too short and nowhere near industry standard.
"Three weeks ago we were talking about our rear-suspension layout with him. Before that he was in a wind tunnel with another team. He sent out a technical directive the day before he left.
"There is an element of knowledge in his head and that's why there needs to be a period of gardening leave.
"In our team, the top guys are anywhere between six and 12 months. Three months is just crazy."
Mercedes technical director James Allison said: "The relationship the teams have with the FIA relies on the teams being candid and anything they discuss being confidential. The main foundations of the relationship with the FIA are built on that.
"If an FIA employee leaves and joins a team, you would wish to have a somewhat longer notice period than three months. I think that everyone on the FIA and teams' sides would say that. That isn't the situation today and I guess we will just swallow it and get on with it."
Horner said he expected the situation would be discussed at the next meeting of the strategy group of leading teams, FIA and F1 commercial rights holder.
His views are shared by the bosses of many of the other teams.