Robert Kubica: Williams to give Polish driver two days of testing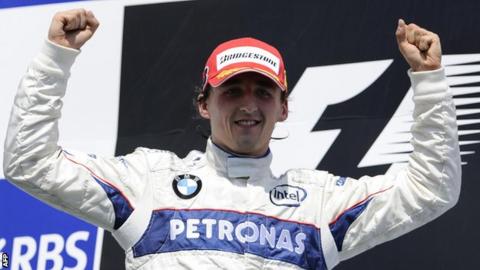 Williams are to give Robert Kubica two days of testing this month to establish whether the Pole can make his comeback to Formula 1 after seven years away.
Kubica, 32, has not raced in F1 since he suffered life-changing injuries in a rally accident in 2011, and he has only partial movement in his right arm.
He tested for Renault three times in the summer but the French team decided not to take its interest further.
Williams now want to evaluate him as a potential replacement for Felipe Massa.
Kubica is due to test initially at Silverstone after the Japanese Grand Prix before moving on to a full assessment test at the Hungaroring and both outings are expected to be private.
Williams declined to comment.
The team plan to run for two days at the site of the Hungarian Grand Prix, with Kubica driving one day and Williams reserve driver Paul di Resta the other to provide a benchmark for Kubica's performance.
Di Resta, 31, also has an outside chance of being promoted to a race seat next season, but unless something changes, the decision over 2018 at this stage is fundamentally between Massa and Kubica.
The key question for Williams is whether Kubica is physically up to a return to F1.
Renault said in August that they still had "question marks" over Kubica's readiness to return to F1 after a day's test at the Hungaroring in their 2017 car.
But his manager says the driver is ready to make a return and Kubica will be determined to use the Williams test as a chance to prove it.
The main question marks are over the strength and mobility in his right arm, which was partially severed in the accident in 2011, in which he also suffered multiple fractures throughout his body.
Williams will want to establish whether he can manage the car in long, demanding corners, of which the Hungaroring has several, and can turn it around a tight hairpin.
His physical endurance in terms of the strength of his arm over a race distance is also a concern.
Di Resta filled in capably for Massa at the last minute when the Brazilian fell ill over the Hungarian Grand Prix weekend.
The Scot, who had last raced in F1 in 2013, qualified 0.7 seconds behind team-mate Lance Stroll despite not having sat in the car before qualifying started.
Massa retired at the end of last season because Williams intended to partner Stroll with Finn Valtteri Bottas this season and could not get a driver elsewhere.
But when Bottas moved to Mercedes following the retirement of world champion Nico Rosberg, the 36-year-old returned.
Although Stroll has impressed at some races, most notably Azerbaijan and Italy, Massa has comprehensively out-performed the 18-year-old Canadian rookie at most races this season, and has a sizeable advantage over him in qualifying of an average of around 0.7secs a lap.
But Williams are aware that Massa can be inconsistent and do not want to pass up the opportunity to take Kubica if he is close to the level he was before his accident. He was regarded as one of the very best drivers in F1, with a talent comparable to that of Briton Lewis Hamilton and Spain's Fernando Alonso.
Stroll's father Lawrence is paying many millions of pounds a season for his son's position at Williams and is taking on an influential role at the team.
But he is said to have no say in the decision over who Williams recruits for 2018 and to be fully supportive of the team signing the best and most suitable driver.