Malaysian GP: Formula 1 says goodbye to the race after 19 years on the calendar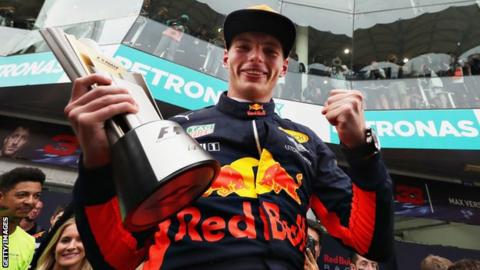 Max Verstappen - winner of the final Malaysian Grand Prix.
That's what the history books will say after the Dutchman marked the weekend of his 20th birthday by winning in Sepang - the final race at the circuit for the foreseeable future.
It brings the curtain down on 19 years of Formula 1 racing in Malaysia, where there have been maiden victories, arguing team-mates, ice cream and rain.
Lots of rain.
Take a trip down memory lane with some memorable Malaysia moments...
Schumacher's comeback and a controversial outcome - 1999
After breaking his leg in a crash at the 1999 British Grand Prix, Michael Schumacher made his comeback in Malaysia later that year.
Schumacher came back not only fit, but also in fine form and, after dominating qualifying to take pole position, he stormed away at the start of the race.
It was a flexing of muscles rather an attempt to win because fellow Ferrari driver, Eddie Irvine, was locked in a tense title battle with Mika Hakkinen at the time and Schumacher decided to help out his team-mate, slowing to let the Northern Irishman pass and take victory.
The weekend ended in controversy, however, as a row over bargeboards saw Ferrari disqualified, although their one-two was reinstated on appeal a week later.
Kimi's ice cream and Button wins - 2009
In 2009, Kimi Raikkonen helped speed up the popularisation of internet memes with antics at the Malaysian Grand Prix.
A heavy mid-race downpour resulted in the race being stopped and, while the rest of drivers waited patiently to see if it would pass and the race would restart, Raikkonen had clearly had enough. He leapt out of his car, slapped on a pair of shorts and grabbed an ice cream.
Ultimately the grand prix had to be abandoned because of the weather. Jenson Button, who would go on to win the World Championship that year, had been leading at the time and was declared winner.
If the sight of Raikkonen in his shorts mid-race wasn't shocking enough, team personnel had a genuine fear of being electrocuted handling the sensitive electrical parts of the cars during the heavy rain.
"I'll never forget 2009," said Williams' chief technical officer Paddy Lowe. "It was the first year with Kers (Kinetic Energy Recovery System) and we were still learning our way around the high voltage in those systems. Then we had this race where the cars were literally swimming through inches of water.
"I remember a Ferrari was abandoned and no-one dared touch it."
'Multi 21, Seb, multi 21' - 2013
The moment when the simmering tension between then Red Bull team-mates Sebastian Vettel and Mark Webber exploded.
The two were involved in a thrilling battle late on in the race, almost colliding as they fought wheel-to-wheel before Vettel passed Webber to take victory, ignoring instructions to stay behind the Australian.
In the drivers' room after the race, Webber confronted Vettel, saying "multi 21, Seb, multi 21" - a coded team order for Webber (car number two) to finish ahead of Vettel (car number one).
Webber then added in a frosty podium interview: "In the end Seb made his own decisions today and will have protection as usual, and that's the way it goes."
Meow.
How well do you know the Malaysian Grand Prix?
Sorry, this content is no longer available.
'Great memories at a great circuit'