Max Verstappen beats Lewis Hamilton to Malaysian GP win

By Andrew Benson
Chief F1 writer
Last updated on .From the section Formula 1614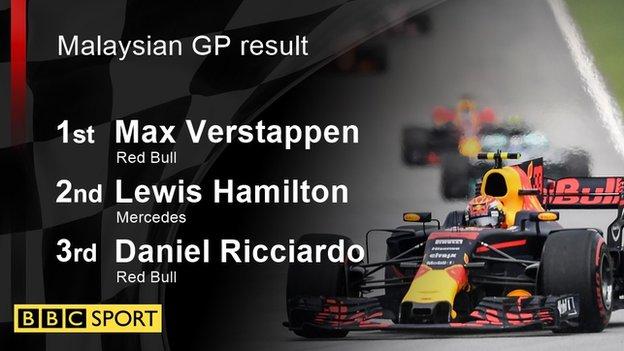 Red Bull's Max Verstappen took a dominant victory in the Malaysian Grand Prix as Lewis Hamilton extended his championship lead with second place.
Hamilton's title rival Sebastian Vettel recovered impressively from the back of the grid in his Ferrari after engine problems in qualifying to finish fourth and minimise the damage to his title hopes.
But the German has slipped to 34 points behind the Mercedes driver with five races to go and a maximum of 125 points still available.
Hamilton could do nothing about Verstappen but, despite expressing concern about his car's lack of pace, was pleased to gain ground on Vettel on a difficult weekend for Mercedes.
An easy win after a difficult year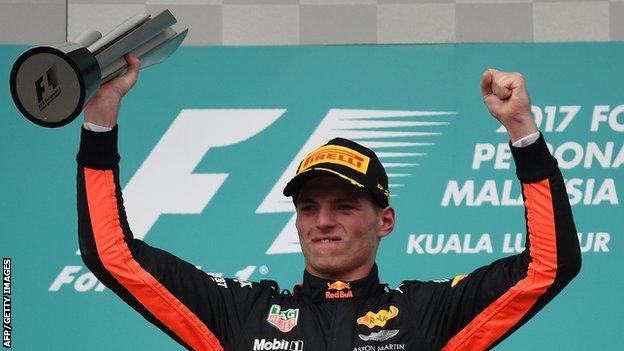 Verstappen has had a torrid season, a series of strong results being lost to reliability problems and driver errors, but he was in control of this grand prix from very early on.
With Raikkonen out of the way, the Dutchman, who turned 20 on Saturday, fended off an attack from Hamilton's team-mate Valtteri Bottas in the first corner and then tracked Hamilton closely in the opening laps before diving down the inside into Turn One at the start of lap four.
Verstappen quickly pulled away, building a seven-second lead within 10 laps and, despite problems with his neck muscles in the closing laps on this demanding track, was always in control.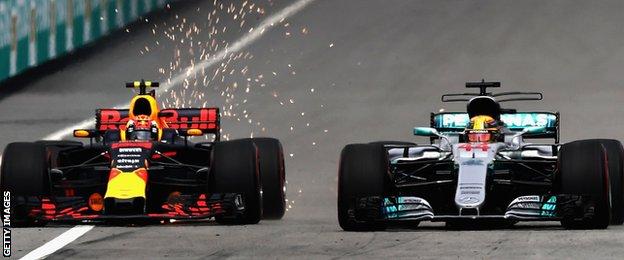 Spirited Vettel comes close
Hamilton and Mercedes were left to measure their gaps to the second Red Bull of Daniel Ricciardo and Vettel behind.
Hamilton was warned early on that Vettel "may be a threat at the end of the race", but in the end the Ferrari driver had too much to do.
Vettel was on Ricciardo's tail with 10 laps to go and despite a delay while lapping McLaren's Fernando Alonso on lap 48, was quickly back with him.
But Ricciardo held him off with some robust defending and with three laps to go Vettel fell back, his front tyres shot.
Vettel then fell prey to a bizarre incident on the slowing down lap, when he and Williams' Lance Stroll collided at Turn Five as the Ferrari went around the outside of the Canadian.
The German now faces the prospect of a five-place grid penalty in Japan next weekend if the gearbox needs to be replaced as a result of damage from the impact.
Vettel's fightback eased some of the pain felt at Ferrari as the Italian team pondered the loss of what looked like it could have been a one-two finish had engine problems not hit both cars over the weekend.
Team-mate Raikkonen had been confident of challenging for victory after qualifying a close second to Hamilton but the Finn did not even start the race after suffering a lack of power on the way to the grid.
His car was wheeled into the garage before the start and retired.
Vandoorne finally signposts potential
Hamilton's Mercedes team-mate Valtteri Bottas had a poor race to take fifth, 45 seconds behind the Briton.
It followed a weak performance in qualifying and the 28-year-old Finn will be spending the days before next weekend's Japanese Grand Prix trying to understand where his pace has gone since returning from the summer break.
Behind Force India's Sergio Perez in sixth, there was a starring performance from McLaren's Stoffel Vandoorne.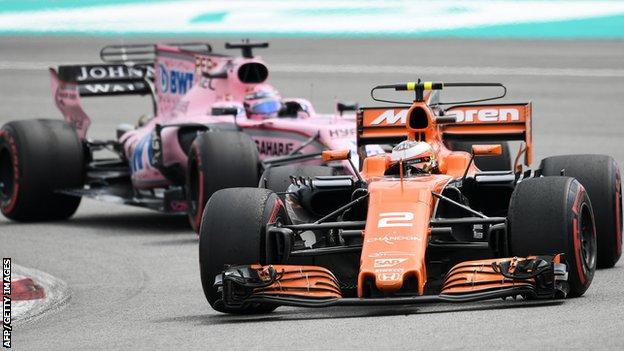 The Belgian qualified seventh and ran fifth in the opening laps after a strong start.
An early pit stop on lap 13 - going half the distance on his first set of tyres compared to Verstappen and Hamilton - worked well for the Belgian and he finished in the place he started.
Vandoorne, who arrived in F1 this season with high expectations on him after a stellar junior career, put illustrious team-mate Alonso firmly in the shade for the first time this season.
The Spaniard, who qualified 10th, spent much of the race stuck behind Haas driver Kevin Magnussen, an off-set late pit-stop strategy leaving him still behind the Dane after he changed tyres.
Alonso forced his way past Magnussen on lap 39 and passed Renault's Nico Hulkenberg for 11th in the closing laps, but finished more than 30 seconds behind his team-mate.
The Williams of Lance Stroll and Felipe Massa took eighth and ninth, and Esteban Ocon 10th in the Force India, despite being punted into a spin by Toro Rosso's Carlos Sainz mid-race.
Driver of the day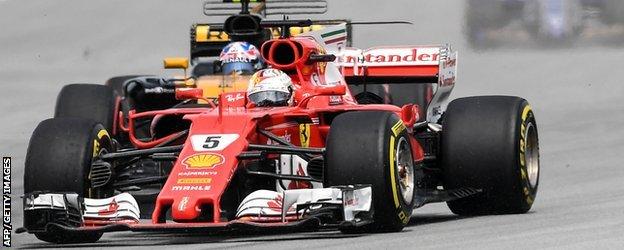 What happens next?
F1 flies across east Asia to Japan, to race on the historic and magnificent Suzuka circuit next Sunday. The comparative performance of the title-contending cars will be fascinating after Mercedes' unexpected struggles in Malaysia.
What they said
Malaysian Grand Prix winner Max Verstappen: "I think in the beginning, the car felt good and I saw Lewis was struggling a bit more with traction, so I used my battery a bit more. He has more to lose than me in terms of the championship. From then on, I could race my own race. It's a very tough race and it was incredible to win."
Lewis Hamilton, who finished second: "Big congratulations to Max. Happy birthday, he did a fantastic job today. The race was a tough one. They had the upper hand on us today. I feel good, but we have some work to do with the car. We didn't have the pace this weekend. We have to keep pushing."
Daniel Ricciardo, who finished third: "At the start, it looked like Mercedes were struggling. I was behind Bottas for a few laps and tried to get him as soon as possible. Seb came so quick at the end, I felt like I was going to have a handful, but he only had one attack. Max drove well all weekend. It was a good race for the team."