Lewis Hamilton 'surprised' to take pole position in Malaysia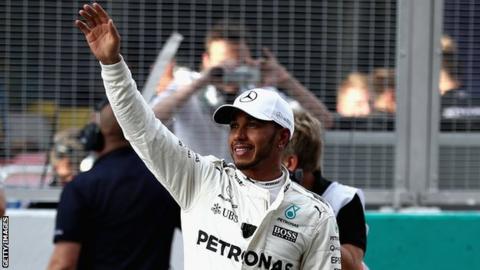 Lewis Hamilton said he was surprised to take pole position for the Malaysian Grand Prix after a difficult weekend.
The Briton's Mercedes team struggled in practice, but he took pole from Ferrari's Kimi Raikkonen by 0.045 seconds.
Hamilton's title rival Sebastian Vettel starts last after an engine problem.
"We had some big calls to make going into qualifying and then those laps - particularly the first Q3 lap - was very well put together," Hamilton said.
"A very nice lap. I don't really know where it came from so I'm a little bit surprised at myself."
Hamilton was only fifth quickest in final practice but he set the pace in the first qualifying session, was fourth in the second, and then reset the boundaries at the start of the final session (Q3).
His first lap was 0.9secs quicker than team-mate Valtteri Bottas, who headed Q2, and pipped Raikkonen by 0.232secs. Hamilton did not improve on his second, but Raikkonen could not improve enough to unseat him.
"We had such a difficult day [on Friday]; it was difficult to know where we stood," Hamilton said.
"I didn't sleep very well, just like all my engineers as well, because we didn't know whether we would fix the issue or not.
"But today we arrived and the car was much better, but still I think it looked like the Ferraris were a little bit ahead.
"I'm very grateful. It's always a special thing to be able to extract a little bit more out of the car than it's particularly willing to go. That's what I've always enjoyed."
Sympathy for Vettel
His day was made better by the fact his title rival Vettel, who trails Hamilton by 28 points, will start last on Sunday after an engine problem.
"Sebastian… I mean, he would have been up there with us," Hamilton said. "He'd been driving well all weekend, very, very quick, between him and Kimi.
"Very unfortunate for him, but of course we just have to continue to focus on our job and try to maximise every opportunity that we get collectively."
Jury out on new Mercedes parts
Hamilton ended up abandoning a new package of aerodynamic parts that Mercedes brought to Malaysia.
The team ran them on Friday but then split the cars in Saturday practice to compare them, Hamilton taking the old parts and Bottas the new.
"Before qualifying I was thinking of going back to the new package because Valtteri's and my times were very similar and Valtteri seemed really happy with it and so I didn't want to carry a penalty going into qualifying," Hamilton said.
"You want every little millisecond you can get but there wasn't really enough time so we ended up staying with it and also it was kind of a risk, changing the car again for qualifying and maybe getting something wrong. That was really why we ended up staying with it.
"Fortunately I'd done P3 with it so I was quite comfortable with where I was and it provided a stepping stone in terms of making the set-up change.
"Ultimately it was down, it is down in performance but fortunately it didn't make a difference."
Threats from Ferrari and Red Bull
Raikkonen said he had a "good feeling" about the race and Hamilton is also wary of the threat from Red Bull's Max Verstappen and Daniel Ricciardo, who start third and fourth and have shown good race pace so far this weekend.
Vettel, who had looked a strong favourite for pole before his problems, said: "We have a very quick car so we should be able to make up a lot of ground.
"We have more tyres than everyone else, we can maybe do something with strategy.
"If the safety car comes out at a time that suits you, it might bring you back and then you never know what is possible. Just in terms of speed we should get back to the leading group."