Lewis Hamilton off pace in Malaysia practice as Romain Grosjean crashes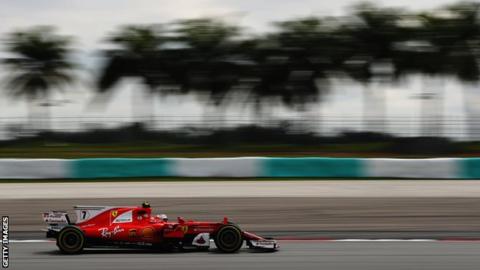 Ferrari's Sebastian Vettel set the pace in second practice at the Malaysian Grand Prix as title rival Lewis Hamilton struggled in his Mercedes.
Vettel headed team-mate Kimi Raikkonen by 0.604 seconds with the Red Bulls of Daniel Ricciardo and Max Verstappen third and fourth, and Hamilton sixth.
The Briton, 28 points ahead of Vettel, was a massive 1.416secs off the pace.
The session came to an end early following a major crash involving Haas driver Romain Grosjean.
Race pace a worry for Mercedes
Mercedes said the drivers had a lack of grip and the team did not yet understand why there were off the pace.
Hamilton also had a spin, losing the rear and sliding off track at Turn Seven.
Worryingly for Hamilton, the car was struggling on both short runs with low fuel and longer runs with high fuel.
Hamilton's team-mate Valtteri Bottas, who was seventh fastest overall at 0.043secs behind the Briton, was 0.7secs slower than Vettel on average on their race-simulation runs in the second part of the session.
And the world champion's attempts to work out what was wrong will be hampered by the fact that Hamilton did not get to do any meaningful running on high fuel loads after Grosjean's crash.
The poor performance of the Mercedes came as a major surprise - the two leading cars were expected to be evenly matched on this track, with Mercedes perhaps having a slight edge as a result of its superior aerodynamic efficiency on a circuit with a number of long-duration corners and two sizeable straights.
"Difficult day with the car. Definitely unusual, unexpected and we are a long way off," said Hamilton.
Ricciardo said of Mercedes: "I could see fuel coming out of the fuel tank, so I think they were quite heavy today. I don't know if it's legit or they are playing some games."
Loose drain cover danger
Grosjean was unhurt following the accident at Turn 13, which was caused when his right-rear tyre was punctured by a loose drain cover.
Officials went out on track to investigate what had happened and the rest of the session was cancelled.
The drain cover was loosened by Bottas' Mercedes, which went through the corner shortly before Grosjean. Raikkonen, right behind Bottas, then dislodged the cover and left it stuck pointing upwards, leaving Grosjean's right-rear wheel to tear across it.
Grosjean said: "I didn't see anything and then suddenly I had a big hit on the right rear. I'm good and fine, that's the main thing."
The first session was held in wet conditions, so Mercedes will have no relevant data from that.
Hamilton was even behind McLaren's Fernando Alonso, who was a surprise fifth quickest as the team's relationship with engine partner Honda enters its final six races before a switch to Renault engines next season.
Behind Bottas, the Force Indias of Sergio Perez and Esteban Ocon were eighth and 10th, split by Renault's Nico Hulkenberg.
The German's team-mate Jolyon Palmer was 11th fastest.
Frenchman Pierre Gasly impressed on his first appearance at a grand prix weekend for Toro Rosso, finishing 15th, one place ahead of team-mate Carlos Sainz.
Malaysian Grand Prix second practice results
Malaysian Grand Prix coverage details