Jolyon Palmer: British driver must impress in final races in an attempt to secure place in F1 next season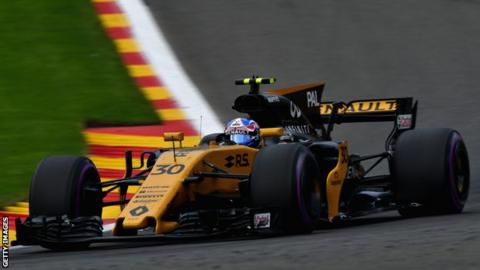 Jolyon Palmer is hoping to impress over the final races of 2017 in an attempt to secure a drive next year.
The Englishman has been dropped by Renault for next season in favour of Spaniard Carlos Sainz and has limited options to stay in Formula 1.
Palmer, who scored a career-best sixth place in the last race in Singapore, said: "Whatever I do helps.
"Six more races, and I'll keep trying to score points to show what I can do, whether it is to stay in F1 or not."
Most teams have already confirmed their driver line-ups for 2018.
Although McLaren, Toro Rosso, Sauber and Williams have at least one seat available, Palmer does not at this stage look to have anywhere to go.
Fernando Alonso is expected to stay at McLaren. Palmer is not in the Red Bull driver programme so is not on the radar at Toro Rosso. Sauber are to run as an effective Ferrari junior team and will likely take one of the Italian team's proteges - Charles Leclerc and Antonio Giovinazzi - alongside Swede Marcus Ericsson, with Formula Two championship leader Leclerc the favourite.
That leaves Williams, where there is a seat available alongside Canadian Lance Stroll.
The team are exploring the potential of a return for Robert Kubica, who has been out of F1 since 2010 after sustaining a partially severed right arm in a rally crash in early 2011.
Williams are planning to run an evaluation test for the Pole, who has tested for Renault three times this year.
If the Kubica plan does not work out, Williams' favoured option is to retain veteran Felipe Massa, with reserve driver Paul Di Resta an outside bet. Sources at the team say they are not interested in Palmer.
However, the 26-year-old said: "I think there is a chance (at Williams).
"I don't think they have confirmed their plans but I don't know to be honest. I'm just focused on making the best of every race.
"As far as I can see there is one other seat and a few drivers going for it.
"There is a chance (of staying in F1) but I'm not putting anything on it, it is just about me doing the best I can and seeing what unfolds.
"I'm just obviously looking at the options, but at the moment I'm focused on the best job I can do now."
Palmer has had a difficult season with Renault, afflicted by some unreliability and his struggles to get on terms with team-mate Nico Hulkenberg.
The German has scored 34 points to Palmer's eight and out-qualified him 13 times in 14 races.