Lewis Hamilton: Sebastian Vettel will bounce back after Singapore crash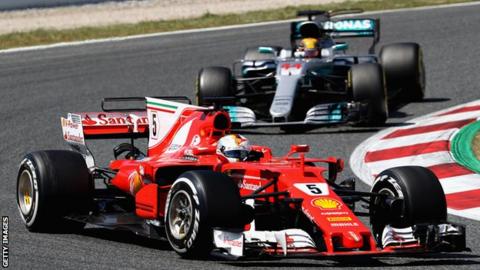 Lewis Hamilton says he expects title rival Sebastian Vettel to come back fighting after crashing out of the last race in Singapore at the start.
Hamilton moved 28 points clear with six races to go and 150 points available after winning in Singapore.
"Greats generally bounce back so I have to anticipate he will bounce back even stronger," the British driver said.
"I don't remember the last time I have seen him falter under pressure. I don't know whether he feels pressure."
The result in Singapore has put Hamilton in a strong position, especially as his Mercedes car is expected to have a slight edge over the Ferrari at the next three races in Malaysia this weekend, Japan and the USA, before the balance tips more towards Ferrari for the final three events in Mexico, Brazil and Abu Dhabi.
But Hamilton said he had "not spent a second thinking" about when he might clinch his fourth title.
He added: "It doesn't matter when, the question is if. And I am just trying to make sure it is done by the time I cross the line at the end of the season - that is all that matters.
"I have not really reflected that much on the last race. I went into it thinking I would lose a lot of points to Sebastian, so to come out the other way around it was a real surprise.
"But of course it is a turning point when you go from being behind all season long and now two races being in the lead.
"There are lots of turning points within the year and I am trying to make sure that was the last one."
McLaren driver Fernando Alonso said Hamilton was in a strong position.
"Now the championship is not as it was before Singapore where the two were equal," the two-time champion said.
"Now there is a clear advantage for Lewis so it is a risky situation for Vettel. There is no more room for mistakes where as before they were in the same position."
'It wasn't the first time and won't be the last'
Hamilton described Vettel's behaviour at the start in Singapore as "a mistake" - the German speared across the track to defend his position after an average start from pole position but ended up involved in a three-way crash with team-mate Kimi Raikkonen and Red Bull's Max Verstappen.
But Vettel refused to be drawn into a discussion of the incident.
"I don't think there is much assessment necessary," the German said. "All three of us weren't happy but you move on.
"It would have been more difficult if I had lost the car somewhere in the race. We did our start, everyone was trying to do his start and it ended up pretty bad for all three of us and that was it. Not much you can do. It is part of racing.
"It is not the first time I am in a situation like this. Probably won't be the last. Not much you can do therefore not much point to look at it again and again, your time is better spent looking forward."
Asked whether it would make him drive differently at starts in future, Vettel said: "Not really. Every start is different, you can look at Singapore again and again, it doesn't matter, it is done. It was pretty unfortunate for all three of us and we all have to move on.
"I can't promise you now what will be in my mind on Sunday when I leave the grid but normally I never thought about the last race so I am pretty sure I will be focused on what I can do on the race start on Sunday."
Vettel said he did not believe that falling behind in the championship reduced the pressure on him as he now had less to lose.
"I don't look at it that way," he said. "It depends how many points we have at the end of the year.
"If you could choose, you will want to be ahead, but overall it doesn't change anything in how we tackle the last six races from here."