Pierre Gasly to make Formula 1 debut with Toro Rosso in Malaysia
Last updated on .From the section Formula 1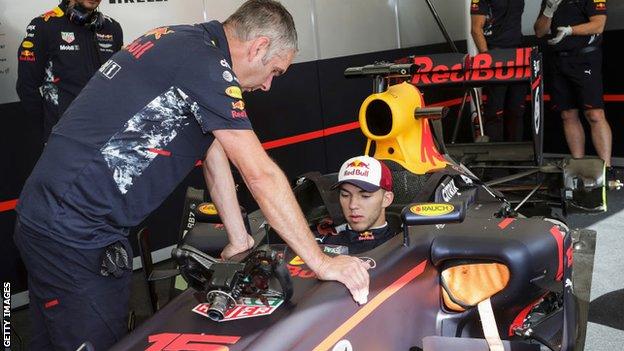 Pierre Gasly will make his Formula 1 debut with Toro Rosso at this weekend's Malaysian Grand Prix.
The 21-year-old Frenchman, who won the GP2 series last year, will replace Daniil Kvyat "for the next Grands Prix", Toro Rosso said in a statement.
"He is being given a chance to prove himself in F1," the team added.
"This is a great opportunity for me," said Gasly, who is reserve and test driver for Red Bull, Toro Rosso's sister team.
"I feel as ready as I can be, having had to be prepared for anything in my role as Red Bull Racing's third driver this year.
"I will do my best to perform well with Toro Rosso during these coming races."
Kvyat has struggled to impress so far this season, scoring just four points from 14 races.
The Russian has raced for Toro Rosso since the fifth race of last season after he was demoted from Red Bull following a calamitous Russian Grand Prix in which he crashed into Ferrari's Sebastian Vettel twice within two corners.
Toro Rosso team principal Franz Tost said: "For a variety of reasons, some of them due to technical problems, but others being mistakes of his own making, Daniil Kvyat has not really shown his true potential so far this year, which is why we are standing him down for the next races.
"The driver switch gives us an opportunity to make a more informed decision regarding our 2018 driver choices."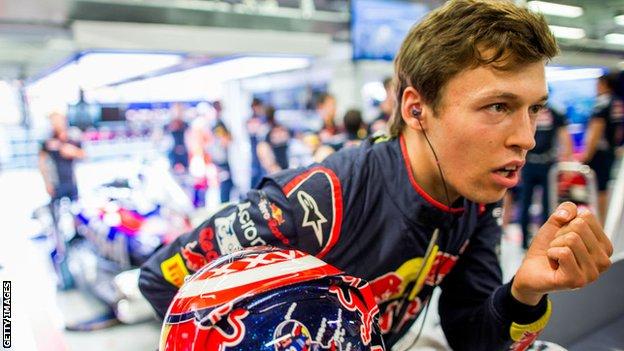 'Kvyat was on borrowed time' - analysis
BBC Sport's chief F1 writer Andrew Benson:
Daniil Kvyat's F1 career has been on borrowed time ever since he was demoted from the Red Bull senior team back to junior outfit Toro Rosso in May last year to make way for Max Verstappen.
Only an exceptional performance could have saved him and he hasn't provided it, out-shone by team-mate Carlos Sainz these last 18 months.
Beyond that, this move has some interesting ramifications.
First, it can now be assumed that Jolyon Palmer will see out the season with Renault. The French team have secured Sainz on loan for 2018 and had hoped to bring the Spaniard over early for the final races of this season in place of Palmer.
Had that happened, Gasly would have replaced Sainz. The fact the Frenchman is now in for the dropped Kvyat almost certainly means Sainz will stay at Toro Rosso to the end of the year - and therefore Palmer has won his fight to force Renault to honour his contract.
Second, it raises an interesting question about who will be in the second Toro Rosso in 2018.
One expects Gasly will stay, and that Kvyat will surely not come back.
The hot tip is Japanese Nobuharu Matsushita. The Formula Two race-winner is a protege of Honda, whose engines Toro Rosso will have next year.