Lewis Hamilton's Singapore win does not change our approach - Mercedes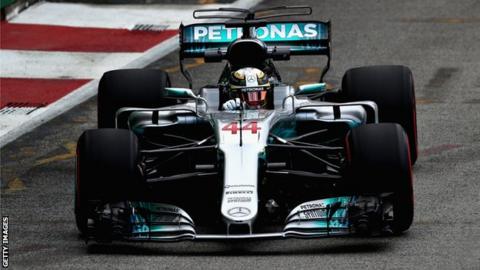 Lewis Hamilton's suddenly sizeable championship lead will not affect Mercedes' approach to the rest of the season, says team boss Toto Wolff.
The Briton's win after rival Sebastian Vettel crashed out at the last race in Singapore gave him a 28-point lead.
With 25 points available for a win, there is a maximum of 150 points to be won in the last six races.
"The result in Singapore doesn't change anything in terms of how we approach the final races," said Wolff.
"We will need to be on top of our game at every track to maintain our lead."
Wolff said the team was still well aware that events could turn against 32-year-old Hamilton, despite their victory on a track where Ferrari had been expected to dominate.
"The result in Singapore came as a surprise to us all - and the danger of a result like that is to misjudge your own level of performance," he said.
"But within the team our focus since finishing first and third had been on the painful moments over the Singapore weekend - why we struggled in the long runs on Friday and our lack of performance over one lap in qualifying - to learn as much as possible for the rest of the season.
"We have deepened our understanding of those problems and we will take that learning with us into the final races.
"The last race was a strong reminder that sport always has the power to surprise and defy all predictions. We have been on the receiving end of those bad memories before and we know that they can happen to us as anybody else."
The climax to the season starts with races on consecutive weekends in Malaysia and Japan, starting in Sepang, outside Kuala Lumpur, this weekend.
It was at the Malaysia race last year that Hamilton's title hopes were dealt what turned out to be a fatal blow, when his engine failed while he was leading.
Had he gone on to win the race, he would almost certainly have been champion, rather than finishing runner-up to team-mate Nico Rosberg.
The race was won by Red Bull's Daniel Ricciardo - Rosberg recovered to third after colliding with Vettel at the first corner.
"The race has given us many moments of drama and glory over the years," Wolff said.
"Our record there in recent seasons has been mixed but the fundamental characteristics of the circuit, with its sweeping corners and long straights, should mean the car is well suited to the circuit."