Lewis Hamilton: F1 driver on going vegan and his fears for the planet

By Andrew Benson
Chief F1 writer in Singapore
Last updated on .From the section Formula 1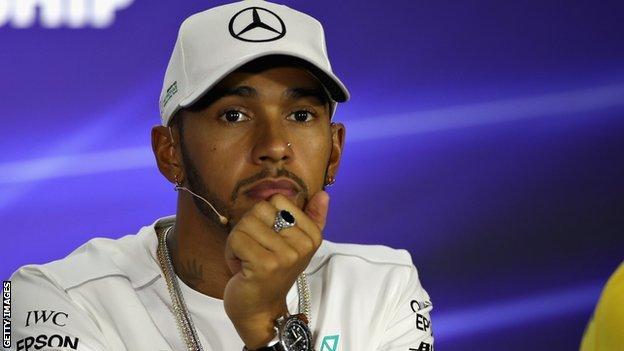 Lewis Hamilton says he is aiming to become a vegan in an attempt to pursue the healthiest possible lifestyle and avoid damaging the planet.
The Mercedes Formula 1 driver said he had been inspired by a documentary about the meat industry, and its potential effects on the environment, animal welfare and human health.
Britain's Hamilton, who qualified fifth for Sunday's Singapore Grand Prix, has not eaten chicken for much of this year.
"I stopped eating red meat two years ago," said the championship leader. "I have generally been pescatarian for the majority of the year and now I've cut fish.
"As the human race, what we are doing to the world... the pollution [in terms of emissions of global-warming gases] coming from the amount of cows that are being produced is incredible.
"They say it is more than what we produce with our flights and our cars, which is kind of crazy to think. The cruelty is horrible and I don't necessarily want to support that and I want to live a healthier life."
Hamilton, 32, conceded pursuing a diet free of any animal products might be a challenge on a lifestyle front.
While in Singapore, where he is catered for by chefs, he has eaten only plant-based food but acknowledges maintaining that might prove difficult.
"So far I don't feel as if I have been missing out," he said. "But I don't know how easy it is going to be when I get home. That is going to be a real test.
"Every person I have met who has gone vegan says it is the best decision they have ever made.
"When you watch this documentary and you see meat clogging up your arteries, you see all the stuff they put in the meat, stuff we are all eating, there is no way I am going to disregard that."
Hamilton said his family's medical history had been an influence in his decision, with heart disease and cancer prevalent among his ancestors.
"I don't want in 10 or 20 years to have diabetes or catch any of that stuff," he said.
"I can continue to decide to eat that stuff and take that risk, but when you get [a disease or illness like that], you want to make change, so I am trying to pre-empt that.
"I think it's the right direction and by letting people who are following me know, maybe that will encourage a couple of people to do the same thing."