Hungarian Grand Prix: Could Lewis Hamilton's gesture cost him the title?
Last updated on .From the section Formula 1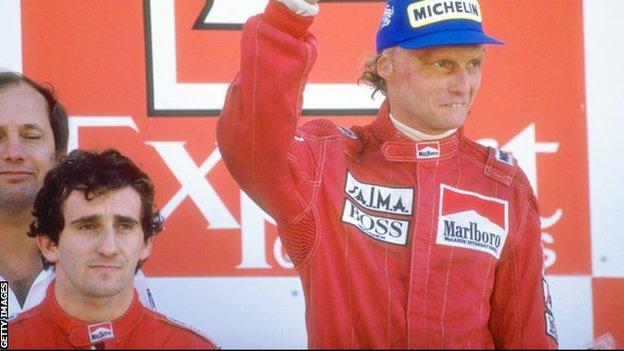 It was a very sporting gesture.
Lewis Hamilton kept his word at the Hungarian Grand Prix by handing back third place to his team-mate Valtteri Bottas - a promise made during the race as Hamilton attempted to chase down the leading Ferraris.
But could it come at a price?
Finishing fourth instead of third cost Hamilton three points, meaning Ferrari's Sebastian Vettel leads the Briton by 14 points heading into the summer break.
Since the very first Formula 1 world championship in 1950, 27% of seasons have been decided by three points or fewer, so Hamilton has definitely taken a risk.
Gallery - selected titles decided by three points or fewer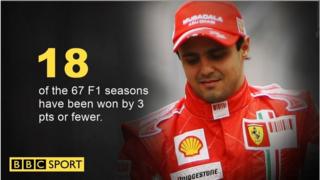 Since the very first Formula 1 world championship in 1950, 27% of seasons have been decided by three points or fewer
Tense title deciders
There's been plenty of thrilling title tussles over the years but these are the 18 that were decided by three points or fewer:
| Year | Champion | Runner up | Points difference |
| --- | --- | --- | --- |
| 1950 | Giuseppe Farina (Alfa Romeo) | Juan Manuel Fangio (Ferrari) | 3 |
| 1956 | Juan Manuel Fangio (Ferrari) | Stirling Moss (Maserati) | 3 |
| 1958 | Mike Hawthorn (Vanwall) | Stirling Moss (Cooper-Climax) | 1 |
| 1961 | Phil Hill (Ferrari) | Wolfgang von Trips (Ferrari) | 1 |
| 1964 | John Surtees (Ferrari) | Graham Hill (BRM) | 1 |
| 1974 | Emerson Fittipaldi (McLaren) | Clay Regazzoni (Ferrari) | 3 |
| 1976 | James Hunt (Ferrari) | Niki Lauda (Ferrari) | 1 |
| 1981 | Nelson Piquet (Brabham) | Carlos Reutemann (Williams) | 1 |
| 1983 | Nelson Piquet (Brabham) | Alain Prost (Renault) | 2 |
| 1984 | Niki Lauda (McLaren) | Alain Prost (McLaren) | 0.5 |
| 1986 | Alain Prost (McLaren) | Nigel Mansell (Williams) | 2 |
| 1988 | Ayrton Senna (McLaren) | Alain Prost (McLaren) | 3 |
| 1994 | Michael Schumacher (Benetton) | Damon Hill (Williams) | 1 |
| 1999 | Mika Hakkinen (McLaren) | Eddie Irvine (Ferrari) | 2 |
| 2003 | Michael Schumacher (Ferrari) | Kimi Raikkonen (McLaren) | 2 |
| 2007 | Kimi Raikkonen (Ferrari) | Lewis Hamilton & Fernando Alonso (both McLaren) | 1 |
| 2008 | Lewis Hamilton (McLaren) | Felipe Massa (Ferrari) | 1 |
| 2012 | Sebastian Vettel (Red Bull) | Fernando Alonso (Ferrari) | 3 |
BBC Sport users react to Hamilton's gesture