F1 gossip: Bottas, Mercedes, Hamilton, Alonso, Perez, Haas.
Last updated on .From the section Formula 1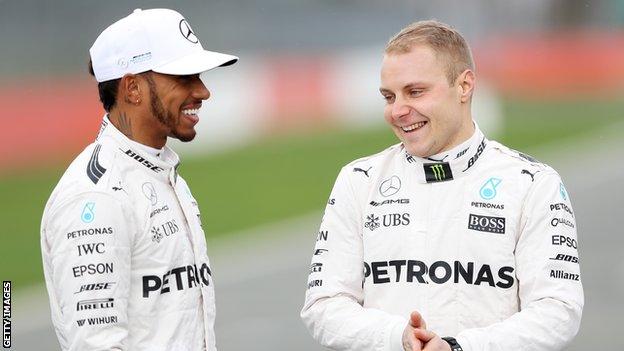 Friday, 28 April
Valtteri Bottas claims he will move over for Mercedes team-mate Lewis Hamilton if circumstances demand during in Russia. (Daily Mail)
Hamilton has given his support to tennis' world number one Serena Williams after Romania Fed Cup captain Ilie Nastase directed racist comments towards her unborn child. (Telegraph)
Fernando Alonso says 'everything is different' in IndyCar following his whistle stop tour of the USA. (Fox Sports)
And the Spanish driver insists he still has no regrets about leaving Ferrari for McLaren in 2015. (ESPN)
Force India driver Sergio Perez says the team's co-owner Vijay Mallya is upbeat about the future despite facing potential extradition from Britain to India after his arrest. (Reuters)
Haas has confirmed that it will start the Russian Grand Prix this weekend with Carbon Industrie brakes, before making a decision whether to keep them on both its cars. (ESPN)
You know you've made it when your face is immortalised as a Russian doll...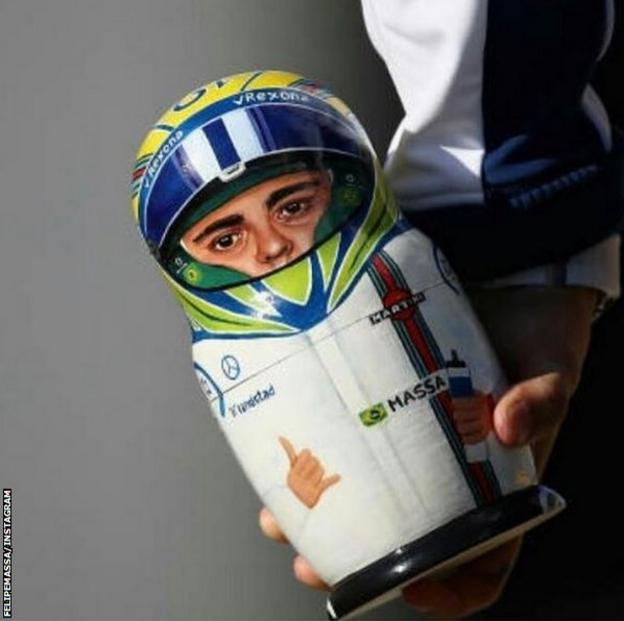 Thursday, 27 April
Mercedes boss Toto Wolff says his team's era of dominance in F1 is over. (F1i.com)
Lewis Hamilton said he "screwed up" at the Bahrain Grand Prix, as he lost more ground on early leader Sebastian Vettel. (AFP)
Haas's decision to switch its development and planning focus to 2017 early in its maiden Formula 1 season is already paying off, says team principal Gunther Steiner. (Eurosport)
Renault driver Nico Hulkenberg says he is "feeling positive" and his car's new upgrades should improve performance in Sochi. (F1.co.uk)
Felipe Massa, Max Verstappen and Daniel Ricciardo played a football computer game on a plane. (Instagram)
Where else would you find giant Matryoshka dolls than at the Russian Grand Prix...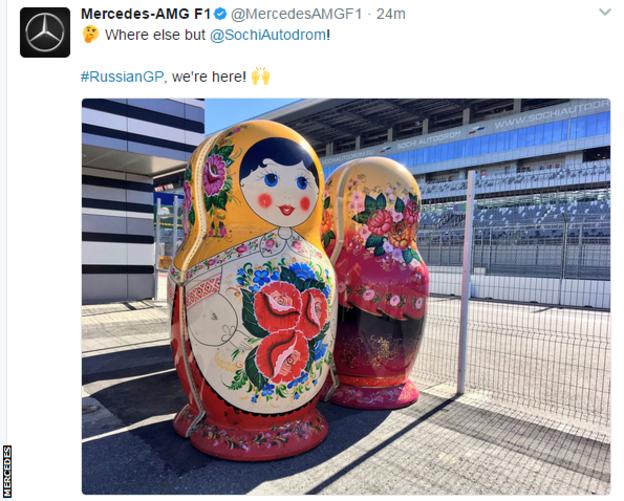 Wednesday, 26 April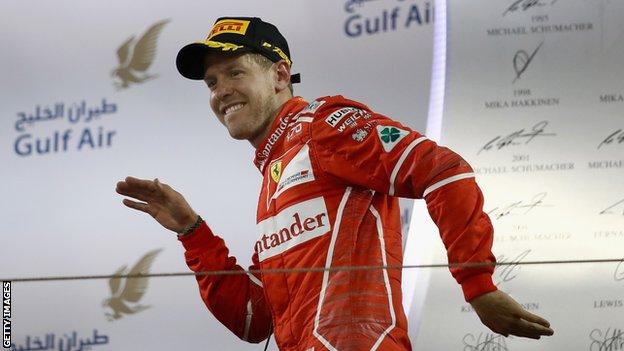 Ferrari driver Sebastian Vettel says the changes made during a winless season last year have been crucial to the team's strong start to 2017. (ESPN F1)
Formula 1 bosses will clamp down on oil being illegally burned as fuel in qualifying, after Red Bull raised suspicions of other teams using the tactic in pre-season. (Autosport)
Formula 1 will be taxed on income from the three Indian Grand Prix held in 2011-13 after the country's supreme court ruled the Buddh International Circuit served as a 'permanent establishment' for conducting business. (Motorsport)
Renault believe a new front wing they tried in the Bahrain test could resolve the team's race problems in the first three races of the season. (Autosport)
And Renault driver Nico Hulkenberg is hopeful the changes could see him compete for more points at this weekend's Russian Grand Prix in Sochi. (Crash.net)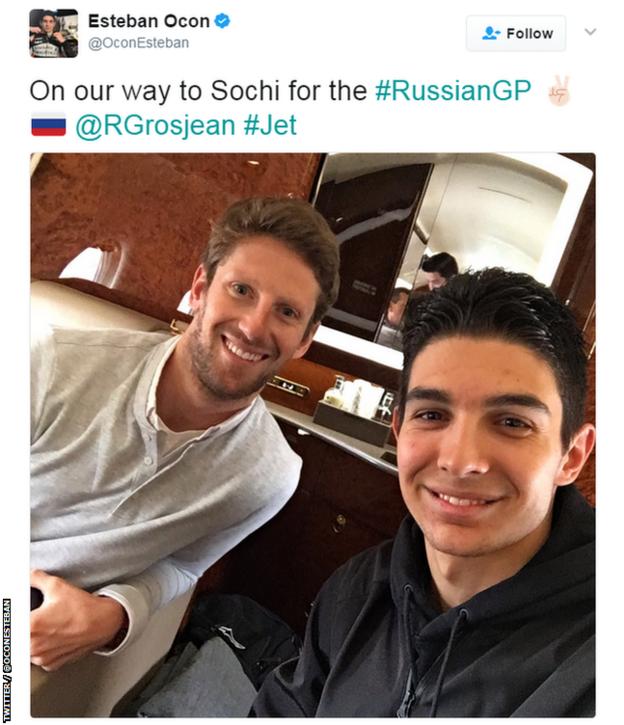 Tuesday, 25 April
Formula 1 could return to southern California after the Long Beach city council hired a consultant to assess whether it should switch to F1 instead of hosting IndyCar. The city last staged F1 in 1983. (Long Beach Gazette)
Sauber are close to a deal to run Honda engines for the 2018 season, replacing current supplier Ferrari. (Autosport)
Meanwhile, Honda could be helped to become more competitive by the Formula 1 strategy group which may opt to waive penalties for excess component use.(Eurosport)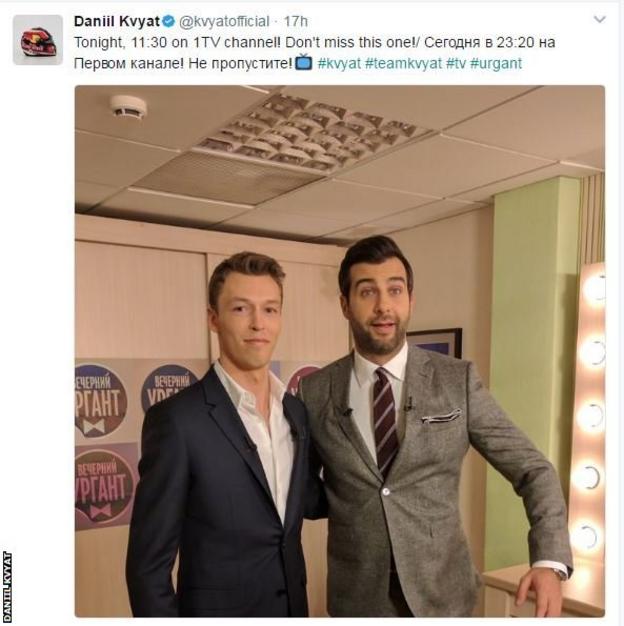 Toro Rosso driver Daniil Kvyat appeared on Russian television to promote his home grand prix this weekend.
Pole Robert Kubica - who has not raced in F1since a bad rally crash in 2011 - says he is not ruling out a return to the sport. (Sokolim Okiem via F1Today)
Monday, 24 April
Former world champion Jacques Villeneuve has separated F1 drivers into two classes: Alonsos and Rosbergs. (AS via Foxsports.com)
Former F1 boss Bernie Ecclestone appears far from happy with how the sport is being run. (Daily Express)
Ex-Formula 1 driver Juan Pablo Montoya hopes more drivers follow Alonso's lead in branching out to events like the Indianapolis 500. (Autosport)
McLaren CEO Zak Brown has said that their run at the 101st Indianapolis 500 next month with Andretti Autosport-Honda may not be their only attempts at winning the event. (Motorsport.com)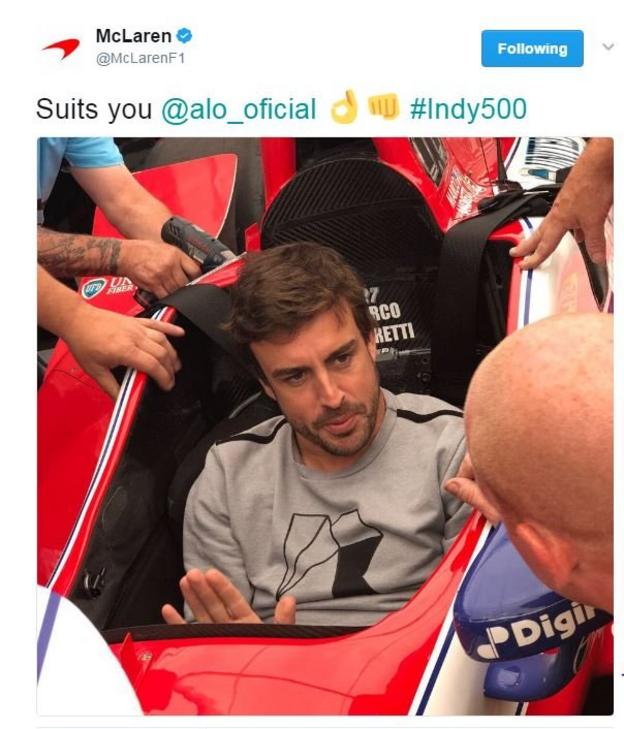 Mercedes driver Lewis Hamilton hopes McLaren and Williams can revive their flagging Formula 1 fortunes and fight him for world championship titles before he retires. (Autosport)
Red Bull expect to make a "significant step forward" with a "massive" upgrade due for the Spanish Grand Prix in Barcelona. (ESPN)