Formula 1 gossip: Bottas, Wolff, Ferrari, Red Bull, Boullier
Last updated on .From the section Formula 1
Sunday, 5 March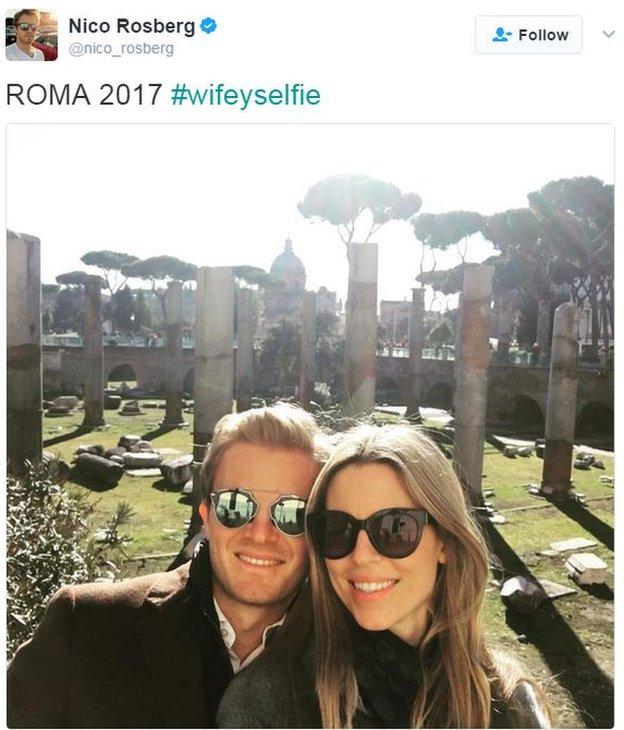 Mercedes driver Valtteri Bottas says the new regulations for 2017 could make the cars trickier to drive in windy conditions. (Autosport)
Following the four-day test in Barcelona, Mercedes chief Toto Wolff believes "Ferrari is really fast" but Red Bull have yet to show the car they will race with at the Australian Grand Prix. (Planet F1)
Red Bull chief Christian Horner says the absence of the sport's former supremo Bernie Ecclestone will be felt in 2017 but he is encouraged by plans to modernise F1 by new owners Liberty Media. (Crash.net)
McLaren chief Eric Boullier said he did not expect the reliability struggles suffered in testing, and added that the team are not hiding anything from driver Fernando Alonso. (F1.com)
Saturday, 4 March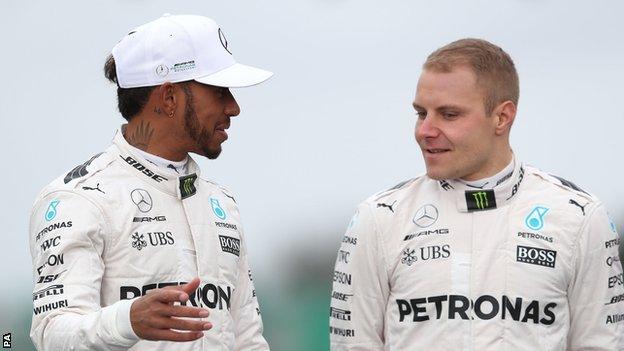 Lewis Hamilton says he already has a "better working relationship" with Valtteri Bottas at Mercedes than with any of his previous team-mates in the sport. (Formula1.com)
Bottas moved from Williams to replace world champion Nico Rosberg and said "changing teams is maybe a slightly bigger thing than I initially thought it would be". (ESPN)
Red Bull driver Max Verstappen says the team's first test was more about mileage than pace as they are "definitely catching up" with Mercedes. (Planet F1)
Haas team principal Guenther Steiner says the American outfit have not yet completely solved their brake issues. (Autosport)
Friday, 3 March
Three-time world champion Lewis Hamilton discussed the creation of time and whether dinosaurs are real in an amusing interview with a child. (Mercedes)
Hamilton seems very happy with the new Mercedes car.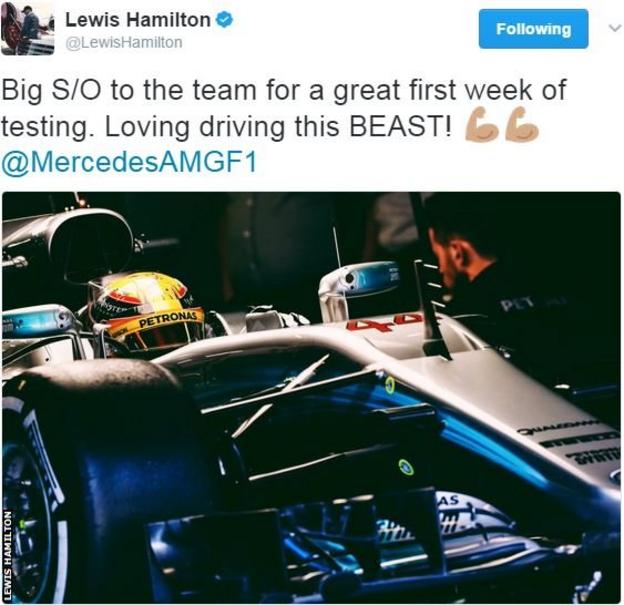 Hamilton met Hollywood actor Samuel L. Jackson on a flight to New York. (Daily Mail)
Renault's British driver Jolyon Palmer has also had a good first week of testing.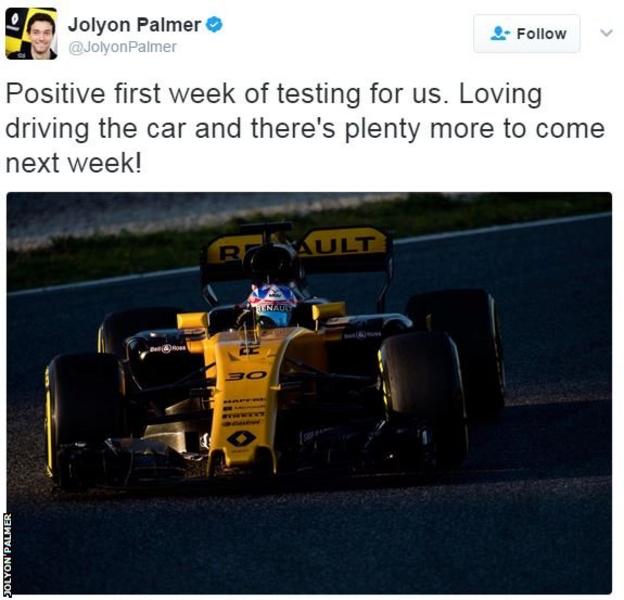 Pirelli chief Paul Hembery admits he is shocked by the levels of G-forces on F1's wider 2017 cars, which he thinks would be impossible for "a normal human being" to drive. (ESPN)
Kimi Raikkonen says that Ferrari's Formula 1 pre-season running has been "much smoother going" in 2017 compared to recent years. (NBC)
Manuel Maldonado, the cousin of former F1 Grand Prix winner Pastor Maldonado will race in British Formula 3 Championship this year. (F1i.com)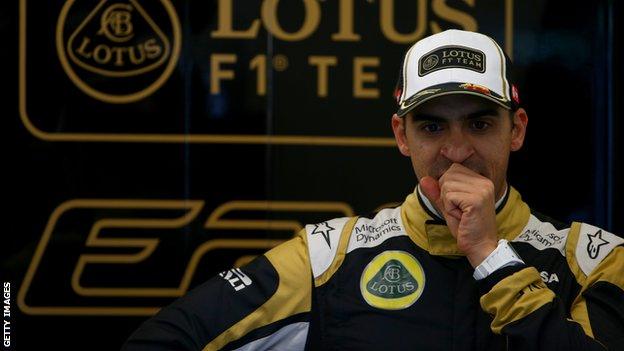 Thursday, 2 March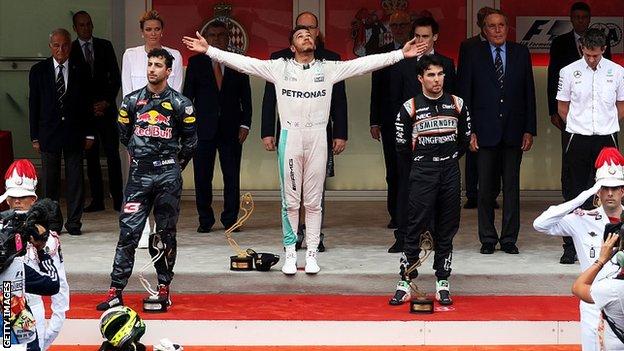 Mercedes driver Lewis Hamilton says Formula 1 needs to "spice up" the Monaco Grand Prix and has suggested a sprint race. (Daily Mail)
F1's new sporting director Ross Brawn says new regulations for the 2017 season have strengthened Mercedes. (ESPN)
Hamilton has questioned the new regulations and warned overtaking will be difficult this season. (Guardian)
Pit stop? Cake stop...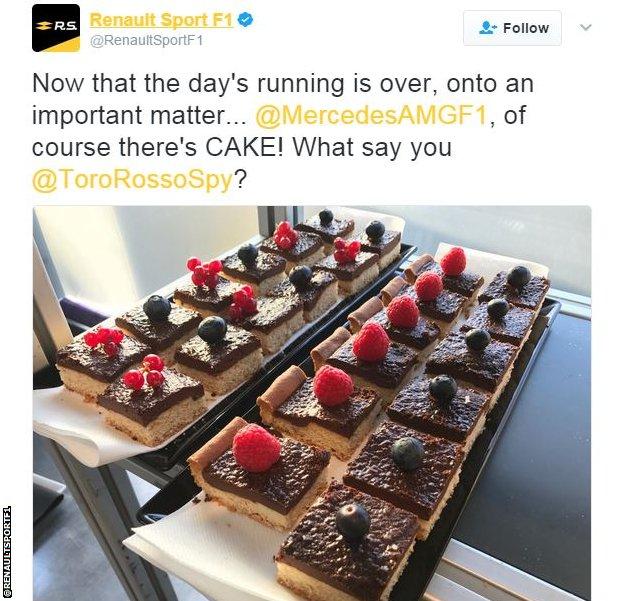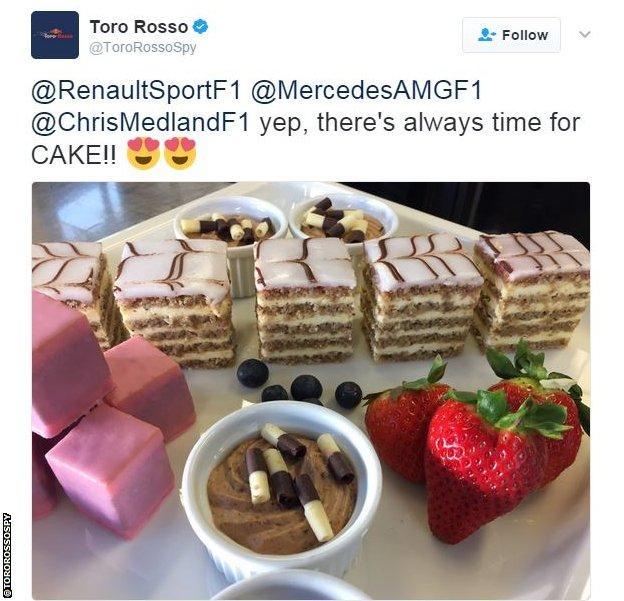 F1 CEO Chase Carey has denied new owners Liberty Media are trying to 'Americanise' the sport by focusing on growth in the USA. (Motorsport)
Canadian Grand Prix organisers have announced they have secured a new deal that will keep the race at Montreal until 2029. (ESPN)
Wednesday, 1 March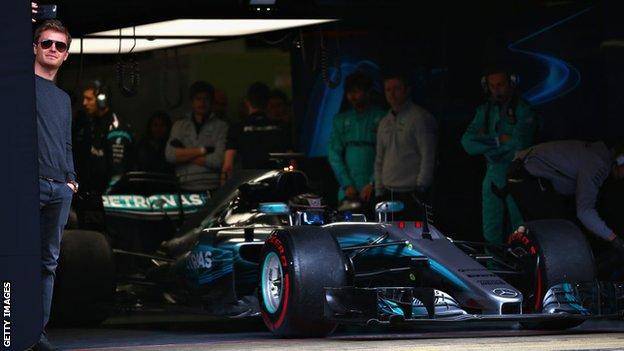 Ross Brawn, the new sporting director of Formula 1, would like a non-championship race inserted into the calendar where organisers could experiment with new formats and rules. (Sky Sports)
Formula 1's commercial director Sean Bratches says that he is going to be "very aggressive" in building the sport's profile with more teams, tracks and sponsors all long-term aims. (Reuters)


Renault driver Jolyon Palmer admits he is baffled by how quickly Mercedes appear to have adapted to 2017's new rules and regulations. (Daily Mail)
Lewis Hamilton says he has been covered in bruises and bumps from putting the Mercedes 2017 car through its paces, adding that it is "much more physical" to drive. (Autosport)
Tuesday, 28 February
Lewis Hamilton says his new Mercedes looks "1,000 times better" than any of the other cars in 2017. (Eurosport)
McLaren's Fernando Alonso expressed his disappointment after engine problems meant he could only complete six laps on the first day of testing. "I have three days to prepare for a world championship, it's not an ideal situation," said Alonso. (Reuters)
Despite a frustrating start to testing, Red Bull's Daniel Ricciardo remained positive. He wrote on Twitter: "Day one is done. Slow start to the day but got some good laps in the afternoon. More to come but nice to get the ball rolling. Cars look good."
Red Bull racing boss Christian Horner says the cars for 2017 "look fantastic" but does not like the "shark fins" at the back of the cars. Horner adds that Red Bull tried to get the designs changed but the other teams rejected the idea. (F1i.com)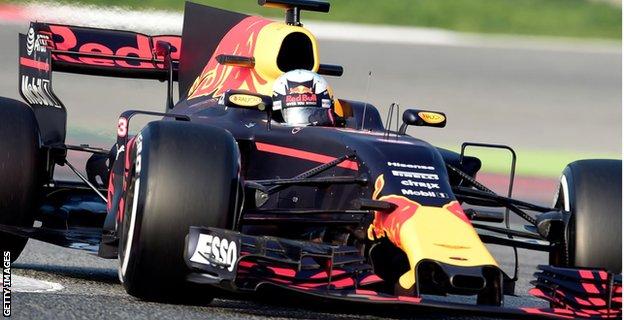 Sauber's Pascal Wehrlein hopes to be fit for second testing, which starts on 7 March. He is not involved in the first testing as he recovers after crashing during the Race of Champions event in January. (Motorsport Week)
Organisers of the Chinese Grand Prix are looking to sign a new contract for the race. They have a deal to host the race for only this year, but the organisers, who have backing from the Chinese government, want to host the grand prix annually until 2020. (China Daily)
The Russian Grand Prix is set to be part of the Formula 1 calendar until 2025. (Sports Mole)
Haas team principal Guenther Steiner expects his team to do better in 2017 than the eighth place they gained in their debut season last year. (Fox Sports Asia)
Eighteen-year-old Williams driver Lance Stroll says he "feels as prepared" as he can be before his first Formula 1 race in Australia next month. (The Chequered Flag)
Formula 1 teams have been permitted to film and upload short videos on their social media channels during the first week of testing as new F1 owner Liberty Media is keen to exploit digital and social media. (Autosport)
Monday, 27 February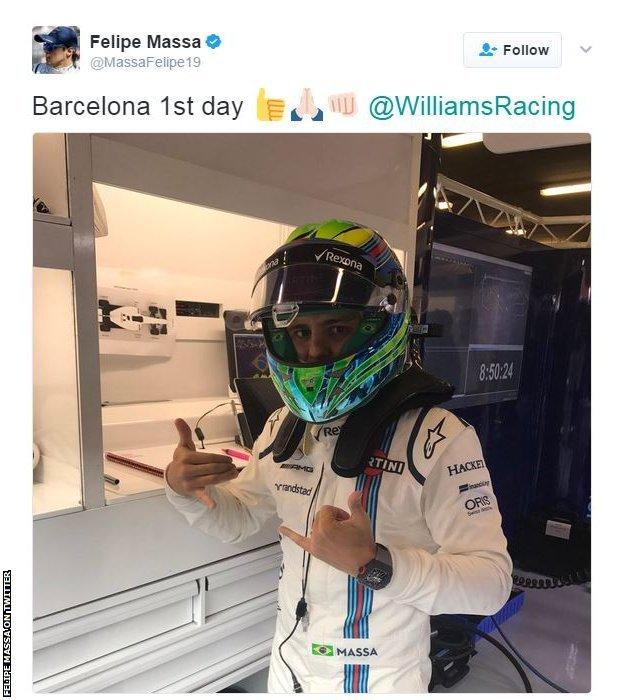 McLaren driver Fernando Alonso quipped former team-mate Lewis Hamilton might have beaten Nico Rosberg to the 2016 title "if he was watching more data" from the German. (Crash.net)
The similarities between the Mercedes front suspension and that of the Toro Rosso are a coincidence, according to the latter team's technical director James Key. (ESPN)
Force India's Esteban Ocon says he has had to "force feed" himself to put on extra weight to deal with the physical demands the new F1 rules are likely to put on drivers. (Autosport)
McLaren chief Eric Boullier hopes the change of rules will help his team return to challenging at the front end of the grid. (Planet F1)