Gossip: Hamilton, Mercedes, Schumacher, Malone, Kvyat, Ricciardo,
Last updated on .From the section Formula 1
Sunday, 18 December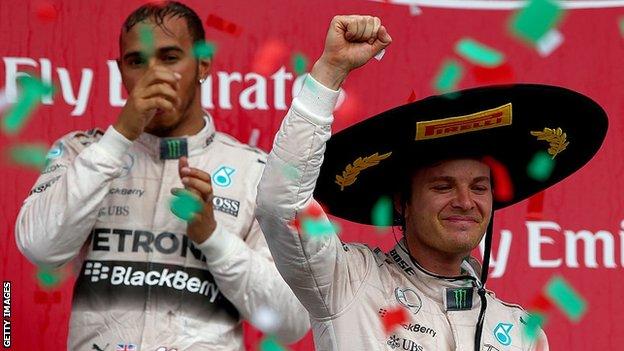 Lewis Hamilton says he felt "disrespected" by Mercedes bosses over team orders last season, and that the issue is not resolved. (Channel 4, via Sunday Telegraph)
The family of seven-time world champion Michael Schumacher have started an initiative to help others inspired by his career and character to "keep fighting" in the face of adversity. (Reuters)
US billionaire John Malone, who controls F1's new owners Liberty Media, is planning a clampdown on overspending by teams. (Sunday Telegraph)
Daniil Kvyat believes he matched Daniel Ricciardo during their 23 races as Red Bull team-mates, despite his demotion early in 2016. (Autosport)
Renault driver Nico Hulkenberg is ready to embrace the cold. "Gearing up for the winter season," he tweeted.
Saturday, 17 December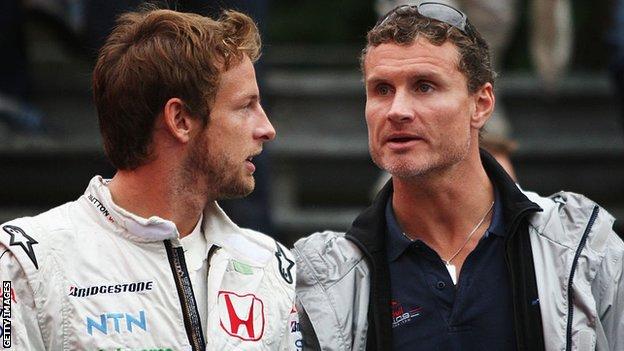 Lewis Hamilton says Mercedes have a contractual obligation to discuss world champion Nico Rosberg's replacement with him. (Channel 4, via Yahoo)
Former Formula 1 world champion Jenson Button and multiple grand prix winner David Coulthard will take part in next month's Race Of Champions in Miami. (Racer.com)
Manor have been linked with a number of new investors, including Jangonya, the Indonesian branch of global fast food giant KFC. (Autoweek)
Liberty Media, set to become F1's biggest shareholder, says it has received all required approvals from authorities regarding its planned purchase. (Autosport)
Sauber boss Monisha Kaltenborn insists the 2017 F1 season will not be a transition year despite the team's preparations being impacted by a search for a new investor. (Autosport)
Friday, 16 December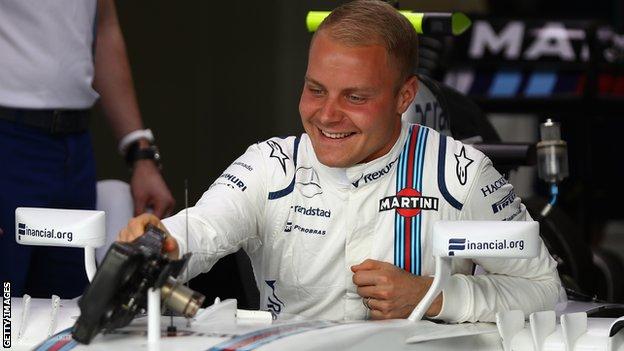 Williams' technical chief Pat Symonds says keeping Valtteri Bottas is "crucial" to the team's future success amid speculation that the Finn could move to Mercedes for 2017. (Gazzetta dello Sport, via NBC Sports)
Liberty Media, led by USA cable mogul John Malone, says it will raise $1.55bn (£1.25bn) to fund its purchase of Formula 1. (Daily Times)
McLaren has continued its move from building F1 to road-worthy cars, with 10,000 road cars now produced and sold by the company. (Forbes)
New McLaren executive director Zak Brown is enjoying his new surroundings: "Just leaving the #MTC now. Walking past 3 Senna cars on my way out. The only word is... awesome," he tweeted, with this picture...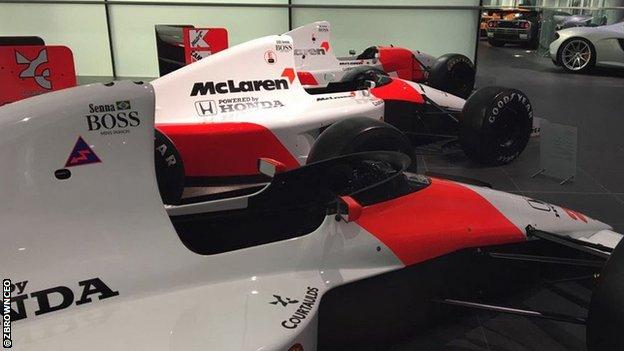 Irish racing driver Tommy Byrne, who was "better than Schumacher and Senna", is the subject of a new documentary in cinemas. (Newstalk)
Renault Sport F1 is building for the future by expanding its Enstone facility and increasing staffing levels by 20%. (Fox Sports)
Thursday, 15 December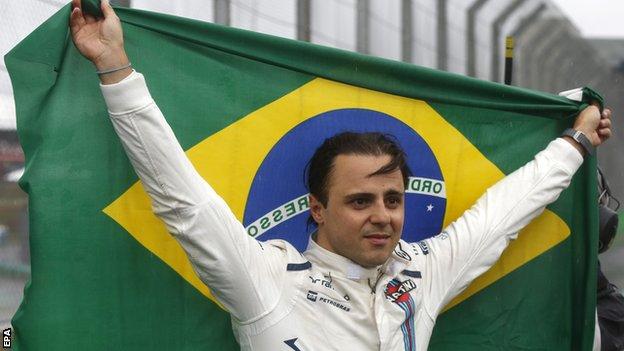 Felipe Massa is in talks with Williams about a comeback to the sport, having only retired at the end of the 2016 season. (L'Equipe - in French)
Lewis Hamilton says Mercedes can bring in Sebastian Vettel or Fernando Alonso as his new team-mate but "it's probably not the best idea". (Channel 4 on Twitter)
Former driver Gerhard Berger says Ferrari need to keep Sebastian Vettel happy as "deep down, he wants the chance to go with Mercedes in 2018". (Sport Bild via grandprix.com)
Nico Rosberg says he "lost the title three times in my head" during the final race of the season in Abu Dhabi but managed to clinch his first drivers' crown before announcing his retirement. (Times of India via AFP)
Wednesday, 14 December
Former Williams and Lotus driver Pastor Maldonado, renowned for being involved in numerous crashes, has said he is "talking to some teams" about a return to F1. (GrandPrix.com)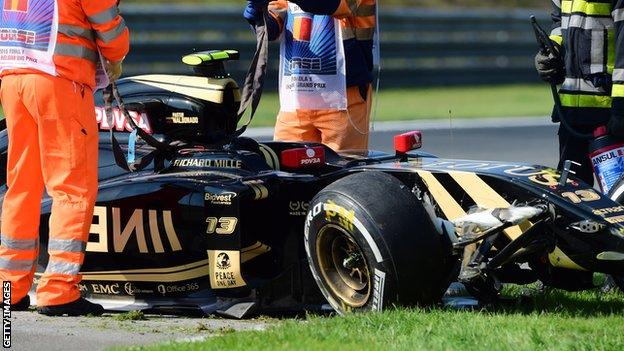 F1 boss Bernie Ecclestone wants to be in constant contact with Mercedes about their negotiations to find a replacement driver for Nico Rosberg. (Globe Esporte - Spanish)
Former world champion Jacques Villeneuve has warned that the trend for drivers to be pushed into F1 as teenagers is giving off the "wrong image" about the sport. (Motorsport)
Toro Rosso's Carlos Sainz says it was a "difficult moment" when Red Bull chose Max Verstappen to replace Daniil Kvyat and not him. (Autosport)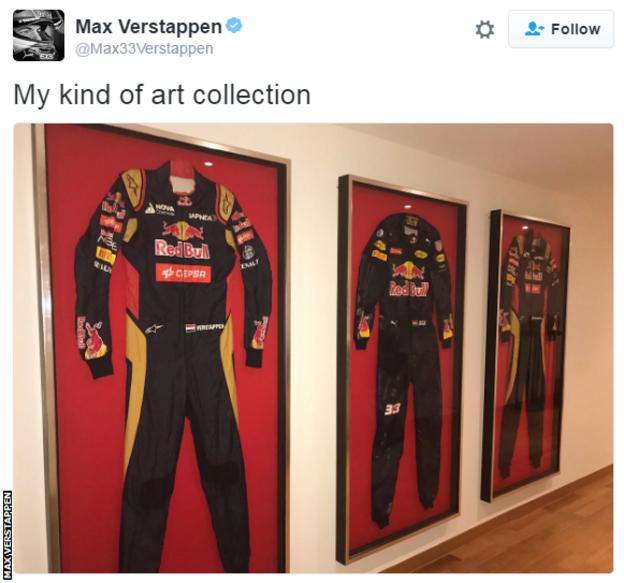 Tuesday, 13 December
World champion Nico Rosberg partied until past nine o'clock in the morning in Abu Dhabi as he celebrated winning his title, almost breaking a rib in the process. (Canal+ via Joe Saward's Grand Prix Blog)
Formula 1's rule changes for the 2017 season - including remodelled aerodynamics and wider tyres - are the most significant in two decades says Toro Rosso technical director James Key. (Autosport)
Red Bull team boss Christian Horner admits that Mercedes will still be the team to beat next season despite the raft of new regulations. (ESPN)
Haas driver Kevin Magnussen has decided he needs to be heavier to tackle the demands of the team's 2017 car, contrary to advice from fellow Dane and Le Mans legend Tom Kristensen to slim down. (TV2 via Autoweek)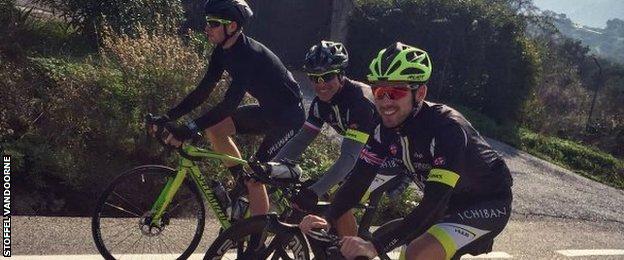 Monday, 12 December
Britain's Lewis Hamilton is confident Mercedes will be in a strong position in 2017 following an "amazing meeting" with team boss Toto Wolff on Sunday. (Instagram, via ESPN)
Formula 1 drivers will be "destroyed" physically after pre-season testing with next year's significantly redesigned cars, Force India's Sergio Perez predicts. (Autosport)
The sport can learn from American football's Super Bowl in the way it engages with fans, says new McLaren boss Zak Brown. (Crash.net)
Rising British driver Lando Norris, 17, will get a Formula 1 test drive in 2017 after winning a prestigious award. (NBC Sports)
Recently retired world champion Nico Rosberg has indicated that he would like to try working as an actor. (AFP, via F1i.com)
Rosberg is a "truly deserving" world champion according to Claire Williams, the deputy team principal at Williams, where the German driver began his career. (Crash.net)
Haas driver Romain Grosjean will return to ice racing - in which he has competed sporadically since 2009 - by taking part in the Andros Trophy next weekend.(Autosport)
Jenson Button - who left Formula 1 last month after 17 years - has changed his Twitter name to Dr Jenson Button after receiving an honorary degree in engineering from the University of Bath. (Somerset Live)