Gossip: French Grand Prix, Lewis Hamilton, Mercedes, Nico Rosberg, Max Verstappen
Last updated on .From the section Formula 1
Friday, 2 December
The French Grand Prix will return to the Formula 1 calendar from 2018 in a five-year deal for a race at the Circuit Paul Ricard near Marseille. The contract will be announced in a news conference on Monday. (BFM.TV)
Teenage driver Max Verstappen is ready to fight for the F1 World Championship title in 2017, according to Red Bull motorsport advisor Helmut Marko.(Autosport)
The Mercedes driver rivalry seems to be water under the bridge as Nico Rosberg responds to Lewis Hamilton's congratulatory tweet from Wednesday: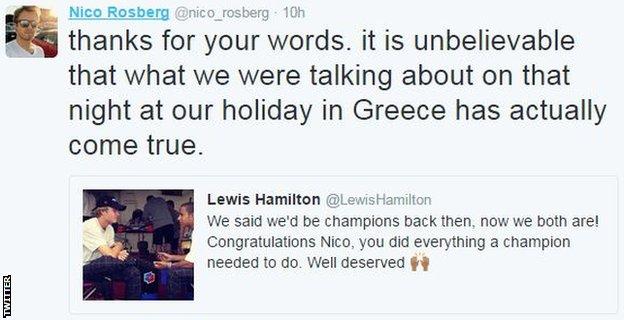 Thursday, 1 December
Lewis Hamilton has taken to social media to congratulate Nico Rosberg on a "well deserved" world championship win.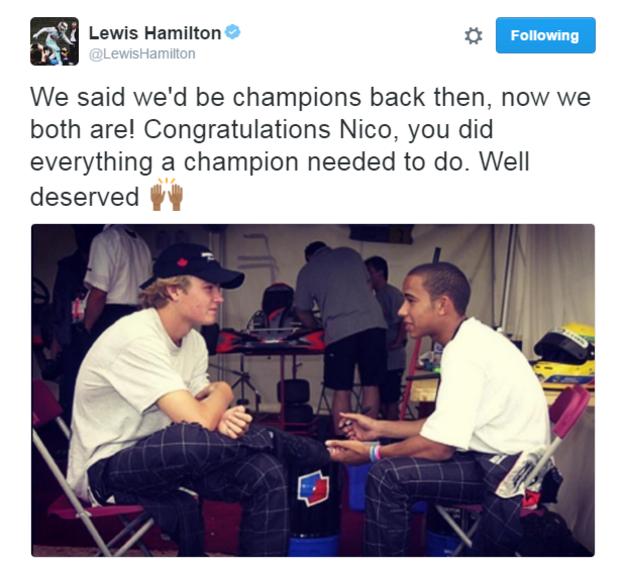 Hamilton reportedly threatened to quit Mercedes midway through the 2016 season. (Sky Sports)
Mercedes team boss Toto Wolff says Hamilton's engine failure in the Malaysian Grand Prix cost him the Formula 1 world championship. (Autosport)
Jenson Button posed alongside the car he won the 2009 world title in on Instagram, and wrote: "Reacquainted with my partner in crime! First time I've seen my Brawn car since winning the World Champs.. where have the last 7 years gone?"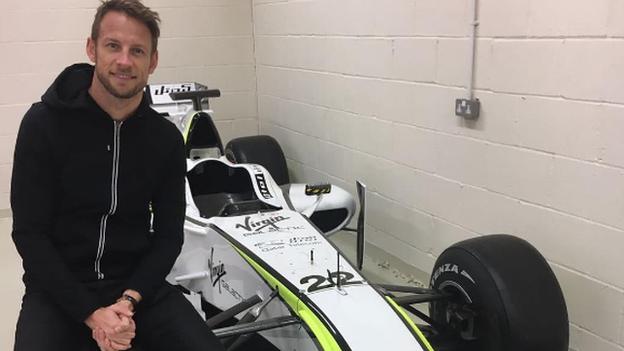 Nico Rosberg is unsure whether he will carry the number one on his car when he defends his Formula 1 title in 2017. (ESPN)
Formula 1 stewards are looking at introducing regular meetings to review past races in a bid to improve the consistency of their decision-making.(Eurosport)
Wednesday, 30 November
Lewis Hamilton has been named 2016's best driver in an Autosport poll of team bosses, with Red Bull's Max Verstappen second and world champion Nico Rosberg only third. (Autosport)
Three-time world champion Sir Jackie Stewart said Hamilton "can be a little ballerina", adding: "You cannot threaten a multi-national corporation of that size by one man who is just not doing it the right way." (Daily Express)
Mercedes say that technical boss Paddy Lowe's involvement in the radio instructions to Lewis Hamilton during the Abu Dhabi Grand Prix was proof that the situation had reached "the highest escalation" possible. (Motorsport.com)
Toro Rosso's Carlos Sainz says he would have employed 'backing up' tactics as Lewis Hamilton did to Nico Rosberg if he were in the same position as the British driver. (Motorsport.com)
Felipe Massa, who retired after Sunday's race in Abu Dhabi, is in talks to be a television pundit in 2017. (Grandprix.com)
Pirelli said it tested approximately 96 different prototypes on the final day of its 2017 F1 tyre testing programme. (Autosport)
Max Verstappen wrote: "Bigger, better, faster. Enjoyed testing the 2017 Pirelli Sport tyres at Abu Dhabi. Looking forward to putting them to work next year."
Tuesday, 29 November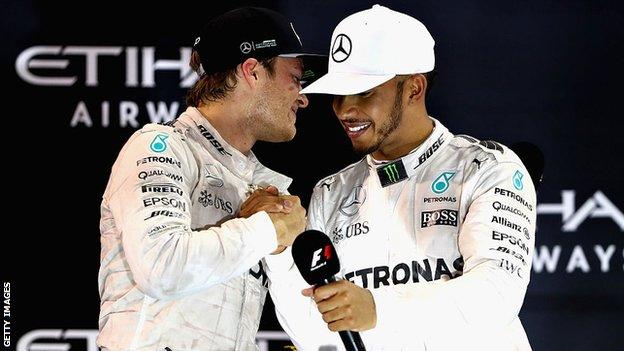 Lewis Hamilton could have his Mercedes contract ended, after ignoring team orders as he lost the world title to team-mate Nico Rosberg in the final race of the season at Abu Dhabi. (Daily Mail)
Red Bull boss Christian Horner praised Rosberg as "brave", after the world champion fought off his driver Max Verstappen and Ferrari's Sebastian Vettel to secure second, despite Hamilton deliberately driving slowly at the front of the race. (Autosport)
Rosberg's dad, 1982 world champion Keke Rosberg, watched his son emulate his success from a friend's house in Dubai and then a hotel, because he "wouldn't get a peaceful minute" at the race paddock. (Autosport)
Haas driver Romain Grosjean says that his team has "so much to improve" while other teams are "massively at their limit". (Motorsport)
Manor drivers Esteban Ocon and Pascal Wehrlein blamed each other for their crash in Abu Dhabi. (Motorsport)
Rosberg took full advantage of his new-found status as F1 world champion to paint the town red on Sunday night...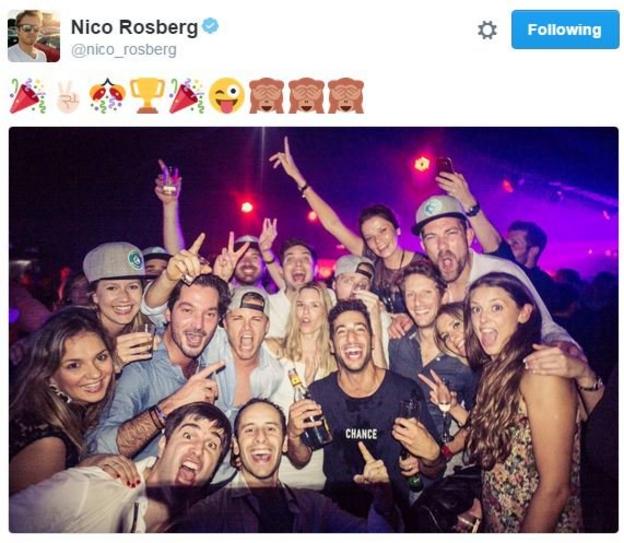 Monday, 28 November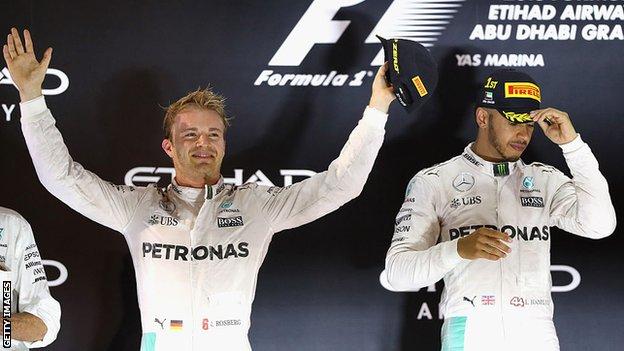 The door has been left open for a Lewis Hamilton return to McLaren, by incoming new team boss Zak Brown. (Sky Sports)
New world champion Nico Rosberg admitted grudging admiration for former champion and Mercedes team-mate Hamilton's tactics in the final race of the season, after the Englishman drove slowly in an attempt to allow rivals to pass Rosberg. (Sky Sports)
Mercedes technical director Paddy Lowe said the "nail-biting" end to the season was "inevitable" - despite ordering Hamilton to speed up throughout the race. (Motorsport)
However, Red Bull team boss Christian Horner said that Mercedes' management of the race was "naive", and that Hamilton "played completely within the rules". (Autosport)
Red Bull driver Daniel Ricciardo regretted not matching team-mate Max Verstappen's one-stop strategy in Abu Dhabi, after the Australian finished behind the Dutch driver, and missed out on a chance to influence the title scrap. (Motorsport)
Former world champion Jenson Button was "really emotional" and "glad he had sunglasses on" after his final race in the sport on Sunday. (Autosport)
Hamilton took to Instagram to thank his team, despite failing to win a third successive title. Rosberg was not one of those mentioned...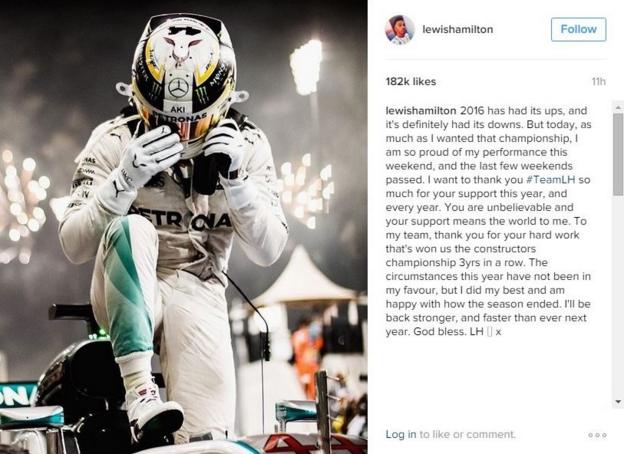 However, the day was all about Rosberg, who celebrated his debut success alongside wife Vivian.