Lewis Hamilton: New defensive move rule about respect

By Andrew Benson
Chief F1 writer in Austin
Last updated on .From the section Formula 1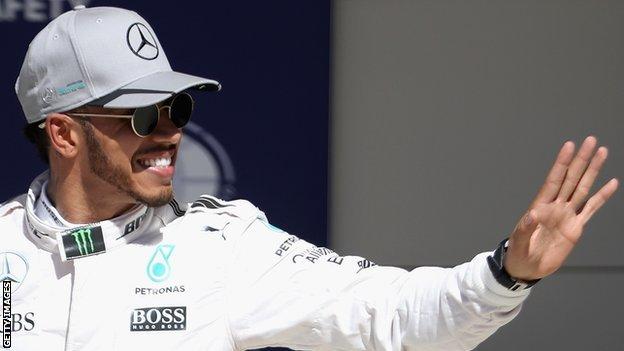 Mercedes' Lewis Hamilton and other leading drivers have backed a decision to forbid a defensive move employed by Red Bull's Max Verstappen.
Governing body the FIA ruled that if a driver moves while braking for a corner and causes a rival to take evasive action he will be reported to stewards.
"It's about the respect we have for one another," said world champion Hamilton.
"We are travelling at serious speeds, so commit to your defence, but don't do it while it's in braking."
The United States Grand Prix takes place at 20:00 BST on Sunday, with online build-up from 18:30 and BBC Radio 5 live from 19:30.
Hamilton's views were echoed by fellow world champions Fernando Alonso of Spain, fellow Briton Jenson Button and German Sebastian Vettel, and are shared by most of the other drivers.
The decision to clarify the rules covering defensive driving came after a series of controversies surrounding 19-year-old Dutchman Verstappen's driving this year, most recently a move at the last race in Japan in which Hamilton ended up taking the escape road at the Suzuka chicane.
Verstappen has also incurred the wrath of Ferrari driver Kimi Raikkonen of Finland on a number of occasions this season.
The drivers have discussed the issue with FIA F1 director Charlie Whiting several times and he acted after the latest discussion at the Friday drivers' briefing in Austin, Texas.
"For the 10 years I have been in F1, it has been the same rule all the drivers understand and it is only newcomers who have come in and potentially not abided by it," added Hamilton, 30.
"It is great Charlie has understood the majority of drivers' opinions.
"The rules have to be very strict and clear because otherwise if they say you're allowed to move under braking everyone will do it and we'll all start a new way of driving which is dangerous. It is definitely the right way."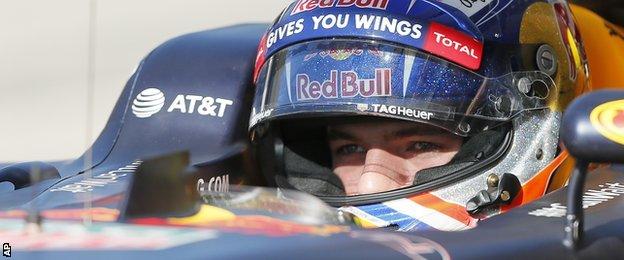 McLaren driver Button, 36, said: "This is the correct ruling. We started a long time ago in the sport and there has always been a good understanding that it is incorrect to move in the braking zone when somebody's trying to overtake because everything is on the limit.
"You are pushing the boundaries, you are on the edge of out of control.
"As soon as somebody moves in front of you and takes the line, the space you were aiming for, you're screwed. You're either going to go over the top of them or miss them and end up in the barriers. It is common sense more than anything else.
"For 15 years of racing we haven't really had any issues, it's just the last couple of years we have. Now it's clear and I'm happy about it."
Button's 35-year-old team-mate Alonso said: "It was clear before and it's clear now. In football, when you take the ball with the hand inside the area, it is a penalty. Sometimes the referee gives you the penalty and sometimes not.
"This, it was clear before and sometimes they gave penalty and sometimes they don't give anything."
"It is a very high-risk situation and it is very hard for the guy behind to avoid an accident in such a case because he is on the absolute limit and so he can't steer any more," said Hamilton's Mercedes team-mate Nico Rosberg, the World Championship leader.
"It is good it is being addressed."
Verstappen said: "It is like it is - they set up a rule and everybody has to follow the rule. I think it's good to make it clearer what's allowed and what's not.
"I haven't really thought yet about how it will be. I'm just going to race and then we will see how it is going to be defending and how it will affect the racing."
US Grand Prix qualifying results