F1 gossip: Hamilton, Mercedes, Red Bull, Sainz, Horner
Last updated on .From the section Formula 1
Sunday, 14 August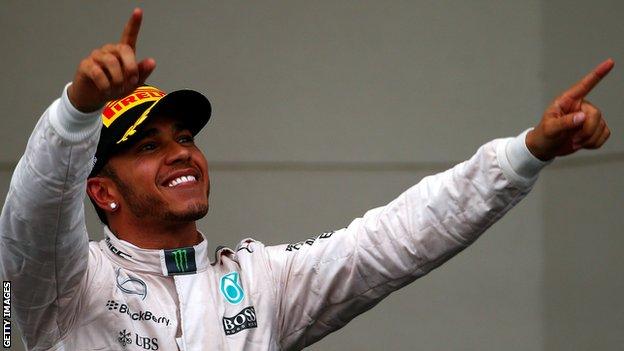 Mercedes driver Lewis Hamilton, who leads the 2016 Formula 1 drivers' championship, thinks there will be an extra edge next season because technical regulation changes could reshuffle the order. (Eurosport)
Defending champion Hamilton says it is an "awesome" to win over doubters who have criticised his lifestyle outside of racing. (ESPN)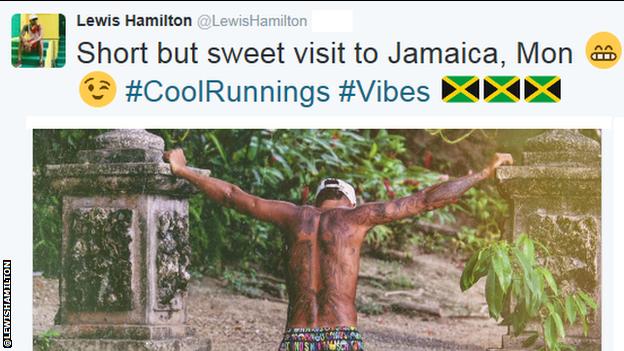 Toro Rosso driver Carlos Sainz wants a formal vote among F1 drivers on the introduction of the halo cockpit protection device. (Motorsport.com)
Red Bull team principal Christian Horner believes they are closing in the gap on Mercedes. (F1.com)
Saturday, 13 August
Two-time F1 world champion Fernando Alonso expects "the feeling of wow" next year as the sport's technical regulations will mean faster cars. (NBC Sports)
Renault has admitted it is struggling to recruit staff to its F1 team caused by a lack of belief in its ambitions and commitment. (Autosport)
Mercedes team boss Toto Wolff believes Ferrari's lack of competitiveness in the last few races is because it is throwing its resources into its 2017 car. (F1.com)
Current drivers' champion Lewis Hamilton has stopped off in Costa Rica for a round of golf as F1 continues its mid-season break before returning for the Belgian Grand Prix at Spa-Francorcharps on 28 August.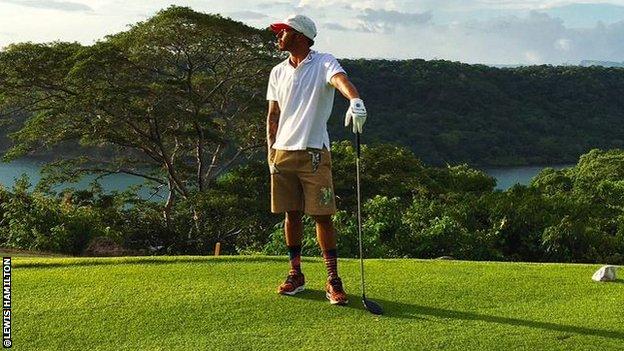 Meanwhile, Hamilton has been criticised for encouraging an animal welfare centre to use tigers like "props to liven up holiday snaps" after he was photographed kissing a tiger while visiting the Black Jaguar White Tiger foundation in Mexico. (Independent)
Haas F1 boss Gunther Steiner says the team will not delay confirming its driver line-up for next year, risking losing the opportunity to sign experienced drivers such as Felipe Massa and Jenson Button, who have yet to commit to their teams for 2017. (Motorsport.com)
Jenson Button believes that drivers have more of a say in F1 after the Grand Prix Drivers Association penned an open letter before the Bahrain Grand Prix in March criticising the sport's governance and calling for changes in the sport. (F1today)
Friday, 12 August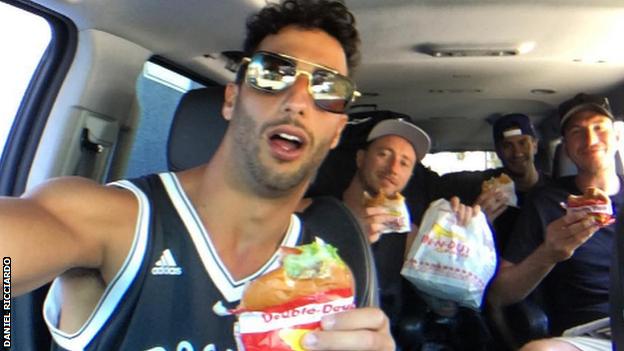 McLaren driver Jenson Button is using the summer break to assess his F1 future. (Autosport).
Button's Instagram account tells us he is currently in California - taking pictures of a Porsche Singer and telling us it would be in his #dreamgarage and taking in an Adele concert in Los Angeles.
Williams driver Felipe Massa says the Halo device needs a "proper test" for F1 to know if it is the best protection system.(Motorsport.com)
Toro Rosso technical director James Key is set to become one of F1's top designers, according to team principal Franz Tost. (Formula1.com)
Indonesian driver Rio Haryanto has accepted Manor's offer to stay on as a reserve driver after losing his race seat to Esteban Ocon. (Autosport)
The Indonesian government is "disappointed" with Manor's decision to drop Haryanto. (ESPN)
Red Bull team boss Christian Horner wants to simplify track rules about corners after confusion about how they will be policed. (PlanetF1.com)
And Daniel Ricciardo is not sticking to a racing diet as he continues his tour of California. The Australian Red Bull driver posted a picture of himself enjoying a burger with his friends on Instagram and wrote "Oh we huuuuungry #justthisonce".
Thursday, 11 August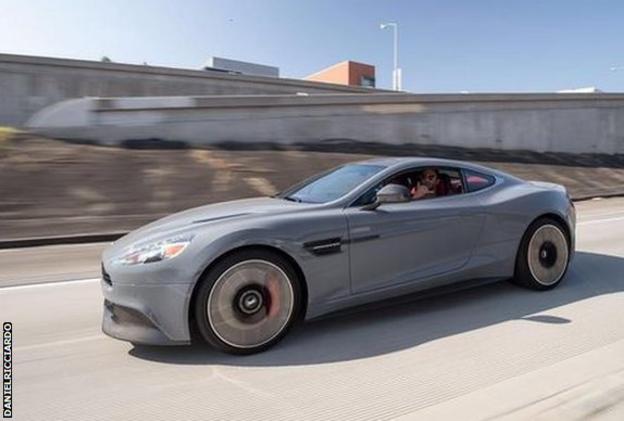 Australian Red Bull driver Daniel Ricciardo is living the dream on his tour of Los Angeles. He wrote on Instagram: "The vanquish v12 goes well. Loving California!"
Rio Haryanto has paid tribute to his fans and the Indonesian said he is "looking forward to the next challenge" after it was confirmed he will no longer race for Manor. (PlanetF1.com)
Former Lotus and Williams F1 driver Pastor Maldonado could compete in the World Endurance Championship 6 Hours of Mexico next month, according to confirmed driver Alfonso Toledano. (Motorsport.com)
Silverstone managing director Patrick Allen has been suspended for, according to senior sources, being "too close" to tycoon Lawrence Tomlinson, who is bidding to take over the track. (CityAM)
Where is world champion and current leader Lewis Hamilton and what is he listening to on holiday? Blackpool and Black Lace? No, his Instagram informs us it's Barbados and @spinzbeatsinc.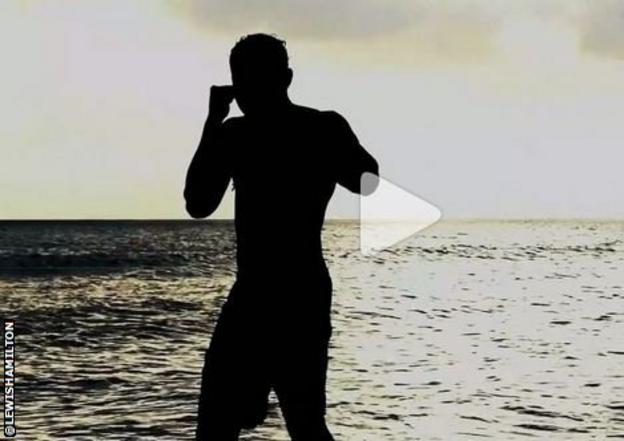 Wednesday, 10 August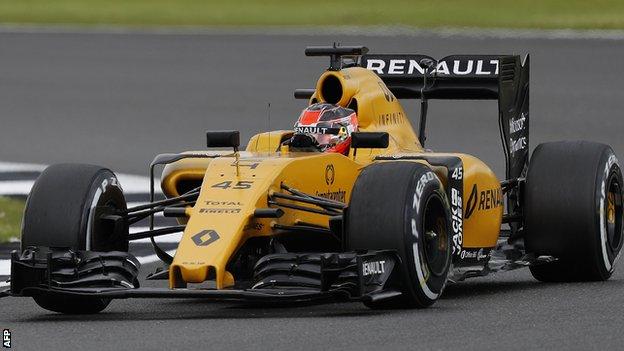 Renault will not name a new third driver following teenager Esteban Ocon's elevation to the Manor team. "One of our lucky drivers already under contract will get the call if needed," the team tweeted.
Ferrari team principal Maurizio Arrivabene says they are "clear in mind" over how to reorganise following technical director James Allison's departure. (Autosport)
Christian Horner says Red Bull's driver pairing of Daniel Ricciardo and Max Verstappen is "very healthy" and is helping the team achieve its goals in 2016. (ESPN)
Sauber will have no excuses if it is not back on the Formula 1 pace next year now its new investors are on board, according to team principal Monisha Kaltenborn. (Autosport)
McLaren channel the Olympic spirit with a golden vision.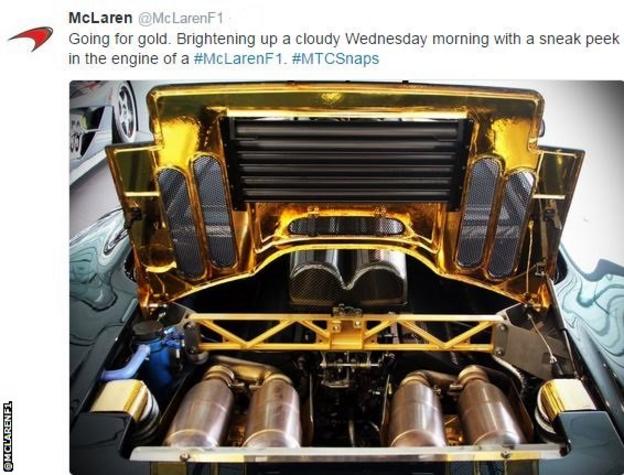 Force India's Sergio Perez resists the temptations on offer to an F1 driver on a summer break, diligently working in the gym instead.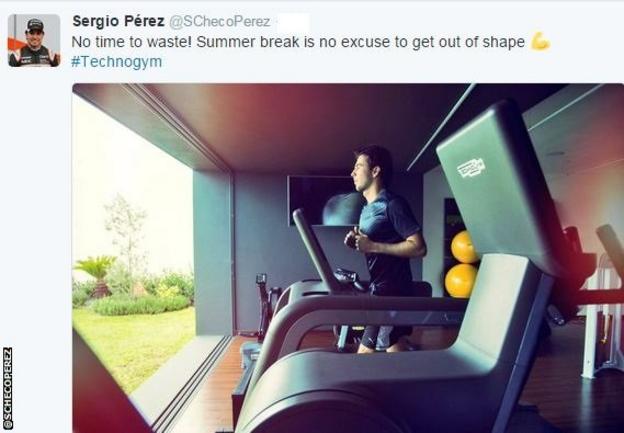 Tuesday, 9 August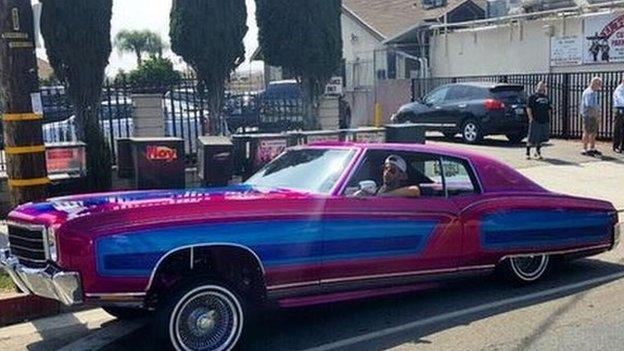 Red Bull's Daniel Ricciardo never seems to have too many concerns and he is currently enjoying the summer break in Los Angeles. "All my friends have a lowrider," he wrote on Instagram.
World championship leader Lewis Hamilton says his likely engine penalty later this season means Mercedes team-mate and Formula 1 title rival Nico Rosberg will essentially have a "free race" to reduce the 19-point gap. (Autosport)
Toro Rosso team boss Franz Tost is convinced that it is only a matter of time before 22-year-old Russian Daniil Kvyat returns to the form that saw him promoted to Red Bull Racing. (Autosport)
Kvyat admits he "got de-motivated" after leaving Red Bull and says he needs the summer break "more than anyone else." (CheckeredFlag)
With his team seventh in the constructors' standings and just three points behind Toro Rosso, Jenson Button says he is enjoying being able to "fight" again with other drivers in 2016 now that McLaren has become more competitive. (ESPN)
David Coulthard joined his managing director brother Duncan to celebrate the 100th anniversary of the family haulage business.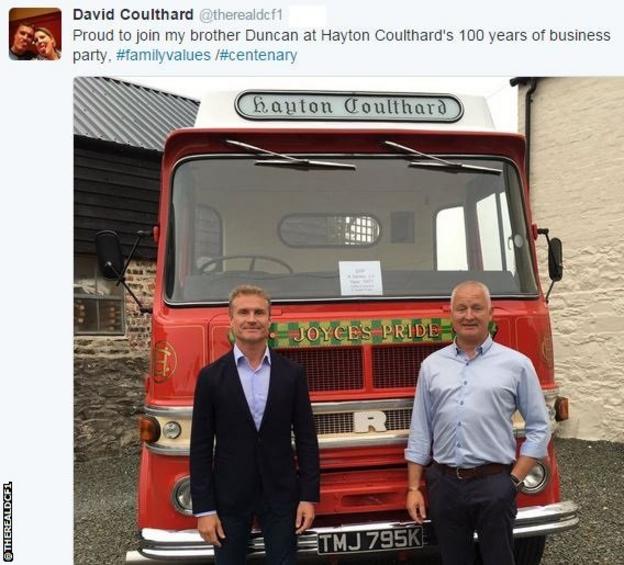 Monday, 8 August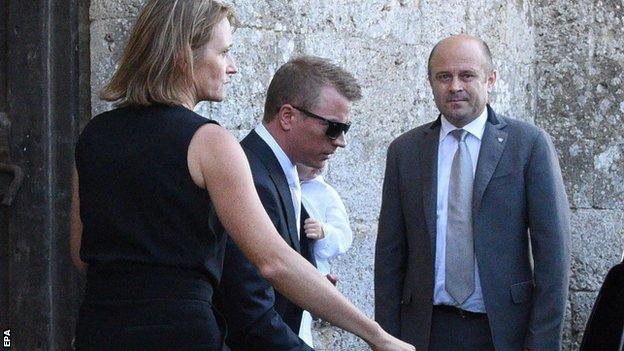 Ferrari driver Kimi Raikkonen made use of the summer break by marrying model Minttu Virtanen at the Abbey of San Galgano in Italy. (Daily Mail)
Two-time world champion Mika Hakkinen admitted he was wrong to criticise Red Bull driver Max Verstappen for coming into Formula 1 "too young". (Motorsport.com)
Managing director Cyril Abiteboul said Renault want a 'charismatic leader' for their driver line-up, having had just one points finish so far this season. (Autosport)
Kevin Magnussen is using a difficult year at Renault to prepare himself for challenging at the front of the grid in the future. The Dane has finished no higher than seventh this season. (ESPN)
Former Williams, McLaren and Red Bull driver David Coulthard completed a series of runs in the 2011 RB7 car as Red Bull has carried out its latest Formula 1 showrun at Glasgow's Ignition Festival of Motoring. (GPupdate)
Williams driver Valtteri Bottas continued his adventures at the Rio Olympics, where fiancee Emilia Pikkarainen, a swimmer, is representing Finland: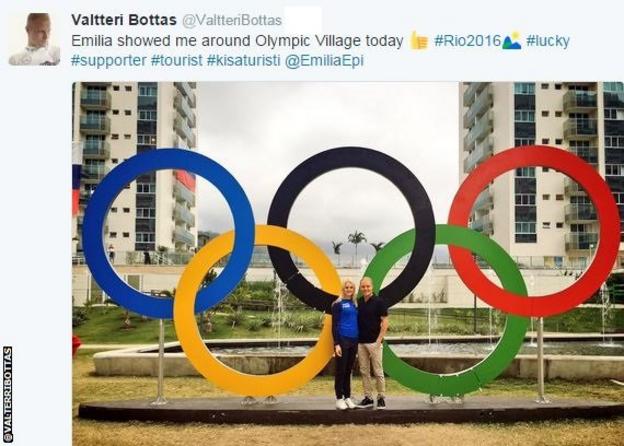 Subscribe to the BBC Sport newsletter to get our pick of news, features and video sent to your inbox.