F1 gossip: Azerbaijan human rights, Bottas, Alonso, Kvyat, Ricciardo
Last updated on .From the section Formula 1
Sunday, 19 June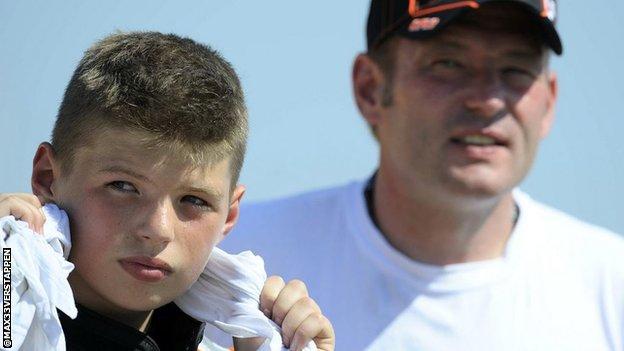 Activists in Azerbaijan hope the European Grand Prix will highlight to Formula 1 drivers and "all this wealth on show" the issues regarding human rights in the country. (Guardian)
Valtteri Bottas says the loose pit lane drain cover that damaged his Williams during third practice in Baku was an "unacceptable" occurrence. (Autosport)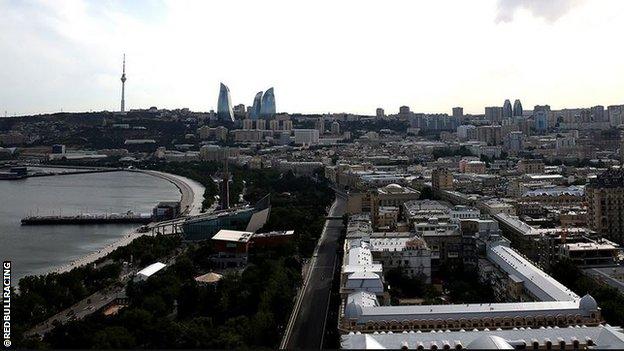 McLaren's Fernando Alonso sums up his feelings about qualifying in 14th position.

Haas F1 driver Esteban Gutierrez, who will start one spot below Alonso, added on Twitter: "Sometimes you take risks and mistakes are made, it's part of the game, part of racing. All in tomorrow!"
Toro Rosso's Daniil Kvyat says qualifying inside the top seven has given him a huge confidence boost. (The Checkered Flag)
Daniel Ricciardo is surprised to be starting from the front row in Baku after a "hectic" and "intense" qualifying lap. (Fox Sports)
Saturday, 18 June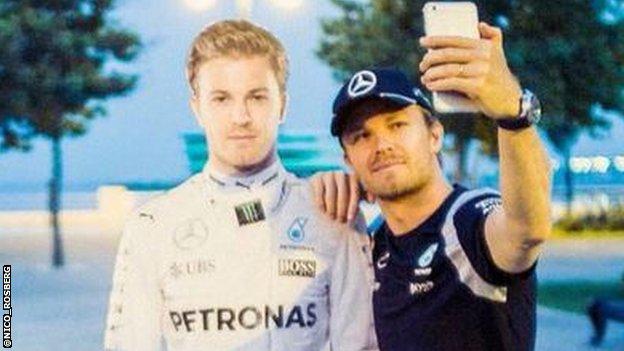 F1 drivers' champion Lewis Hamilton has claimed that Mercedes' high-tech race simulator is no better than a £200 PlayStation. (Daily Mirror)
F1 chief Bernie Ecclestone has said that the final decision on moving the Italian Grand Prix from Monza to Imola now lies with the country's national sporting authority, the Automobile Club of Italy. (Motorsport.com)
But Imola chief Uberto Selvatico Estense has insisted the former San Marino Grand Prix venue is "ready" and poised to replace Monza as Italy's sole F1 race. (Paddocktalk.com)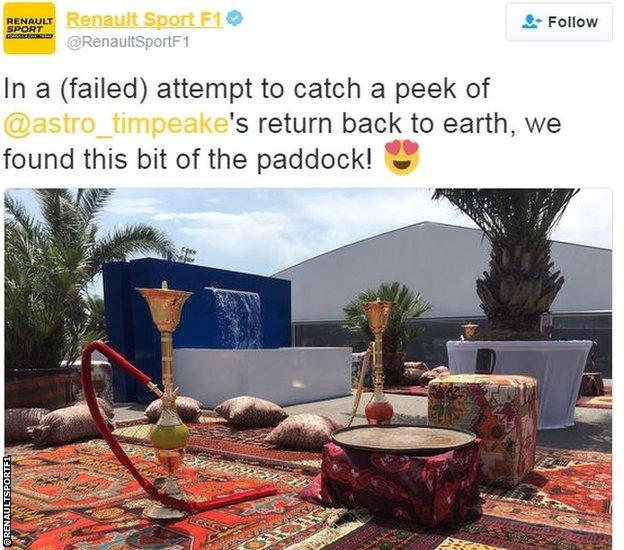 Freddie Hunt, the son of 1976 F1 drivers' champion James Hunt, has started to follow in his father's legendary footsteps by securing two top-20 finishes at Brands Hatch in this weekend's NASCAR Whelen Euro Series.
Haas F1 team owner Gene Haas is comfortable with the progress that the team is making in their first season in F1 despite failing to score any points in the last three grands prix.(NBC Sports)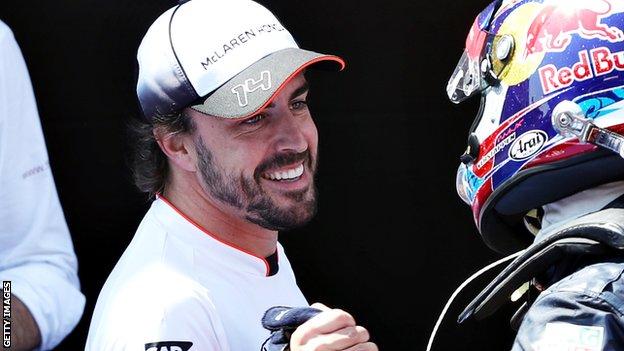 Friday, 17 June
Double world champion Fernando Alonso says it is too early for McLaren to switch their focus entirely to 2017, despite conceding they are nowhere near where they need to be. (Grand Prix Times)
Championship leader Nico Rosberg believes Mercedes team-mate Lewis Hamilton has a first-corner weakness and will continue to try to capitalise on it. (Eurosport)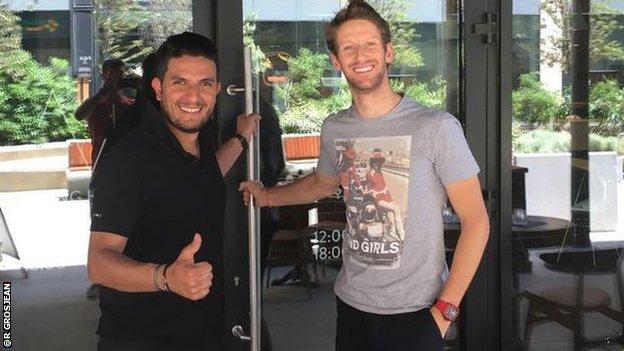 F1 chief Bernie Ecclestone says the sport has a "100%" clear conscience despite being criticised for taking the European Grand Prix to Azerbaijan. (Guardian)
Meanwhile, Ecclestone has predicted Lewis Hamilton will win his fourth F1 drivers' title this season. (Planet F1)
Daniel Ricciardo looks set to stay at Red Bull until at least the end of the 2018 season after saying he could challenge for the drivers' title next season. (Reuters)
Ricciardo's new team-mate Max Verstappen is surprised to be so competitive this early in the season. (Crash.net)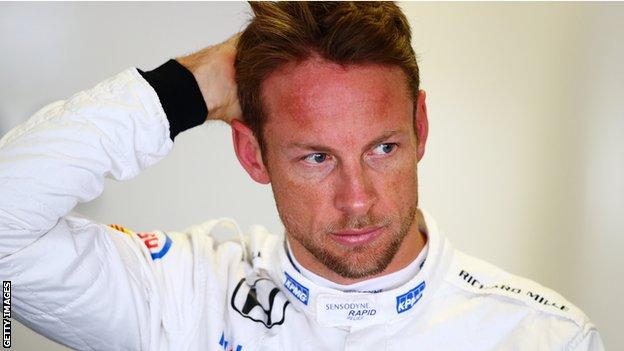 Thursday, 16 June
Jenson Button must wait until September at the earliest to discover if McLaren will offer him a new deal. (Daily Telegraph)
Nico Rosberg will not alter his approach to race weekends despite seeing his championship lead cut to only nine points by Mercedes team-mate Lewis Hamilton over the past two races. (ESPN)
Defending champion Hamilton has compared the track in Azerbaijan capital Baku to a "motorway" after sampling it in the Mercedes simulator before this weekend's inaugural European Grand Prix. (Motorsport.com)
Amnesty International has called on F1 boss Bernie Ecclestone to put pressure on Azerbaijani authorities to improve their human rights record. (Guardian)
Three-time world champion Jackie Stewart says bringing major companies such Heineken into F1 is even better than winning world titles. The Scot was a key figure in the multi-million pound deal involving the Dutch beer multinational. (Autoweek)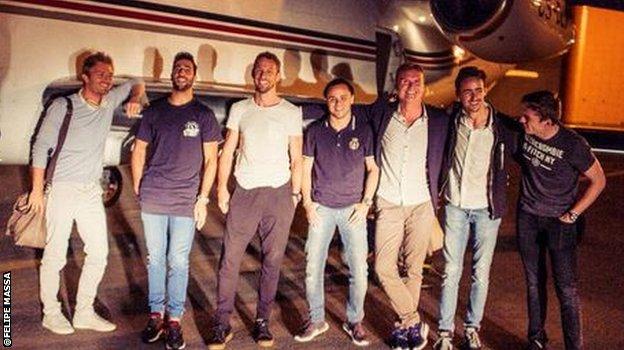 Wednesday, 15 June
Nico Rosberg has no plans to change his style of racing and "settle for second best" even though his lead in the Formula 1 standings has been trimmed down to just nine points. (Fox Sports)
Formula 1 is close to parity between its four engine manufacturers, according to Williams performance chief Rob Smedley. (Autosport)
Ferrari president Luca di Montezemolo insists it would be a mistake for Formula 1's owners to replace Bernie Ecclestone with a single boss. (Grand Prix Times)
Sources at Ferrari have quashed recent rumours that technical director James Allison could be on his way back to Renault. (The Checkered Flag)
Brazilian Grand Prix organisers are confident that the future of their race is totally secure, despite Bernie Ecclestone's warning its place on the 2017 calendar is in doubt. (Motorsport.com)
Carlos Sainz has said he is looking forward to Formula 1's first ever race in Azerbaijan this weekend, and has drawn parallels between F1's newest track and the iconic Guia Circuit, host of the Macau Grand Prix. (F1 Today)
McLaren pay tribute to their legendary former driver James Hunt, who died at the age of 45 on this day in 1993.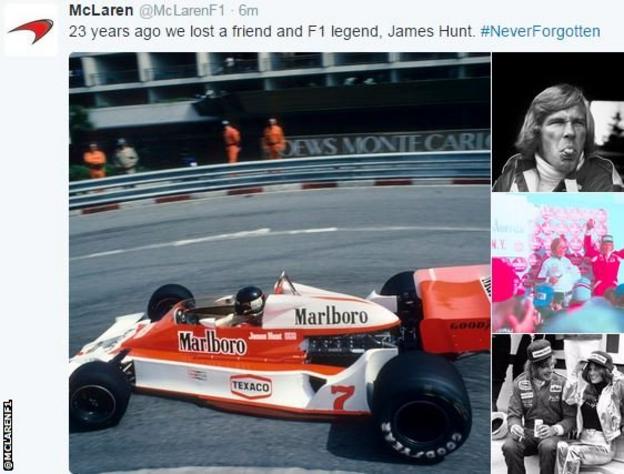 Tuesday, 14 June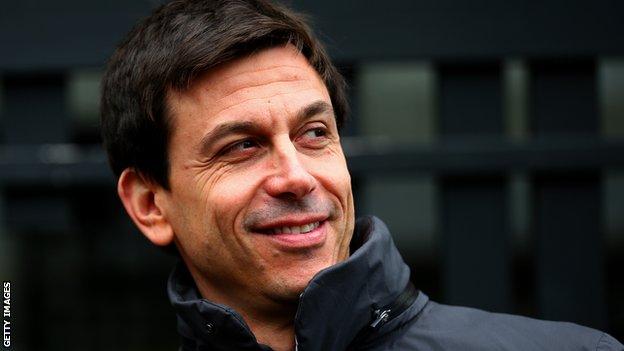 Mercedes F1 team principal Toto Wolff has said F1 is changing the rules for 2017 at precisely the wrong time with rival constructors Ferrari and Red Bull closing the gap. (Autoweek)
His Red Bull counterpart Christian Horner believes that Max Verstappen showed in the way he defended fourth place from Mercedes driver Nico Rosberg during the Canadian Grand Prix that Wolff was wrong to question the 18-year-old's maturity. (Motorsport.com)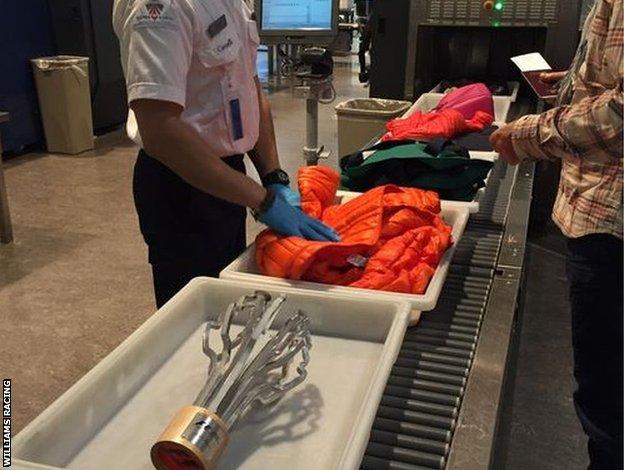 Drivers' champion Lewis Hamilton has tempered his recent good form by admitting he expects to face grid penalties later in the season for using more than his five allotted engines, a consequence of repeated mechanical failures in the first four races. (Daily Telegraph)
Montreal mayor Denis Coderre has insisted the city will secure the future of the Canadian Grand Prix after F1 boss Bernie Ecclestone cast doubt by saying that it had failed to fulfil a pledge to update facilities at the Gilles Villeneuve circuit. (Sports Business Daily)
Romain Grosjean admitted the Haas F1 team does not know how to fix its problems with getting the tyres to perform in cooler conditions after finishing 14th in Canada. (Autosport)
The sponsorship deal between brewer Heineken and F1 announced last week has led to renewed calls from European campaigners for a ban on alcohol sponsorship in the sport. (Reuters)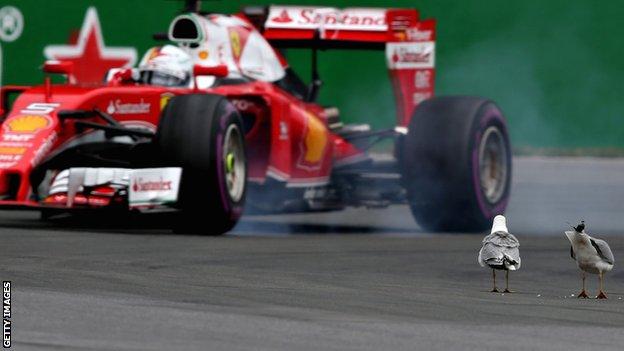 Monday, 13 June
Canadian Grand Prix winner Lewis Hamilton and second placed Sebastian Vettel ended their Canadian Grand Prix battle talking about seagulls on the Montreal track "that wanted to commit suicide". (F1i.com)
Drivers' champion Hamilton has admitted that even he is surprised that he has cut Mercedes team-mate Nico Rosberg's championship lead from 43 points to just nine points in two races. (Sun)
For the second race in succession, Hamilton had victory handed to him on a plate after a poor strategy call from Ferrari. (Daily Telegraph)
Mercedes will again investigate the clutch performance of its F1 cars after Sebastian Vettel jumped ahead of both of its drivers at the start in Canada. (Autosport)
Williams driver Valterri Bottas tweeted that his third place finish in Canada was "one of my best races".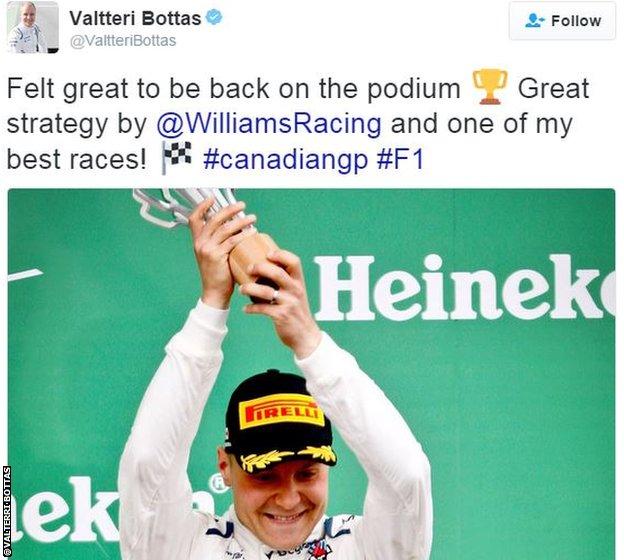 Daniel Ricciardo says Red Bull must start doing a better job on race days after a failed strategy and slow pit-stop saw him finish seventh, after qualifying fourth on the starting grid. (ESPN)
Red Bull team principal Christian Horner has hailed the improvements made by engine supplier Renault following his team's recent return to form. (F1today)
Haas F1 team driver Romain Grosjean tweeted his sympathy for those who lost their lives at the Florida nightclub mass shootings on Saturday.