Lewis Hamilton & Nico Rosberg blame each other for Spanish GP crash

By Andrew Benson
Chief F1 writer at the Circuit de Catalunya
Last updated on .From the section Formula 1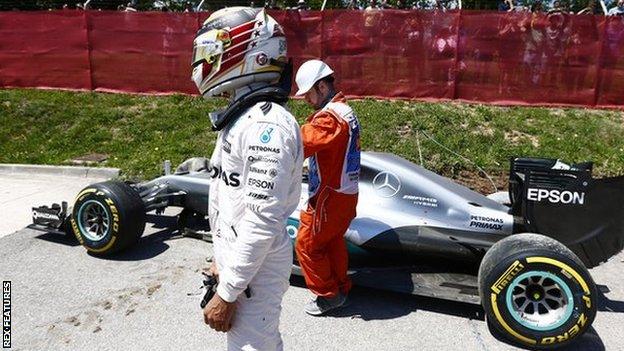 Lewis Hamilton said he felt "hurt and disappointment" and had apologised following his crash with Nico Rosberg but did not accept blame.
The two Mercedes drivers collided on the first lap of the Spanish Grand Prix, with both retiring from the race.
"I apologised to the team," Hamilton said. "To not deliver... whenever it happens, it is a painful experience.
He added he "saw a gap and went for it. I was a significant portion alongside and I had to avoid a collision."
Rosberg countered: "I saw Lewis closing in so as soon as I could I closed the door to the inside with a clear, strong move to make sure he understands there is not going to be space there, and I was very surprised that he went for it anyway. That's it. Then we were in the sand trap."




The incident means Hamilton remains 43 points behind Rosberg in the World Championship with 400 available over the remaining 16 races.
Hamilton had started from pole but was passed around the outside by Rosberg on Turn One. But the German then lost power through Turn Three as a result of being in the wrong engine mode and Hamilton closed in at a speed difference of 17km/h.
Hamilton dived for the inside on the run to Turn Four but Rosberg defended by coming right across the track. Hamilton took to the grass, where he lost control, and spun into his team-mate, taking both out.
F1 rules dictate that if a driver moves to defend his position he must leave a car's width if the attacking driver has a "significant" part of his car alongside any part of the car in front.
Listen to Hamilton and Rosberg crash
TV pictures showed Hamilton had his front wing alongside Rosberg's rear wheel while he was still on the track but stewards decided not to punish either driver.
The stewards' verdict said Hamilton "had a portion of his front wing inside [Rosberg] small fractions of a second prior to [Hamilton] having to leave the right side of the track to avoid an initial collision, which may have led him to believe he had the right to space on the right".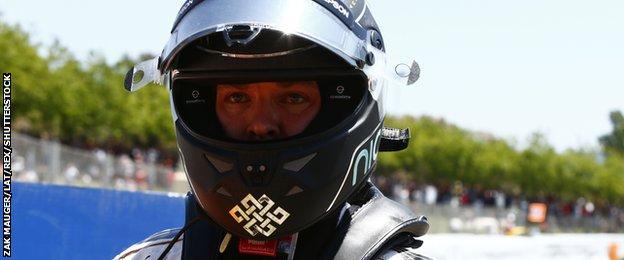 It added Rosberg "had the right to make the manoeuvre that he did and [Hamilton's] attempt to overtake was reasonable, and that the convergence of events led neither driver to be wholly or predominantly at fault".
Hamilton said: "Today we lost 43 points and there is only two of us part of doing that.
"The apology is that on my behalf I didn't score those points for the team. These things happen but it is the right thing to apologise just like when the engine fails they say sorry to me."
Asked whether Rosberg had also apologised on that basis, Mercedes F1 boss Toto Wolff said: "I think he said he understood it was difficult for the team."
He added: "It is clearly not that each of them feels he is entirely faultless."
Wolff said it was "an incident that could have been avoided from both sides" and added that the two drivers would still be allowed to race.
He said: "I am going away angry and upset but isn't that what racing should be all about?"