Formula 1 gossip: Alonso, Prost, Rosberg, Bottas, Hamilton
Last updated on .From the section Formula 1
Sunday, 6 March
McLaren driver Fernando Alonso says he is "happy" - but would like to be driving for world champions Mercedes. He said: "You always want to be wherever the best car is, and that's Mercedes, but I'm at a team that tries its best to make me happy, and yes, I am happy." (AS.com)
Four-time world champion Alain Prost thinks the controversial new qualifying format that is due to be introduced for the season's opening race at Melbourne in two weeks' time may not be in place by then. (Autoweek via Speed Week)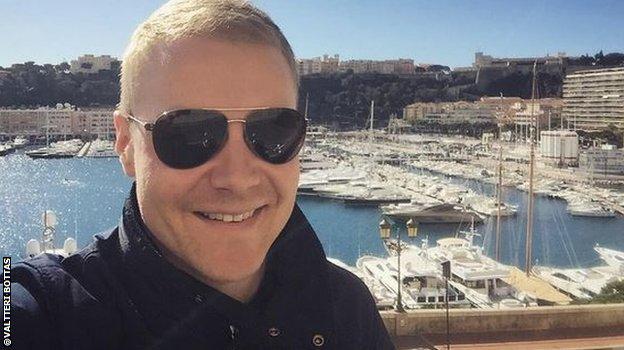 Mercedes driver Nico Rosberg thinks it is in the sport's best interests to consult drivers more on rule changes. (Motorsport.com)
Rosberg says team-mate Lewis Hamilton was "awesome" last season and, despite the German winning the last four races of 2015, believes the world champion still represents a formidable challenge. (F1i.com)
Hamilton took time out of his preparations for Melbourne to appear at the Vivienne Westwood show during Paris Fashion Week in his role as an ambassador for British men's fashion. (New York Times)
Saturday, 5 March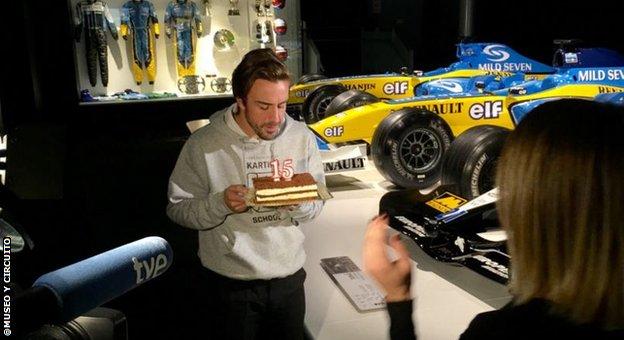 Two-time champion Fernando Alonso blew out candles to commemorate the 15th anniversary of his Formula 1 debut for Minardi at the 2001 Australian Grand Prix. He retweeted an image and message from his museum and circuit that read: "Sweet celebration alongside his 'partner in crime'... his Minardi PS01."
British driver Jolyon Palmer says pre-season preparations for his first season have been a "little bit disastrous", with his Renault having reliability issues. (GP Update)
Nico Rosberg does not know if his Mercedes team are ahead of or behind rivals Ferrari as they prepare for the Australian Grand Prix. (ESPN)
Jenson Button is content with pre-season testing, but says his McLaren-Honda is not race ready just two weeks before the 2016 season begins in Melbourne. (Crash.net)
Daimler chief executive Dieter Zetsche, whose Mercedes F1 team have dominated for the past two years, has criticised F1 boss Bernie Ecclestone for talking down the sport. (Reuters)
Friday, 4 March
Jules Bianchi's father Philippe believes Formula 1's new 'halo' cockpit head-protection device is a "step forward" but "does not solve everything". (Guardian)
Force India driver Nico Hulkenberg believes the modification will help to "sterilise" F1. (ESPN)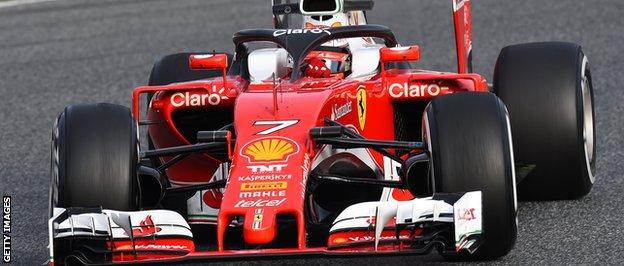 McLaren's Fernando Alonso says he is 'saddened' by the state of the sport. (Sky Sports)
Injured US Olympic skier Lindsey Vonn visited Mercedes driver Lewis Hamilton as winter testing continued in Barcelona. (Mirror)
Toro Rosso driver Max Verstappen seemed happy with winter testing, tweeting: "Finished... with a smile. Now I can't wait to start racing in Melbourne."
Romain Grosjean says his Haas Formula 1 team must quickly get on top of their braking issues. (Motorsport.com)
Thursday, 3 March
Formula 1 drivers have told governing body the FIA not to alter the qualifying format as they fear the proposed changes will be too complicated for fans. (Autosport)
Mercedes boss Toto Wolff has played down claims the German constructor considered swapping Lewis Hamilton for Fernando Alonso two years ago. (Mirror)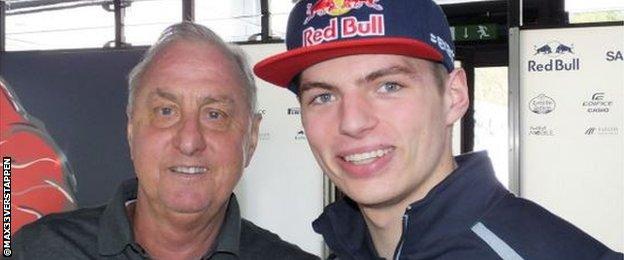 Red Bull's Australian driver Daniel Ricciardo says he is "not getting [his] hopes up" for his home race later this month. (Motorsport.com)
Kevin Magnussen believes he "fits in" better at Renault than he did at previous team McLaren. (Inautonews)
Jenson Button says the new Honda power unit has given the McLaren car its "biggest improvement in 14 months". (Planet F1)
Wednesday, 2 March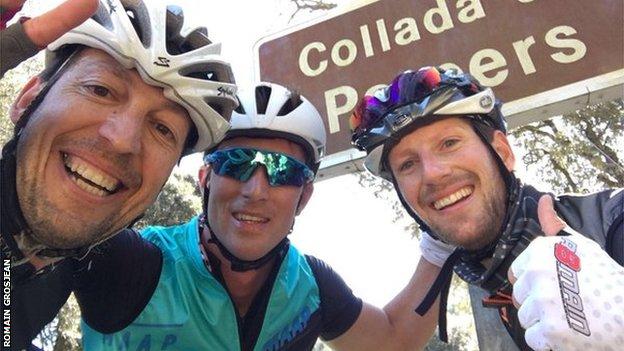 Kimi Raikkonen played down his concerns at missing testing time due to a gearbox problem with his Ferrari. (Planet F1)
Renault drivers Kevin Magnussen and Britain's Jolyon Palmer only have 12-month contracts with the re-branded team, according to new boss Frederic Vasseur. (TV2 via grandprix.com)
Giuliano Alesi - the 16-year-old son of former Ferrari driver Jean Alesi - has joined the team's driver academy. (Autosport)
Mercedes' world champion Lewis Hamilton enjoyed a slower mode of transport around the Barcelona paddock, walking his dogs while he was on a motorised unicycle.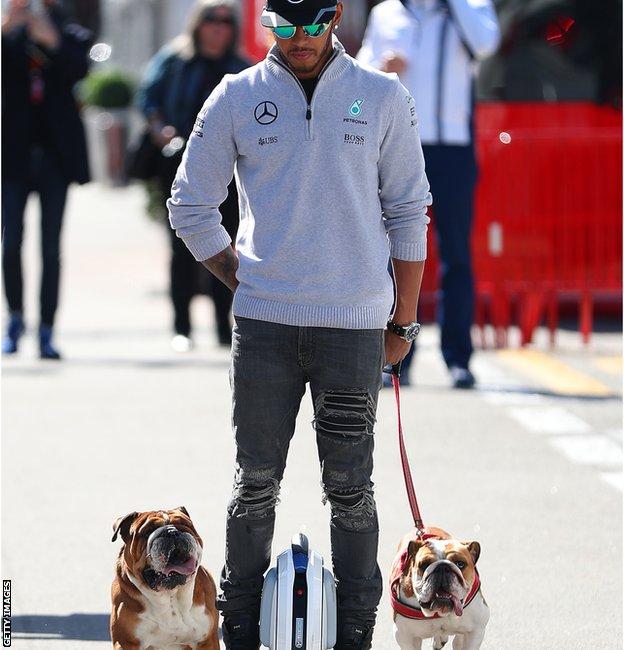 Former Lotus and Sauber test driver Adderly Fong Cheun-yue, 26, believes he can still become the first Chinese to race in Formula 1. (South China Morning Post)
Haas driver Romain Grosjean went for a three-hour bike ride near Barcelona to prepare for the final test session.
Williams driver Valtteri Bottas says he is not dieting to help him deal with the new car weight regulations in F1. (MTV via inautonews)
Former world champion Fernando Alonso, 34, says he could keep driving until he is 50, given the current pace of F1 cars. (Spanish radio station Cadena Cope via grandprix.com)
Toro Rosso boss Franz Tost believes his team is capable of a podium finish this season after getting as close as fourth in two races last year. (gpupdate)
Red Bull's Daniel Ricciardo is a man who is happy in his work, as he showed via his Instagram account.
Monday, 29 February
Red Bull team principal Christian Horner believes Formula 1's new qualifying format will swiftly be figured out by all the teams. (Autosport)
Ferrari's Kimi Raikkonen admits he made "too many mistakes" last season but says he has the speed to be competitive in 2016. (NBC Sports)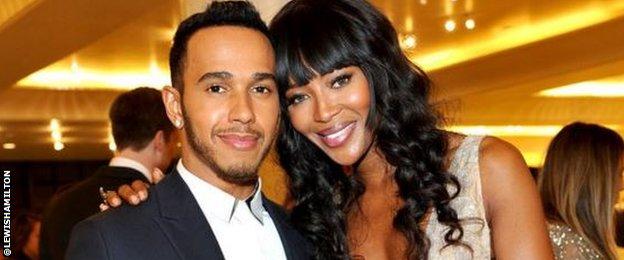 Haas driver Romain Grosjean has hit out at the sport's "narrow-minded" administration after F1's commercial rights holder ordered him to remove videos of the team's filming day from his Facebook page. (Motorsport.com)
Manor's new driver Rio Haryanto says he would be happy to be a "midfield runner" this season. (FormulaSpy)
Renault boss Frederic Vasseur says it doesn't matter if the team gets off to a slow start in 2016, as long as they reach the company's internal targets at the end of the season. (Fox Sports)