Lewis Hamilton's Monaco crash 'result of tiredness after partying'
Last updated on .From the section Formula 1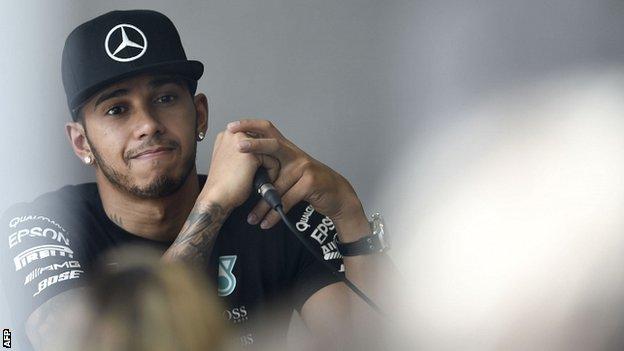 Brazilian Grand Prix
Venue:
Autodromo Jose Carlos Pace
Dates:
13-15 November
Coverage:
Live TV, radio and text coverage of the race.
Full details.
World champion Lewis Hamilton says he crashed his £1.6m super car in the middle of the night in Monaco because "heavy partying" left him tired.
The Briton revealed he hit a stationary car in his home town on Monday, and delayed his flight to the Brazilian Grand Prix after feeling run down.
The crash was reported to have occurred at 3.30am on Tuesday morning.
"It was a result of heavy partying and not much rest for 10 days," Hamilton said of the crash and his health.
"I am a bit run down. I have been non-stop and trying to fit training in at the same time and not getting a lot of sleep."
It was also reported that Hamilton was believed to be driving his limited edition Pagani Zonda at the time of the incident.
Hamilton on tiredness
"I don't feel as bad as I look but I honestly feel a lot better. The last two days I have slept pretty much all day.
"I couldn't believe how much I slept. I slept on the flight here, too. I was nervous that I was not going to sleep on the flight. I slept all day yesterday.
"I usually sleep four or five hours but when you are training you need more than that. I am generally a really energetic person but that week after Mexico and the party we drank a lot and I was really feeling it."
Explaining the accident on Wednesday, Hamilton said on his Instagram account: "I've not been well with a fever but I also had a road accident in Monaco on Monday night.
"Whilst ultimately, it is nobody's business, there are people knowing my position that will try to take advantage of the situation and make a quick buck. No problem.
"Nobody was hurt, which is the most important thing. But the car was obviously damaged and I made very light contact with a stationary vehicle.
"Talking with the team and my doctor, we decided together that it was best for me to rest at home and leave a day later."